Museveni narrates how hard working Muhakanizi stabilized economy
Muhakanizi, one of the longest-serving technocrats in President Yoweri Museveni's government, died last week at the age of 64 at a hospital in Milan.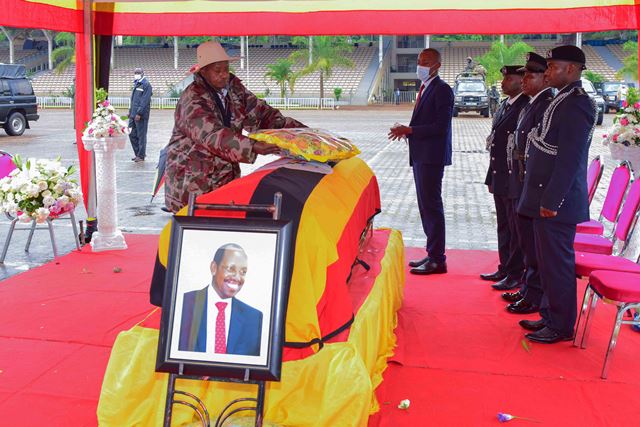 It was a sombre mood Saturday morning at Kololo Independence grounds as the body of Keith Muhakanizi arrived for an official funeral service to celebrate his life.
Muhakanizi, one of the longest-serving technocrats in President Yoweri Museveni's government, died last week at the age of 64 at a hospital in Milan, Italy after battling cancer for years.
Muhakanizi served as the Permanent Secretary in the Office of the Prime Minister and prior, he served as the Permanent Secretary and Secretary to the Treasury-Finance Ministry.
President Museveni said the sad news of Muhakanizi's death surprised him while at his farm in Kisozi.
"I was aware that he was undergoing treatment for cancer in Turkey. When I last met him, he was very optimistic that the cancer had gone," H.E Museveni said, describing the fallen economist as a hard worker.
"Muhakanizi was definitely a hard worker. Because in my struggles, I needed figures and Muhakanizi had all the figures," the President added.
He informed the mourners that Muhakanizi, Former Permanent Secretary Ministry of Finance Chris Kasami, former bank of Uganda Governor Tumusiime Mutebile and the current Deputy Governor Bank of Uganda Michael Atingi-Ego whom he found in the system when he came to the bush were key in the minimum economic recovery, its expansion, diversification and the now new economy of science.
"Those young economists belonged to the thinking of the International Monetary Fund (IMF) and the World Bank. They really believed in the analysis and the strategy of the IMF and the world bank. They are the ones who advised me to merge the two ministries; that of finance and one of planning and economic development," Museveni said.
He emphasized that the group was so instrumental in controlling inflation by allowing the market forces to determine the price of commodities including the exchange rate and encouraging the private sector-led growth of the economy. They also cautioned him against the minimum wage with a view it would undermine the growth of the economy like Uganda that has excess manpower compared to the jobs.
"And I was persuaded by that line and that's how I have been able to resist the pressure of the Labour unions to artificially put out the price of Labour even when we don't have enough jobs to give them. So definitely their group contributed to our recovery, but we can do more if they also listen to our advice of structural changes," H.E Museveni said.
The President added that it is through their contribution that led to the recovery of the economy to grow from 1.5 billion dollars in 1986 to now 50 billion dollars. He however tasked the new Permanent Secretary Ministry of Finance and other economists to grow the economy further.
"I appeal to you; I want this economy to grow from 50 billion to 500 billion dollars and we can do it. Why? Because we already have the raw materials like coffee, maize etc. If we add value to many of these raw materials the economy can jump from the present level to a high middle-income economy of about 500 billion dollars," H.E Museveni said.
The President encouraged the children who he said have grown up to continue with what Muhakanizi did.
"I'm very sorry that Muhakanizi died when he was very useful, but he made his contribution so it's up to you people to do your own contribution. I commend his contribution and may his soul rest in eternal peace," Museveni said.
The widow Janet Muhakanizi described his husband as someone who was at times stubborn but focused, patient, developmental and a very faithful person who loved his work.
She thanked President Museveni for trusting him with National Service for which he enjoyed especially at the Ministry of finance and the office of the Prime Minister which eventually became part of his other family.
"I wish to thank the country for the love and support you have shown to us and in times of while in hospital in Turkey and Milan. In this we get comfort and encouragement to continue his legacy, to emulate his good deeds and to always remember him in a special way," Janet Muhakanizi said.
The Prime Minister Robinah Nabbanja described Muhakanizi as a very hardworking, intelligent and sincere public servant whose contribution will always be remembered.
"The Office of the Prime Minister has greatly benefited from his attributes. We have lost him at a time when the OPM needed him most. We promise to sustain his legacy," Nabbanja noted.
The Cabinet Secretary and Head of Public Service Lucy Nakyobe said Muhakanizi's legacy in public service spanning to 40 years was full of dedication and passion. She said the fallen economist had the courage to speak out honestly and directly, a character that is rare among most public servants of today.
"He was an asset to the public service because of his knowledge, courage, decisiveness and good time management. Keith was not afraid to confront wrongdoing and to speak the hard truth," Nakyobe said, adding that the deceased confronted her many times for not reigning in on the Ministers who had made his work difficult.
Nakyobe thanked the deceased for the cordial working relationship at a time when she was the State House comptroller.
"Even when you came with directives from the President, he would always require that you put everything in writing. He was very principled," she added.
The Minister of Finance, Planning and Economic Development, Matia Kasaija said Muhakanizi remained instrumental even after his transfer from the Ministry of Finance and always offered advice to him and the new Permanent Secretary.
Kasaija described Muhakanizi together with former Bank of Uganda Governor Emmanuel Tumusiime Mutebile and others as grandparents of Uganda's modern economy who endured sacrifices to rebuild Uganda.
"Mr. Muhakanizi spearheaded a number of reforms which have helped the government to foster economic growth, attract investments, reduce poverty, improve budget and transparency and restore fiscal discipline," Kasaija said.
The brother of the deceased Dennis Abasa spoke about Muhakanizi as a pillar and very supportive to not only their family but each and every person. He extended appreciation to wife Janet Muhakanizi who stood with their brother throughout his life until his demise.
Prof. William Bazeyo, who was the late Muhakanizi's personal doctor, while addressing mourners, said the former Permanent Secretary was diagnosed with lymphoma cancer in 2018.
He said upon discovery, Muhakanizi was enrolled on an aggressive treatment regime including chemotherapy, radiotherapy and stem-cell transplant, until his last days.
"He was very resilient, he believed he would recover and come back to life," Prof Bazeyo said.
The State Minister for Internal Affairs Gen. David Muhoozi who is a brother to Janet Muhakanizi relayed condolences to the family for the loss of Keith who was a family pillar. He described the former Permanent Secretary as one who loved his work and thanked the President for trusting Muhakanizi with responsibility over the years.
"He was always in a hurry to finish business and understood the value of time. He studied, walked and loved economics. He was very confident in what he believed in, openly expressing his thoughts," Gen. Muhoozi said.
Keith Muhakanizi was born on 24th November 1957 to Rev. Kosia and Zerida Kajwenge (RIP), in Kitojo, Buyanja, Rukungiri District. He was the 3rd born of Seven (7) children, in a family of Born-again revivalists (Abaishemwe). In 1990, he married Janet Kamukama, with whom God blessed them with children.
He was appointed Permanent Secretary and Secretary to the Treasury in May 2013, a position he held until July 2021 when he was appointed Permanent Secretary in the Office of the Prime Minister.
The ceremony was attended by among others; His Lordship the Chief Justice Alfonse Owiny-Dollo, the Right Honorable Deputy Speaker Thomas Tayebwa, Government Chief Whip Hamson Obua, Former Prime Ministers Dr. Ruhakana Rugunda and Amama Mbabazi and the NRM Secretary General Richard Todwong.
Others were ministers; Gen. Katumba Wamala (Works and Transport), Gen Jim Muhwezi (Security), Babirye Milly Babalanda (Presidency), Gen. David Muhoozi (Internal Affairs), Francis Mwebesa (Trade, Industry and Cooperatives), Hilary Onek (Disaster Preparedness), Bright Rwamirama (Animal Industry) Gen Moses Ali (2nd Deputy Prime Minister) Ruth Nankabirwa (Energy & Mineral Development) Kasule Lumumba (General duties), Henry Musaasizi (State for Finance) among others.
Muhakanizi's body has been taken to Kabula in Lyantonde district where he will be laid to rest on Sunday.