Barely weeks after giving birth to twins, Magogo's wife Anita Annet Among, returns to her speakership job
Anita Among: Thrilled to return to official duties today amid a warm reception from colleagues and staff in the August House after sometime away on leave during which the Almighty blessed us with lovely twins.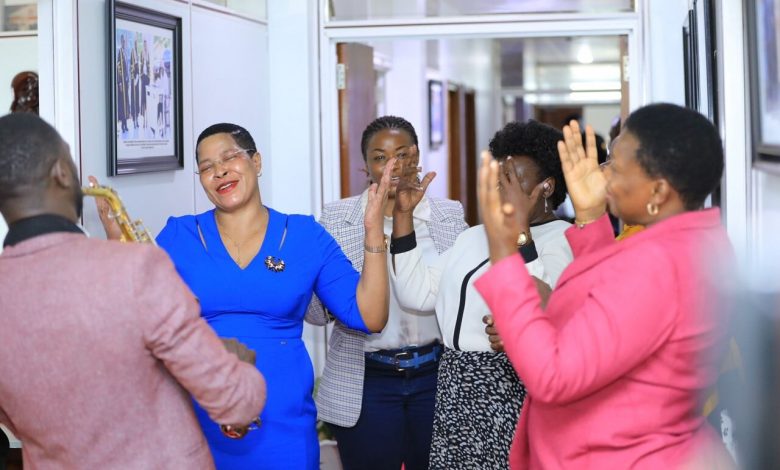 Under normal circumstances, when a woman gives birth, it takes days and special care for her to return to normalcy – especially resuming demanding and hectic office responsibilities.
Also under the employment laws of the country, a mother is entitled to three months of maternity leave. During this statutory leave, the mother is not allowed to access the office unless it's an emergency or it's her choice.
There has been demand that fathers, when their wives give birth, are equally awarded paternity leave from office.
Responding to this demand, Standard Chartered Bank, on 1st September 2023, rolled out enhanced parental leave benefits that will benefit its employees, especially males.
With the enhanced benefits, employees can access a minimum of 20 weeks of paid parental leave, irrespective of gender, relationship status or how a child comes to permanently join an employee's family.
While any employee would jump on a lengthy maternal or paternal leave, the Speaker of Parliament, Anita Annet Among and her husband, the Budiope East Member of Parliament, Moses Magogo think otherwise.
It is clear that Magogo didn't take such leave as he has been executing his other duties as the President of the Federation of Uganda Football Association (FUFA), Among, who recently gave birth to twins, was away from her parliamentary duties.
It is said she took maternity leave months before the twins came out and ideally it was expected that it would take at least three months before she returned to her office. It was announced by the Deputy Speaker of Parliament, Thomas Tayebwa, on 23 Oct 2023 that Among had produced twins.
Not much was said by Among and Magogo about how the twins were born but speculation was ripe on social media saying the Bukedea district Woman Member of Parliament used a surrogate to have the babies.
The couple ignored the speculation as it never came out to clear the speculation and give the true circumstance under which the power couple welcomed their first part and only children together.