Benghazi: Mukono's Hideout For All Kinds of Notoriously Baddest Guys
Benghazi isn't a place worthy of a visit. This is a den which all sorts of notorious miscreants you can imagine of call a home.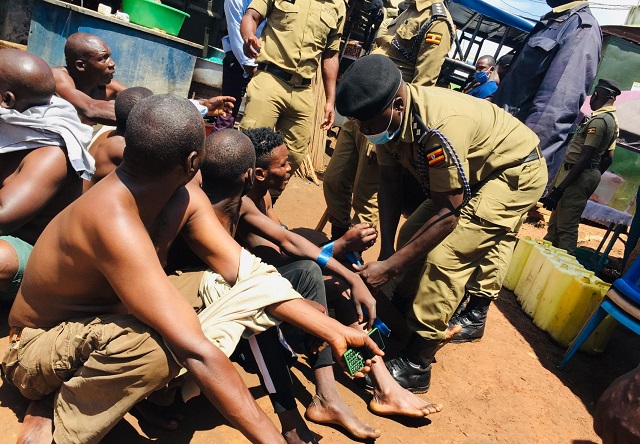 By Isaac Mutema
If you want to have a date with bad guys in Mukono, then you are better off advised to walk straight to Kitega village.
Having hit Kitega, simply ask anyone to direct you where Benghazi is and that person will be able to point you to the place.
Just that he or she will go away surely praising your guts but at the same time, despising your ridiculous sense of recklessness.
Benghazi isn't a place worthy of a visit. This is a den that all sorts of notorious miscreants you can imagine of call a home.
Kitega village can be accessed by going through the murram road passing just behind Mukono's famous Colline Hotel facility.
Such is the seriousness and impunity on open show in Kitega that it won't be news at all were someone to find little children openly and happily puffing away at sticks of marijuana.
The area LC1 chairman in the locality, Patrick Ssegawa Muyingo readily agrees to the fact that Benghazi is the headquarter of crime in Mukono.
"Smoking and selling of dangerous drugs plus breaking into houses at any time of the day plus all sorts of crimes is now stale news in our locality," Muyingo muses.
Muyingo blames the increasing rate of crime in Kitega to the unrestricted infiltration of the place by all sorts of people. He readily concedes to being lax to the problem of infiltration of the place by all manner of wrong characters.
But hastens to assure everyone that as authorities at the grassroots they are going to take tough measures against the notorious criminals in Benghazi.
Fortunately, following several warnings to criminals to quickly reform since their days are numbered, over one hundred of them recently positively responded to the call from the authorities to benefit from amnesty.
The excited residents glad that the criminals had now turned their backs on crime, hired a brass band and marched through the streets with the reformed bad guys as a sign of appreciation and as a further sign that the community is ready and willing to forgive and forget the atrocities they have committed against them over years.
The march ended on a positive note with the leaders launching a crime free sensitization plus a market for those willing to abandon crime.
The reformed criminals regretted their past dark living style and assuredly pledged to now act as free of charge negotiators for those who are still in the dangerous criminal world.
The Speaker of Mukono district, Betty Nakasi glowingly appreciated the reformed criminals for their act of gracefulness and humility.
"Now that you have finally repented, we hope and pray that your colleagues will also do the same since no one has dragged you to the police," Nakasi stated.
She glowingly thanked the locals for the spirit of reconciliation and urged them to keep it up in order to reassure the other criminals still out there that they will be pardoned and reintegrated into the community once they finally abandon crime.