Bobi To Ugandans: Fight, Don't Sit There Lazily Waiting For Good Life To Be Freely Served To You By Politicians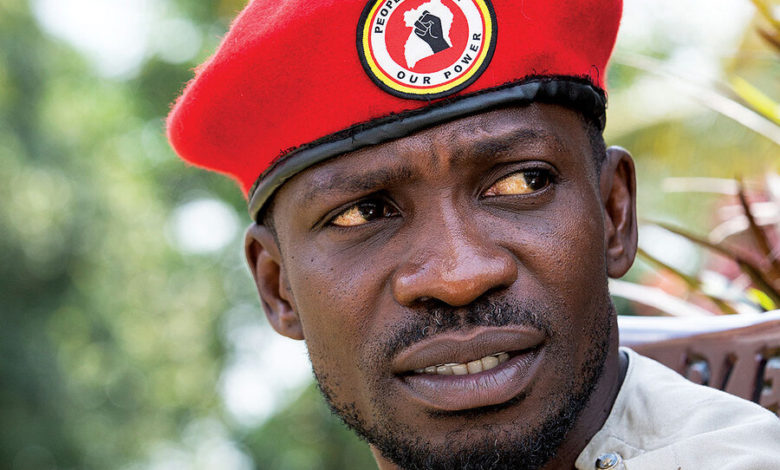 By Isaac Mutema
National Unity Platform chief, Robert Kyagulanyi aka Bobi Wine, has dared each and every Ugandan to stand tall and be counted in the journey to good life other than leaving the burden to politicians per se.
He mentioned this today while at Hotel Africana in a conference organized by opposition leaders to discuss the current political, social and economic crisis in the country.
Bobi notes that the fight to get rid of dictatorship from people's midst isn't a fight to be undertaken by the politicians alone.
Bobi lectures that the wanainchi should stop putting their faith in the politicians to liberate them because they have seen and witnessed many selling their souls and conscience for the mere crumbs falling off the dining table of the oppressors.
He cited Norbert Mao as the latest turn-court in whom Ugandans have been putting a lot faith only to break their hearts by joining the oppressive regime.
Noting that each and every Ugandan is a slave of the oppressive regime masquerading as a redeemer, the man from Gomba, submitted that everyone is by logic and necessity called upon to join the fight of ridding him or herself from the bondage of the oppressor.
"People power means just that, so, everyone who is defined as a people should look in the face of the oppressor and loudly tell him enough is enough and that he should quit now," Bobi asserts.
One of the measures which the wanainchi should employ to end the dictatorship, Bobi suggests, is peaceful demonstrations against the numerous excesses of the regime.
He emphasizes that the duty to end the yoke around each and everyone's neck and legs as well as arms, is for each and every one to fight the dictatorship without discrimination.
He thus dares the traditionalists, elites, the common man and everyone from all walks of life inclusive to do whatever they can to secure the good life they clamour for.
What Bobi is calling for is a change of heart since he previously held the steadfast belief that President Museveni and his regime could be dislodged via the ballot box.
For that matter, Bobi has clashed with his mentor in Dr Kizza Besigye over his resolve to use peaceful protests as  the measure to end the regime.
This is why when Besigye launched the ' Kunga' ( mobilize campaign) against the skyrocketing prices, Bobi and NUP, rejected to join him in the streets.
But analysts opine that Bobi stayed away from Besigye's street battles simply because he thinks the man from Rukungiri want to use them to regain visibility and political support at the expense of him and NUP.