Drilling rig for Kingfisher oilfield arrives at Mombasa port
CNOOC Uganda Ltd said the rig which has arrived at Mombasa port in Kenya is the most advanced Chinese oil drilling equipment in the oil and gas industry.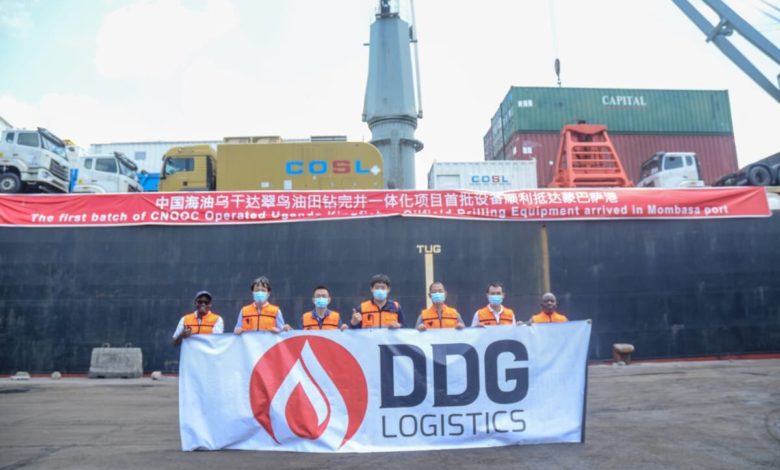 The road to first oil in Uganda is getting clearer after the governments of Uganda, and Tanzania, and the International Oil Companies TotalEnergies and CNOOC Uganda announced the Final Investment Decision (FID) in February.
The FID has enabled oil companies to release the money to invest in the oil and gas sector. So far, the oil companies have given contracts worth millions of dollars to local and international companies.
And today morning, CNOOC Uganda announced that the Kingfisher oilfield drilling rig had reached Mombasa port in Kenya and will soon be in Uganda.
"We are committed to delivering first oil to Uganda and there's no turning back" the China government backed oil firm said.
The drilling rig was shipped to Uganda on 29th July 2022 from Yantai Port in China.
CNOOC said it was the most advanced Chinese oil drilling equipment in the oil and gas industry exploration and development.
The shipment of the rig marked CNOOC's great increase of technical resource involvement in oilfield exploration and development in Uganda.
"LR8001 is a deluxe land rig customized for the Kingfisher project in Uganda. As the 8km fully automated silent rig in Africa, it is equipped with industry-leading technologies such as well site de-noising control, zero discharge system, and pipe column automation system," CNOOC said in a statement in July.
The president of CNOOC Uganda, Chen Zhuobiao, who witnessed the shipping of the rig at Yantai port, said this development will provide jobs to Ugandans during the well drilling and completion process.