Duplication of activities worries MPs as agriculture ministry seeks $325m World Bank loan
Finance Minister, Matia Kasaija, informed the Committee that the total project cost is $354.70 million, and of this, $325 million will be funded by the World Bank, while $25 Million will come as a grant from same lender. Government will bring $4.7 million.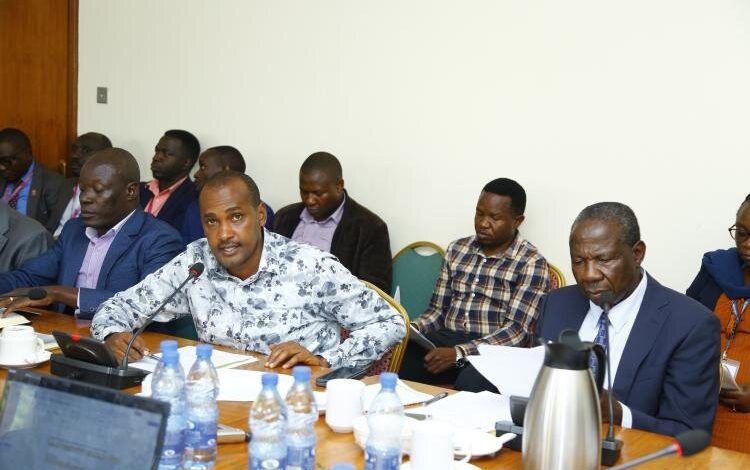 Lawmakers sitting on Parliament's National Economy Committee have expressed concern over the duplication of activities in the $325 Million (Shs1.232 trillion) loan that the Ministry of Agriculture is seeking to secure from World Bank.
Buliisa County MP, Allan Atugonza, wondered why the Ministry of Agriculture, Animal Industry and Fisheries (MAAIF) is seeking funds to construct roads so as to ease access of agriculture products to the market, yet similar works were undertaken under the Agriculture Cluster Development Project.
He also said the works done under Ministry of Agriculture were shoddy because of lack of expertise in the ministry.
"Market access and road chokes were a total failure. I have realized that maybe the Ministry of Agriculture sometimes doesn't take our advice seriously; this shouldn't have come back under the Ministry.
We advised the Ministry to let go of the project of road construction to the Ministry of Works and Transport, we realize they don't have capacity to manage funds under road construction," said Atugonza.
He was backed by Denis Oguz Lee, the Maracha County MP, who decried the duplication of loan activities wondering why the same structure of implementation adopted in the failed Agriculture Cluster Development Project (ACDP) is being adopted in the latest project.
He suggested that that the latest smart agriculture project could be another avenue for officials from the Ministry of Agriculture to make money.
"I can clearly say that some people are trying to create a cash cow to eat money. There is a lot of duplication and lack of coordination in conceiving this project," Oguz Lee said.
"What you are encouraging here is waste, we have seen in the management of these projects, projects under the Ministry of Agriculture in total are performing at 40% looking at the proposed management structures," he added.
He cited examples like the project of managing weeds from water bodies that is being implemented by the Ministry of Works and Transport, yet MAAIF is proposing to do the same.
Also, while the Ministry of Water and Environment is involved in irrigation works, the latest loan request has components of the same activities that MAAIF seeks to carry out.
"I want you to guarantee to us how positive this project is going to be different from the current structures; how different are the current structures from the ones we have been using which haven't delivered any results in this country.
Because I am seeing the same people, I am seeing the same methods of work, how can we be assured that something different is going to happen in this project," remarked Oguz.
Upper Madi County MP, Isaac Etuka, lashed out at the officials from MAAIF accusing them of not being shameful by proceeding to request a new loan to implement another agriculture project yet the earlier Agriculture Cluster Development Project had been a total failure.
"I want to say the focal person for the Agriculture Cluster Development Project is a disaster to this country. Why do you have to tell lies to people on what you have failed to do?" Etuka questioned.
"I wanted to tear this report before the Permanent Secretary if he was here because it is a total lie, it is irrelevant, it is clearly indicative that what you are bringing for us here is just to look for money that you are just going to pocket, the way you have pocketed for Agriculture Cluster Development Project," said Etuka.
However, the Minister of Agriculture, Frank Tumwebaze, asked MPs to give government a chance to implement the smart agriculture project, saying the latest project has been well designed to avoid suffering the same fate as the Agriculture Cluster Development Project.
"When time comes, you allow us explain to you the problems of ACDP in full [because] it isn't only you who hate ACDP. I should have kicked it out if I had power.
I really pray that the ghosts of ACDP don't affect this loan. At the right time, we shall explain the distinction. It is the first time as Minister of Agriculture to come here for a loan in my two years, we have been rejecting many loans," he pleaded.
Finance Minister, Matia Kasaija, informed the Committee that the total project cost is $354.70 million, and of this, $325 million will be funded by the World Bank, while $25 Million will come as a grant from same lender.
Kasaija said that the government of Uganda's counterpart funding will be $4.7 million and it will cater for resettlement of Project Affected Persons and related costs for civil works and project implementation.
"The project has targeted agro-ecological zones that have been increasing, the high levels of poverty and high levels of land and natural resource degradation as well as low value production.
The selection of districts in the agro-ecological zones is based on climate change vulnerability of the watersheds, poverty levels at sub regional level and watershed degradation," said Kasaija.
The Minister said the project targets to benefit 760,000 households and its payment period is 50 years.
According to Kasaija, $47.2 million will finance construction of infrastructure for breeder and foundation seed for production and multiplication and $121.3 million will be spent on operationalisation of the 19 mechanisation centres (equipment and other appropriate technologies) for bush clearing/land opening, construction and provision of on farm water facilities and enhance market access.
Other components of the loan are; $37.2 million for pests, disease and vector control;  $62.6 million for appropriate irrigation facilities especially for large scale farmers; and $49.7 million for support interventions in the fisheries sub sector.