Energy minister claims EU has limited knowledge about Uganda's oil projects
The EU resolution raised several issues relating to ongoing oil and gas activities in Uganda and Tanzania.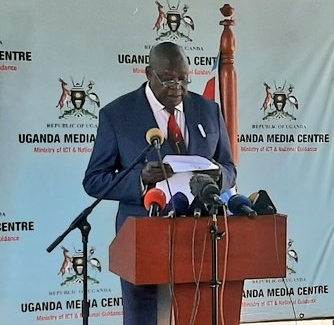 The government of Uganda continues to criticize the resolution made by the European Parliament regarding the ongoing oil project in Uganda. Uganda is on the verge of becoming an oil and gas producer and exporter through the East African Crude Oil Pipeline (EACOP).
According to the government of Uganda, the European Parliament resolution contains several distortions, hearsay, and generalizations. Uganda says the resolution is a blatant display of limited knowledge about the realities in Uganda's oil and gas projects.
Addressing journalists at Uganda Media Centre, the minister of state for energy and mineral development, Peter Teko Lokeris, says the EACOP Project Affected Persons (PAPs) are 3,648 and not 100,000 as claimed by the EU Parliament.
"…Of which 2,662 have already signed compensation agreements and 1,977 have been fully paid. The project is also constructing 183 replacement houses for the PAPs who opted for physical resettlement," he added.
Lokeris notes that the selection of the EACOP route followed an evaluation of three routes which included Hoima-Lokichar-Lamu and Hoima-Mombasa, both in Kenya, and Hoima-Tanga in Tanzania.
He says the Hoima Tanga route was selected since it was favourable for the social, environmental, safety and economic considerations.
"The Hoima -Tanga route was selected as the best route for Uganda after careful evaluation based on the best pipeline routing principles. In addition, Uganda has up-to-date stringent laws on the environment and protected areas, which are strictly followed in developing oil and gas projects," he explains.
The minister adds that some Ugandans have already benefited from the progress of the oil activities. 160,000 people are expected to be employed at the peak of activities; however, 5,000 are so far employed.
Lokeris also emphasized that the oil project has been designed to technologically generate the lowest possible carbon footprint with the Overall the project falling within the category of low emission.
"The carbon dioxide equivalent (C02e) emission per barrel for Uganda's upstream and midstream projects is estimated to be 20-45 kgC02e. This is well below the global average of 70-100 kgC02e. More so, 80% of Uganda's energy is from renewable sources such as hydro-power, solar and biomass," said Lokeris.
The EU resolution raised several issues relating to ongoing oil and gas activities in Uganda and Tanzania.
EACOP runs 1,443km from Kabaale, Hoima district in Uganda to the Chongoleani Peninsula near Tanga Port in Tanzania.