Equity Bank, Interswitch kickoff adopt new financial technologies
The agreement signed between the two entities is expected to foster initiatives promoting financial inclusion and extensive ATM accessibility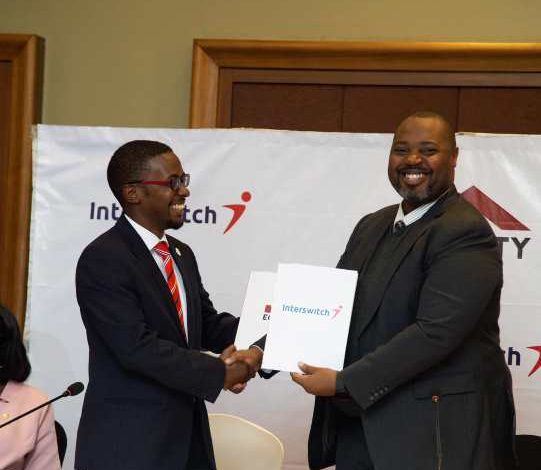 Equity Bank has entered into a strategic partnership with Interswitch Network to drive the adoption of financial technologies that will help Equity customers have access to banking services everywhere they go, in Uganda and East Africa.
The newly designed card aims to provide subscribers with seamless access to financial services throughout the East African region.
Peter Kawumi, the Country General Manager of Interswitch, said this collaboration will greatly enhance customer accessibility and affordability of banking services.
The primary objective is to expand the reach of banking services to communities and standardize transaction charges.
"The partnership is ideal and timely. For the past 20 years, Interswitch has provided technology solutions to businesses to allow them to provide their customers with accessible, seamless, and affordable banking services," Kawumi said.
"This partnership demonstrates an interesting shift in the attainment of service quality and competitive advantage. By joining the Interswitch network, Equity Bank will now benefit from the entire ecosystem that includes all the other financial institutions, their consumers in Uganda and across the region," he added.
He further noted that in this way, Equity Bank has achieved two key things. Firstly, the cost of transacting at ATMs and merchant locations has been significantly reduced. For example, withdrawal transactions for Equity Bank customers at Interswitch-enabled ATMs, as well as customers of other financial institutions at Equity Bank ATMs, have now gone down by over 60 per cent which is a significant saving.
Anthony Kituuka, Managing Director of Equity Bank, explained that in pursuit of improved financial inclusion and accessibility, the introduction of the Verve card allows for the provision of Interswitch financial services across the East African community and beyond.
"This card serves as a catalyst for the integration of financial technologies into the entire banking ecosystem, connecting Equity Bank with other financial institutions on the Interswitch network," he noted.
The agreement signed between the two entities is expected to foster initiatives promoting financial inclusion and extensive ATM accessibility and support the progression of the digital economy during this era of the fourth industrial revolution.
It further demonstrates the commitment of the two institutions to drive innovation and enhance the accessibility and affordability of banking services for the end consumer.
Equity Group is the largest bank in the region with assets of USD 12 billion. It is also the largest bank in terms of deposits, with a market capitalization of USD 2 billion and a customer base of over 15 million.
The Group has 337 branches, 56,772 agents, 32,269 merchants, and 697 ATMs and has widely adopted digital banking channels.
Interswitch is an integrated payments and transaction processing company which operates shared e-payment platforms for financial and non-financial institutions across Africa.