Fire Spitting Bebe Cool, Powerful & Elusive Cpt Namara Make Up & Hug In The Spirit Of Ubuntu
Bebe Cool has chosen peace over verbal exchanges and court processes following the Saturday night incident in Ntinda.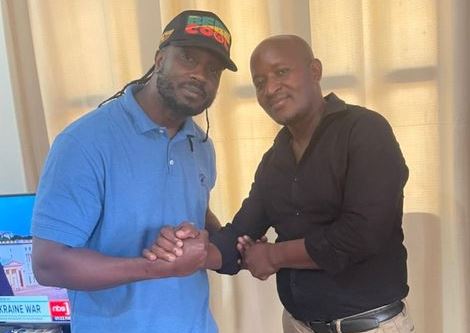 Moses Ssali, alias Bebe Cool, a celebrated singer and son of Jaberi Bidandi Ssali, a retired National Resistance Movement historical, has calmed down and took the forgiveness path to make amends with a UPDF soldier, Captain Namara, with whom he had an altercation at a bar parking lot in Ntinda last Saturday.
Bebe Cool took to social media to announce to the public that he met with Captain Namara in the morning and managed to talk about the incident that happened.
He said: "Throughout the 27 years of my active music life, I have learnt that when you are wronged; it is always good to quickly think about forgiveness most especially when there is a will from the other party who wronged you."
"For that matter, I called my lawyer Mr Sempala of KSMO and asked him to withdraw all my cases from all the different courts of law. This gave me peace of heart and it's from this background that I decided reconciliation with Afande Namala is the best course of action,' he added in the lengthy Facebook post.
Bebe Cool explained that whatever happened at the parking lot was an accident and both take responsibility for the reactions that led to an outburst.
"We met and got to know each other and thanks to Allah we are both alive. I'm always open to reconciliation because it's a major key to peace. We fully regret the panic and inconvenience if any was caused to the public."
Earlier today, police said Kira road station had commenced investigating the matter.
While trying to get parking at the bar, Captain Namara brushed Bebe Cool's vehicle which forced the latter to come out of the vehicle and a disagreement ensued.