First Lady Janet Museveni commends National Council for Higher Education on implementation of ODeL system
The physical limitations on interaction imposed by the Covid-19 pandemic further accelerated the need for the Higher Education mandatory shift to ODeL to enable continued access to Learning and teaching.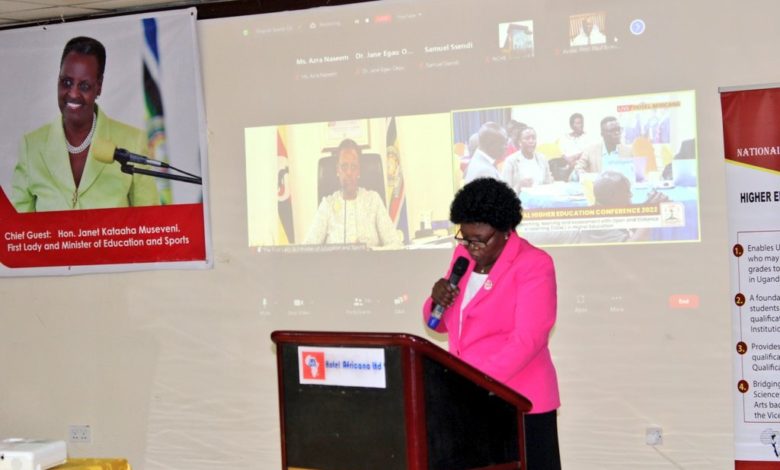 President Yoweri Kaguta Museveni's wife, First Lady Janet Kataha Museveni, also Minister of Education and Sports, has commended the National Council for Higher Education (NCHE) for having adopted the Open Distance E-Learning (ODeL) system.
The education minister made the praise while launching the 4th Annual Higher Education Conference 2022 which was under theme Enhancement of Teaching, Learning and Assessment of ODeL in Higher Education.
The president's wife said during the COVID-19 lockdown, the system enabled continuity of teaching and learning of students in higher education institutions.
"Your continued guidance to institutions of higher learning to implement the ODeL system is much appreciated. As a ministry, we are looking at the adoption of the ODeL system in the education sector," she said.
The minister said the ODeL system increases enrollment of eligible learners to institutions and also reduces pressure and demand for physical scholastic materials and facilities.
With the introduction of ODeL, the First Lady said it took away pressure in the period of lockdown when all education institutions were closed.
She says the system is flexible and does not discriminate age, gender, or physical ability.
On the other hand, Professor Mary J. N. Okwakol, the Executive Director of NCHE, appreciated government for the allocation of additional funds to the council towards implementation of the ODeL system.
Okwakol identified resistance from teachers and learners during the implementation of the system as a challenge explain that it is a matter of mindset change and attitude.
"There's a challenge of limited funding of the ODeL system. ODeL is expensive to learn in terms of equipment and internet connectivity. There are also difficulties in running practical programs using ODeL," she noted.
Okwakol cited that out of 250 institutions regulated by National Council for Higher Education, only 48 (19.2%) fulfilled the requirements and hence got approved to implement the ODeL system.
Majority of these were universities. She said the lowest uptake was from other tertiary institutions with only 8 approved.
Due to the physical limitations on interaction imposed by the Covid-19 pandemic, NCHE developed guidelines for the implementation of ODeL in June 2020.