Gerascophobic Muhoozi can't wait any more to replace his father as Uganda's president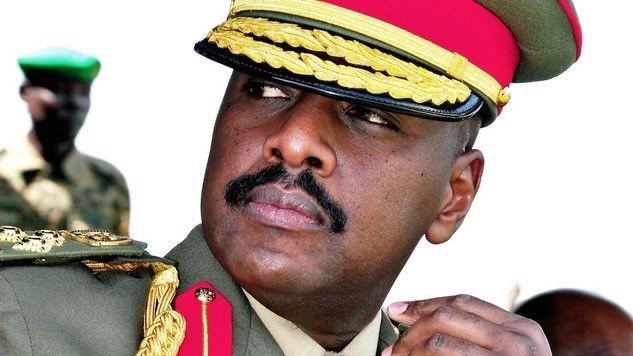 The First Son, Gen Muhoozi Kainerugaba, has declared his intentions to run for president in 2026 because he is 'tired of waiting forever' yet growing old.
Muhoozi who later this year will turn 49 years and 52 years when the country goes to the national polls in 2026 to elect new leaders for this country said the nation's Presidency is meant for young men.
His father, President Yoweri Museveni, who he aspires to replace will be 81 years old in 2026. While Museveni has not spoken out if he will stand for presidency are in high gear within his NRM party to seek re-election.
"Enough of the old people ruling us. Dominating us. It's time for our generation to shine. Retweet and like," Muhozi tweeted Thursday morning ahead of his father's address to Parliament to address matters of national importance.
In the tweets, Muhoozi mentions historical national leaders across the globe that become presidents while still in their youth.
"The Prime Minister of the UK is 42 years old, and the Prime Minister of Finland is 37 years. Some of us are hitting 50 years old. We are tired of waiting forever. We will take a stand!" he tweeted.
Adding: "Fidel Castro, my HERO, became President at 32 years. I'm about to hit 49 years old. It's really not right. The Presidency of the nation is meant for young men,"
Muhoozi'r presidency has been forthcoming, according to political pundits and regime insiders like Gen David Sejusa who gave to life what was a hushedly discussed issue codenamed the Muhoozi Project.
Sejusa in a 2013 letter highlighted that President Museveni was preparing his son to take over from him. The letter was received fiercely by the regime forcing Sejusa into exile before he returned to the country years later.
President Museveni and Muhoozi maintained that there was no such thing as the Muhoozi Project.
The President however maintained that if Muhoozi wanted to turn to politics, which is his right, they are provisions in the constitution that he must follow, including retiring from the army.
Not long ago, Ugandans started witnessing calculated Muhoozi Project social media campaigns. Muhoozi who is still a serving soldier would retweet these messages on Twitter where he is very active.
This, to some political pundits, was Muhoozi giving the Muhoozi Project credence. He has since fully embraced the Muhoozi Project and now has a fully structured 'Muhoozi Army', a legion of civilian supporters across the country promoting his presidential ambitions.