Government releases Shs232 billion for roads maintenance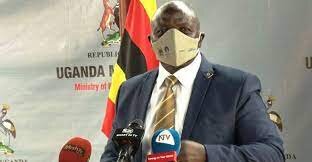 The Ministry of Finance, Planning and Economic Development has released Shs232 billion to Uganda Road Fund (URF) and Uganda National Roads Authority (UNRA) for road maintenance across the country.
According to General Katumba Wamala, the Minister for Works and Transport, Shs100 billion has been directed to Uganda National Roads Authority and Shs132 billion to Uganda Road Fund.
This money has been portioned out to different government agencies, districts and municipalities to address the challenges of bad roads in their areas.
The Minister said the majority of the roads in the country have been demolished by bad weather conditions involving heavy rains.
The majority of the districts in the country have received 100% of the funds to be used in renovating their roads.
"We want districts to implement whatever works on the roads which they have planned for. As I say, if you have a critical road which was washed away by rains, you can still be flexible in managing the funds," he said.
Members of Parliament, who are chairpersons of the district road committees have been urged to follow up on the accountability of all road projects.
The MPs are also expected to discuss any plans on how they are to execute the projects with the Uganda Road Fund which is mandated to finance routine and periodic maintenance of district roads.
The Minister noted that districts will start by submitting their plans to Uganda Road Fund. The plans should indicate the works plans and what culverts they are going to fix or use among others.
Uganda Road Fund uses these plans to dispatch the funds necessary, monitor progress attained and for accountability purposes.
General Katumba highlighted that part of the money released to UNRA will be used to maintain ferries like Nakiwogo, and focus on major roads such as Mperewe-Gayaza-Kalagi and Kayungap-Galiraya among others.
According to Engineer David Luyimbazi, the Deputy Executive Director of Kampala Capital City Authority (KCCA), they received Shs4 billion for this financial year's quarter.
This disbursement will focus on maintaining roads in the Kololo area, Kampala road and Bombo road among others.
"KCCA has a network of about 2,100 kilometres of which 600 kilometres are paid but 60% of that network is beyond what a maintained intervention can cause an improvement, Eng Luyimbazi said.
"So don't expect much change in the condition of the road network in Kampala since much of it is beyond repair. We are focusing on mobilizing resources to reconstruct and revamp this network," he noted.
A survey released by Uganda Road Fund earlier in May this year indicated that road users' satisfaction dropped by 10 percent; from 57 percent in 2019 to 47 percent in 2021.
This was attributed to potholes, dust, narrow roads, poor drainage and inadequate road maintenance.