Here are key facts about Shuhada'u Muslim Martyrs in Uganda
. Kabaka Mwanga II ordered the brutal killing of the Uganda martyrs after they refused to denounce their faith which the Kabaka had asked them to do.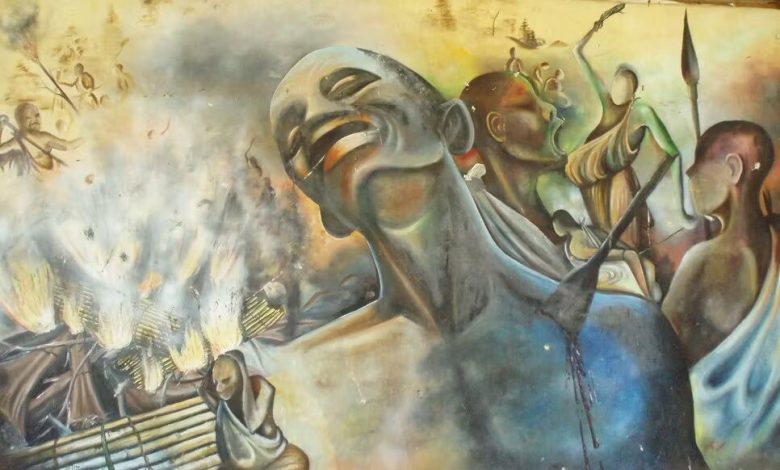 Every 3rd June of every year, religious faithful, especially Christians, meet at a site in Namugongo, Kira Town Council, Wakiso district to remember and pay homage to martyrs who were killed by Kabaka Mwanga II, the Buganda Kingdom ruler, because of their loyalty to their new faith and religion. 
However, it wasn't only a Christian affair. Muslims too, were also killed and their martyrdom is well documented. This has come to be known as the Shuhada'u Muslim Martyrs. These killings, of over 100 religious fanatics, happened about 147 years. The martyrs were executed between 1885 and 1887.
Islam was introduced in Buganda in 1844 by the Muslim Arab traders from Zanzibar although it had reached Northern Uganda in 1827. These were received by then Kabaka Suuna II at his Wamala Palace currently in Wakiso district via Mulungo – Munyonyo. 
Prof. Badru Kateregga, the Chairman of the Muslim Martyrs Committee in Uganda, tells Charmar News in an interview that traders donated Holly Handwritten Quran to the Kabaka. Other presents like glasses, clothes, pistols, jewellery, prayer mats, kettle, zinzimiya (machete, panga) and many more were given to the King.
"They (Arabs) subsequently convinced the Kabaka to submit to Islam and later spread it to Buganda and other parts of the country. The Kabaka learnt how to recite the Holly Quran then later the Kabaka asked the Arabs to ask their sultan of Zanzibar to teach his people during their return," he explained.
According to Kateregga, in 1856, when the Arab traders returned, they were welcomed by King Mutesa I after his father's 'Kabaka Suuna II' death in his Palace at Kasubi Nabulagala. 
The Sultan of Zanzibar sent a letter and several gifts to the Kabaka of Buganda which included Arab Money, King's gown (Juba, Busuuti).
Al-haji Sulayiman Musana Kawanguzi, the Coordinator of the Shuhada'u Muslim Martyrs Committee, reveals that after the Arabs introduced the new dress code, a new culture of dressing was introduced in Buganda.
This website has learnt that Kabaka Mutesa I was happy with the gifts and presents presented to him; he decided to convert to Islam. He also established Islam as the state religion of Buganda kingdom.
Kateregga further highlighted that Mutesa I ensured that Mosques are constructed in palaces and chiefs' enclosures including the first mosque at Kasubi Nabulagala (Masjid Kibulatini). He declared the Islamic greeting (Asaalam aleikum) to be the official kingdom greeting.
Although Mutesa I embraced Islam wholeheartedly, he was not circumcised as a way of respecting Buganda traditional norms where the Kabaka's blood can't be shed.
"He later learnt that his people had refused even to eat meat slaughtered by him as they called him pagan/kafiir because of being uncircumcised. He ordered the arrest of the 27 Muslims who had circumcised themselves without his permission. He sentenced all of them to death," said Kateregga.
Others were brutally tortured, killed and burnt at Kisalosalo in Namugongo. He killed over 100 Muslims between 1874 and 1876.  
Upon his death in 1994, Mutesa I was replaced by his son Kabaka Mwanga II. Kabaka Mwanga II ordered the brutal killing of the Uganda martyrs after they refused to denounce their faith which the Kabaka had asked them to do.  
Sources reveal that in their recognition, Masjid Noor Shuhada'u was built in 1968 by Muslims at Namugongo. Since then, 1st June was marked for their commemoration. 
The same day, Uganda Muslim Supreme Council (UMSC) was established by President Idd Amin Dada who convened a conference of Muslim leaders from different districts in Kabale, Western Uganda. 
The meeting aimed at bringing unity among Muslims in Uganda. Its headquarters are based at Old Kampala Hill.
According to Sheikh Elias Kigozi, the District Khadhi of Wakiso, UMSC has plans of developing the Namugongo place though they are having challenges.
However, with this development, they want also to develop other sites like Mulungu-Munyonyo, Nateete Site Mosque, Kasubi Mosque (Masjid Kiblatain) at Nabulagala, Namungona Salaf Site Mosque, Kawempe Mbogo Site and many more for religious tourism.