INTERVIEW: We have a good budget that speaks to the needs of all Ugandans, Ramathan Ggoobi
The Permanent Secretary and Secretary to the Treasury, Ramathan Ggoobi, will be the Focal Pace Setter at the 4th Business Trendsetters Forum which will take place on 31st August 2023 at Sheraton Hotel Kampala. We talk to him in this interview.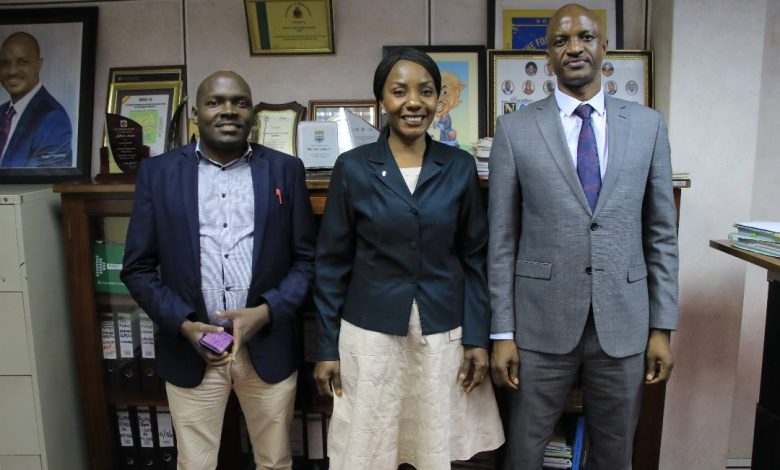 The Permanent Secretary and Secretary to the Treasury, Ramathan Ggoobi, will be the Focal Pace Setter at the 4th Business Trendsetters Forum which will take place on 31st August 2023 at Sheraton Hotel Kampala.
In this interview ahead of the reading of the 2023/24 Financial Year national budget on 14th June 2023 by the Minister of Finance, Planning and Economic Development Matia Kasaija, Charmar News Editor Baz Waiswa sat down with Ggoobi, to have a sneak peek into what Ugandans should expect from the document that indicates how the national cake has been redistributed. Below are excerpts.
Last month, in May, Parliament approved the 2023/2024 Financial Year budget, which is going to be read to the public this week, what kind of budget are we having as a country?  
It is a good budget. You are going to see it. We are going to read it out there for everyone to hear it. It is a budget that has everybody and every sector in consideration.
You are going to see how the farmer is catered for. It is a budget for an industrialist. You are going to see how the industrialist is catered for. It's a budget for a trader in a village or in Kampala.
It's a budget for a worker. It's a budget for a security officer. You will see how the security officer, whether in UPDF or police, is catered for and of course, all that affects the trends businesses take.
It's a budget for a civil servant. It's also a budget for elites, the bureaucrats and the development partners; they will see themselves in this budget.
It is a budget for the average Ugandan. A number of things are in that package. The minister will present it in a less technical language.
When preparing these policy documents, like a budget, we take it to Parliament for appropriation. But the language is technical for even the appropriator and the average person, things of GDP, fiscal deficit and fiscal space.
We are to break it down in a simple language so that an average Ugandan can understand it when Kasaija is reading this budget on behalf of the President.
But above all, we have to account for the budget read last year. What has it done? Where are the challenges and the gaps in implementing that budget? How are we addressing them going forward?
Ugandans, especially Members of Parliament (MPs), complain that government misallocates resources, putting money in sectors that are not a priority, how has this issue been addressed?
A budget is like that; everywhere in the world. A budget is a political economy document. People are fighting for their interests in the budget.
The President, voted by the people, has budget constraints. He has to decide whether we should first pay higher salaries and allowances or ensure that the people in the villages get money to start production through Parish Development Model (PDM).
Or should we first put money into the maintenance of roads in the villages, because now, each district is going to get a billion shillings, those are thousand million shillings. It has never happened in the history of Uganda that a small district is having one thousand million shillings to maintain those feeder roads. Now somebody says that is not a priority?
Reliance on loans and grants for budget support raises questions of sustainability, how do you plan to strike a balance? 
Everywhere in the world, except for a few countries, countries run what we call a deficit budget. With a deficit budget, we are going to have about Shs30 trillion of revenue next year. Uganda Revenue Authority (URA) will collect these taxes. Other institutions will collect the non tax revenue. But remember, our budget is Shs52 trillion.
So the other Shs22 trillion we must get from our development partners. We must borrow some money. Borrowing is healthy for as long as you borrow for development.
I want to tell you without mincing words that you can't go in front of President Museveni and tell him that you want to borrow money to give a ministry to pay wages or to go abroad to benchmark. That can't happen. We only borrow money for development projects.
I want to tell you the things we are to borrow for in budget support are the Standard Gauge Railway (SGR), Meter Gauge Railway, repairing and finishing it. Now you can see trains have started running at relatively higher speeds because we have rehabilitated this line from Malaba to Kampala. We want to rehabilitate the one from Tororo to Gulu and to Packwach.
Then irrigation. We are going to borrow money to irrigate more by taking water to people through these solar-powered irrigation systems.
We are borrowing money for roads. We are borrowing money for electricity, dams and transmission lines.
These other things I see people writing about, saying the government is to borrow to pay salaries? The salary of Ugandans, what we call the wage bill, is Shs7 trillion, and URA is collecting Shs30 trillion. Do you mean from this, Uganda cannot pick Shs7 trillion to pay salaries; it has to borrow?
I want to tell you; we pay all our debts in Uganda. Uganda is among the few developing countries that have never defaulted on their debts because it has a first call on the budget. We pay our debts religiously.
We pay our obligations; statutory wage, the allowances of our leaders in the Judiciary, in Parliament and the executive. They are what we call statutory allowances. You must pay them. Then we pay all other obligations of the state.
And after that, we remain with some little money; it's not enough to deliver all our development. So that's why we borrow some money. That's the budget support we are talking about.
The grants are very small; for example, in budget grants, it's only Shs78 billion; Shs78 billion out of Shs52 trillion budget is what we call grants in budget support.
Much more grants are in project support, about two-something trillion in the projects. Ugandans need to be very proud of their economy. These days you are almost self-sustaining.
Budget reports highlight validated outstanding domestic areas, what measures are being implemented to clear these arrears? 
Let me tell you, those domestic arrears look like a big chunk mainly because of Bank of Uganda (BOU) money. The BOU clears some of our government papers – bonds and treasury bills. Before the government has paid, they have that obligation. We entered into an agreement for them to clear that.
Also, BOU lent us some money during COVID, around 2020, which we are paying back. What you are seeing as arrears is mainly BOU money which we are going to pay. We have budgeted, in this coming budget, Shs1.25 trillion to pay.
We also have suppliers whom we have delayed paying but are on our radar. I'm going to pay most of their monies.
Then there are those who for example sue the government. Those are the ones which we are scheduling pay as resources come in. But these typical suppliers, those we are trying our level best. I want to assure you that we are going to clear most of these domestic arrears.