Kenya Clean Campaigns Put Uganda To Shame, Leaves Ugandans Jealousy & Cursing Being Ugandans
He enjoys a lot of support and goodwill amongst the voters. He is further blessed with money. Despite all those leverages and others not mentioned here, the Uhuru Kenyatta is not being tempted to disrespect the Constitution of the land for his desires.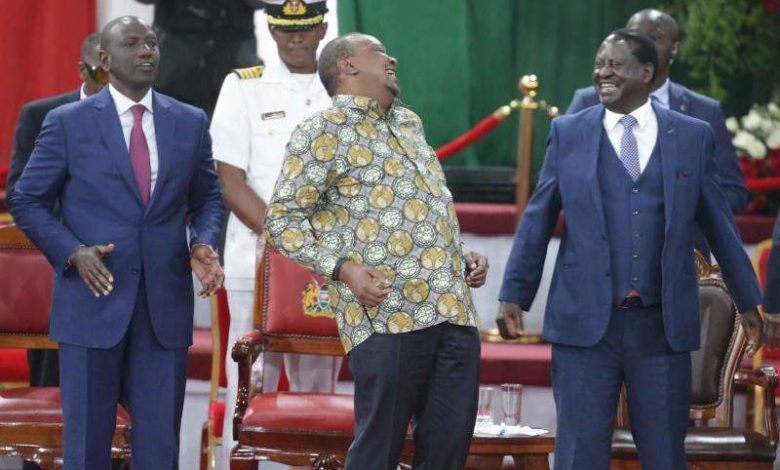 By Isaac Mutema
The clean campaign in Kenya leaves Ugandans with a very heavy sense of jealousy and longing for political civility in their motherland. Many in our midst are brethren and sisters possibly cursing at the moment the fact that they are by accident of birth, Ugandans.
I mean, many civilised Ugandans could be possibly looking on with both awe and anger at what is going on in neighbouring Kenya. A president is on his way out. He is packing up to go away from the trappings of power, in accordance with the Constitution.
The supreme law in the land of his ancestors permits him only two terms at the helm. Beyond that, he is expected and, in fact, obligated to act as a statesman and leave the trappings of power for another person.
To all my friends in Kenya;

"MAY YOUR CHOICES REFLECT YOUR HOPES NOT YOUR FEARS"

Wishing you a free,fair and peaceful election 🗳 #Harambeee #KenyaDecides2022 pic.twitter.com/hVOPFuCiEM

— Allan kateregga (@DancingRastar) August 8, 2022
The outgoing leader has a favourite candidate. Also, other candidates are vying against the president's choice. Can you imagine? The president hasn't been seen or heard threatening any of the adversarial candidates.
Nor has he been seen and heard abusing his powerful offices to arrest, block campaigns or raid offices of adversarial candidates. Yet, the man on the way out is the Commander-in-Chief of the national army.
He enjoys a lot of support and goodwill amongst the voters. He is further blessed with money. Despite all those leverages and others not mentioned here, the president is not being tempted to disrespect the Constitution of the land for his desires.
Uganda opposition leaders Bobi Wine and Kizza Besigye in Kenya as observers of the Aug. 9 elections. Between them they easily bring more experience of being beaten, jailed, and swindled of the vote than half of the African opposition combined. Glad to see them with rare smiles. pic.twitter.com/h04IcG6eIq

— Charles Onyango-Obbo (@cobbo3) August 7, 2022
Most importantly, the president's number two is vying to replace him. He is running against the boss' favourite candidate. Do you know what? The president hasn't called a mini reshuffle and fired his deputy for going against the correct line.
Yet, the president boasts of such powers. Nor has he ever even suggested that his favourite candidate should be the sole candidate for the sake of cohesion and unity.
As you are still at it, then you get to learn that the incumbent president is supporting a candidate from an opposition party, not his party.
Ruto's supporters and polling agents are not getting arrested on the eve of the presidential election. Something is wrong with Kenya's security forces.

— Kelvin Omukungu (@KOmukungu) August 8, 2022
The president has a son. So, why is he then committing such a big mistake as that of supporting a candidate from the opposition for power? He is doing so as a gesture of reconciliation and for the sake of peaceful co-existence.
His father in the past mistreated the father of the candidate he is supporting now. The father did this because of greed for power. The victim was trying to run against the now-sitting president's father.
So, he had to be crashed for exercising his God-given right to vie for power! Now, out of a grave sense of duty to heal the historical mistakes committed by his father, the sitting president has chosen to support the son of the victim of his father.
We have to deal with the reality that Kenya is a member of the East African Community.
Campaigns were open and free, No reports of torture/ abductions, Internet is on. No candidate has been arrested. Etc.
We pray for the best 🙏#KenyaDecides2022 pic.twitter.com/CUx7XHyI3p

— Culton Scovia Nakamya (@CultonScovia) August 8, 2022
In a further show of maturity, leadership, nationalism and brotherhood, the president, just like any other person, has been peacefully traversing the campaign trail to seek votes for his candidate.
Mark you; the president has not been doing the campaigning complete with battalions from the military, billions of money, kibooko-happy goons and such dirty things.
He is doing all that I have been highlighting alert to the reality that there is still life beyond state power. He is civilized enough to understand that the battle for the state house shouldn't be treated as a matter of life and death.
It's election eve in Kenya and guess what, their internet is on.

— The Romantic Mukiga (@emeka_ug) August 8, 2022
He is more than aware that the sanctity of the nation and of the people is far much more important than him as an individual. Accordingly, he had deliberately chosen to put the sanctity of his country above his greed and as an individual.
Yet, near my motherland, security has just been deployed all over mere parliamentary constituencies to make sure that certain individuals are denied their right to access parliament in favour of others.
Such heavy security apparatus have not been deployed to ensure sanity but to abuse it. They are heavy on the ground to flog the supporters and agents of certain candidates.
#Kenya goes to vote on tenterhooks. The positive from Kenya election is that they learnt something from violence of 2007. Thing with #Uganda election violence is that it's one sided, day citizens will counter the nonsense from M7, we'll learn to respect democracy & rule of law.

— Baz Waiswa (@BazWaiswa) August 8, 2022
They are there to neither stop the victims from voting for nor guard the votes of their candidates There are there to cause a situation of lawlessness to carry out ballot stuffing without anyone daring to stop them.
The electoral commission is far from being an independent body as its style is part and parcel of the vote thuggery. They are there to simply and predeterminedly overlook the rigging and announce as well the candidates who happen to be backed by the powers-that-be no matter what!