Liverpool legend Steve McManaman to grace launched 6th edition of Standard Chartered Cup
This is the sixth time it is being held in Uganda, having been successfully launched in 2015 and run until 2019 when it was halted due to the pandemic.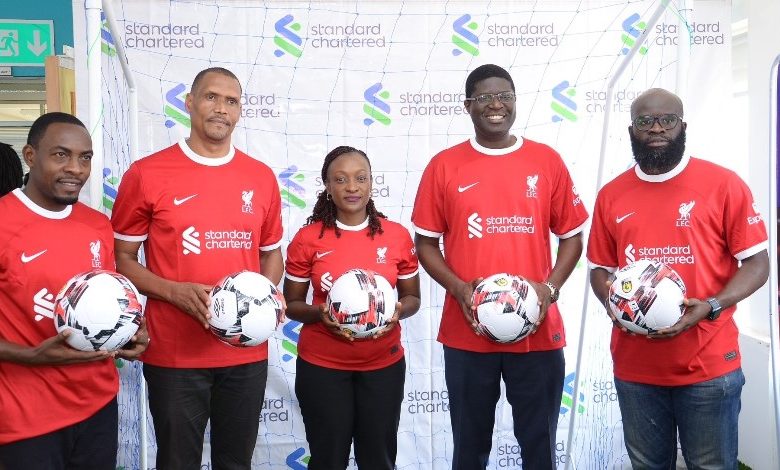 Standard Chartered Uganda has Monday launched the 6th edition of its Standard Chartered Cup – futsal tournament. The 2023 Standard Chartered Cup tournament was announced at a press conference held at the Bank's Head Quarters at Speke Road, in Kampala.
The 2023 Standard Chartered Cup" is an international 5 aside football tournament that offers football fans a 'Money Can't Buy' opportunity to travel to the UK to attend an English Premier League match, benefit from a professional training session with the "Reds" legends and coaches at the LFC academy before attending a match viewing session of an LFC game.
It is hinged on the Bank's Liverpool FC sponsorship and is a great opportunity for Standard Chartered to reinforce its partnership with Liverpool FC locally and engage its clients and local LFC fans in the beautiful game of football.
This is the sixth time it is being held in Uganda, having been successfully launched in 2015 and run until 2019 when it was halted due to the pandemic.
The tournament provides the Bank with a platform to actively engage football fans, reward & motivate fans, clients and employees, further grow the support for Liverpool FC locally and promote a fun-filled, interactive, sporty and memorable Standard Chartered event.
This year, 40 teams of 7 players (participants) each, will play 10-minute 5-aside matches (with 2 substitutes). The teams will comprise of the Bank's Corporate, Commercial or Business Banking entities, LFC fans and media partners.  Participation is strictly by invitation.
The 40 teams will be grouped by the organisers in eight groups for the group stages and the group games will be played on a round robin basis. The top two in each group, will advance to the round of 16, and the winners will go on a knockout format advancing until the final.
While addressing journalists at a press conference, the Acting Chief Executive Officer, Standard Chartered, Kelvin Musana said their partnership with Liverpool FC enables them to work together to create and deliver a unique, money-can't-buy experiences.
"I look forward to enjoying some friendly, but exciting, competition among our 40 corporate peers for the chance win the Grand prize of an all-expenses paid trip to watch a match live at Anfield, the home of Liverpool Football Club.
I would like to appeal to all invited corporates to take advantage of this opportunity as soon as possible as it's on a first come, first serve basis. I want to thank all the past participating organisations, our media partners for supporting us on this journey."
He added, "We are delighted to host a Liverpool legend like Steve McManaman join us this year. Steve was and continues to be a role model for many – respected by his teammates, opponents, managers and fans alike. I am grateful to Steve for agreeing to travel here, share his experiences and insights to inspire all football loving fans and all of us to aspire to greater heights, both on and off the pitch."
Edgar Watson, the FUFA CEO and Edgars Youth Programme while speaking at the SC Cup launch said Edgars Youth Programme has the experience of handling the technical aspects of this SC Cup futsal tournament having managed it from inception in 2015.
"This year we will ensure fairness and professionalism in this competition through verification of the players to ensure no professional players participate. We have a competent team of game officials and Technical Committee who will handle the tournament.
He added: Even though this a fun 10 minute, 5-aside tournament, it tends to be very competitive due to the grand prize so participants are urged to train well to cope adequately. The tournament allows participation of both male and female players."
The Head of Corporate Affairs, Brand and Marketing Margaret Kigozi while unveiling the technical aspects of the tournament reiterated that for companies to qualify, they will need to undertake the validation exercise by providing a letter from their company's Human Resources department confirming the employment status of each of the registered players and copies of their IDs within the registration deadline which is Friday 29th September 2023.
"Registration will be on a first come, first serve basis and can close earlier if we get the 40 teams before the deadline. Workmates, families and friends are welcome to attend and watch the local tournament that will take place on 7th October 2023. In the spirit of diversity and inclusion, we encourage teams to have female players as this is an amateur and fun tournament and meant to reward employees." She concluded.