Mining In The Pandemic: How COVID19 Affected Uganda's Minerals Sector, Miners
Unlike gold, COVID19 presented a mini boom in the real estate business, the biggest consumers of sand, stones and rocks. At Bubugo Kirongo Stone Quarrying site, a few kilometers from Bugiri town, the miners who embraced the midday heat when we arrived, said that because schools were closed, some parents turned to constructing houses and other projects something that brought them customers.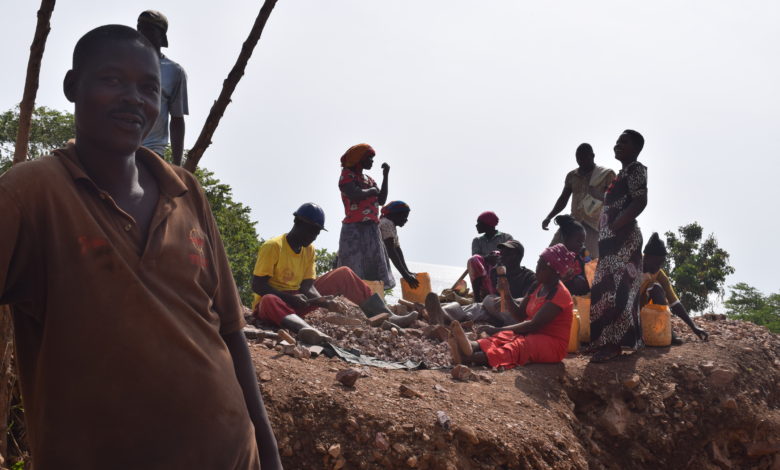 The gentle cool breeze from Lake Victoria welcomes you to Buhere landing site, Bukana Sub County in Namayingo district, eastern Uganda. The breeze further tames the early February afternoon sunshine that had proved to be a menace as our two-wheeler motor navigated through the bumpy but motorable murram feeder roads in rural Namayingo.
While the lake breeze was welcoming, the piercing sounds of men working the machines in the rocky hill that lay above the landing site, the Buhere Mines, was representative of the emerging mining economic activity that is fast replacing fishing and agriculture.
Namayingo like many other rural districts in Uganda is dependent on agriculture, fishing and petty trade. This is fast changing ever since the district became a gold mining hub. But this rapid transformation was put to a halt when COVID19 pandemic, an alien virus disease hit the world in 2019 and in early 2020 brought Uganda to its knees.
No more gold rush
In Namayingo, as President Yoweri Museveni on 18th March 2020 suspended mass gatherings and quarantining of incoming travelers, in what was the beginning of the many stringent measures to curb the spread of the new virus, residents of little Buhere didn't know that their burgeoning mining trade was bound to stall for more than two years.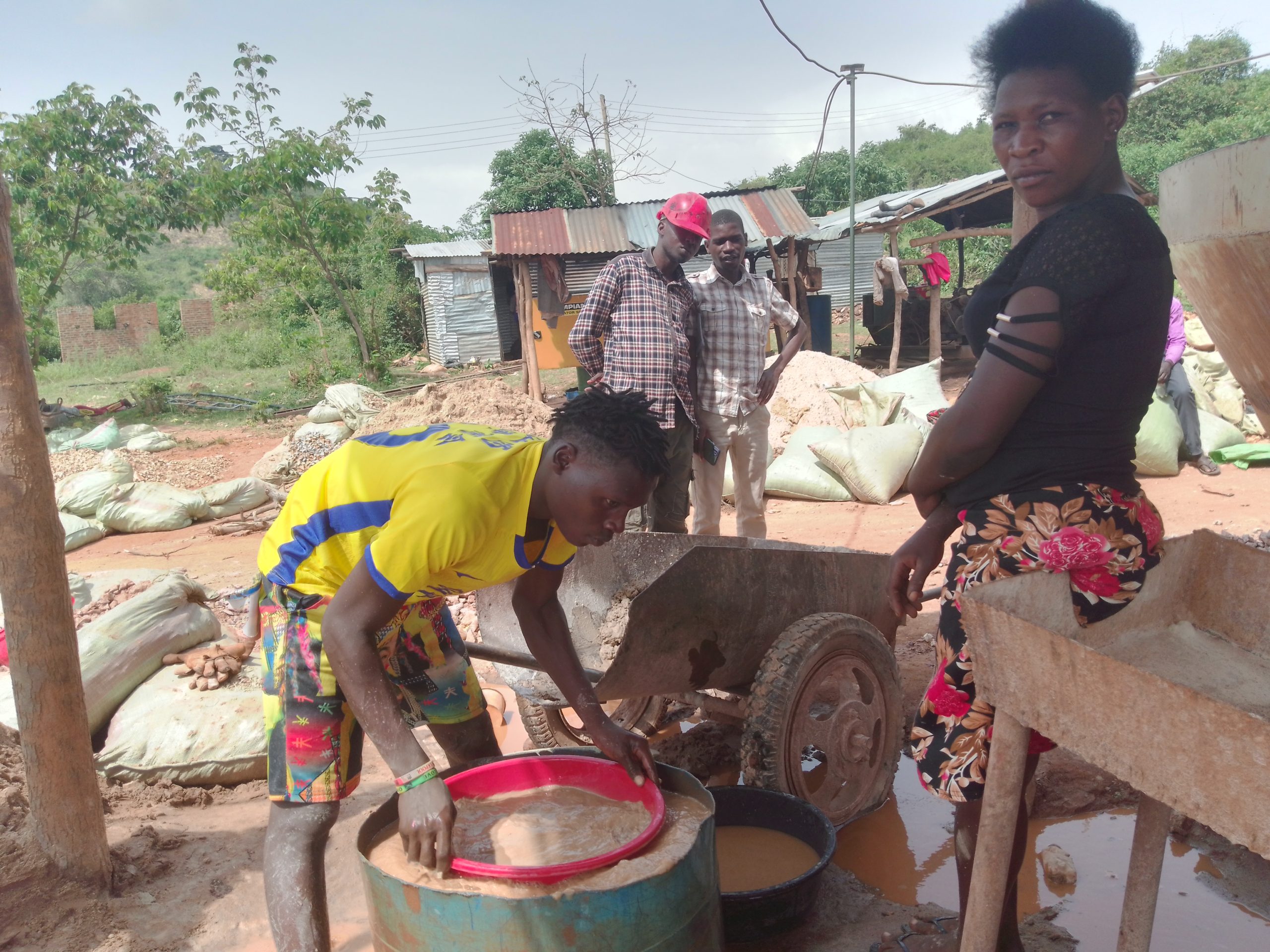 "It was a difficult time. Miners, those who had come from far towns, left. The prices fell. There was no one who was buying gold because transport had been cut off. To date, we are yet to recover," Mr. George Mina, the vice chairperson of Buhere village, told Earthfinds during an interview inside his wattle office.
But gold miners in Namayingo and Bugiri districts, especially the natives, were defiant and often ignored the restricted movements, social gatherings, night curfews and the lockdown to go down in the pits to look for gold.
The local authorities, including police, were understanding and never really applied the strong arm of the law. The undoing at the time was the lack of buyers, this worsened the situation.
Ms. Mariam Rose a native of Buhere lamented that farming is fast becoming insufficient and unable to support her family of eight. The single mother who we found crushing stones in the gold mines said that the land she has is not enough to enable her grow surplus food, therefore, she comes to the mines where she works as a laborer so she can earns about Shs10, 000 daily to financially provide for her children's feeding, education and herself.
She is not the only woman in the expanding mines. Many like her own no pits. They are employed as laborers to earn a day's wage. Many of the women were just returning to Buhere to work after the forced pause caused by the pandemic. They pound away the stones to crush them into small sizes before they are turned into dust and 'washed' to sieve out gold.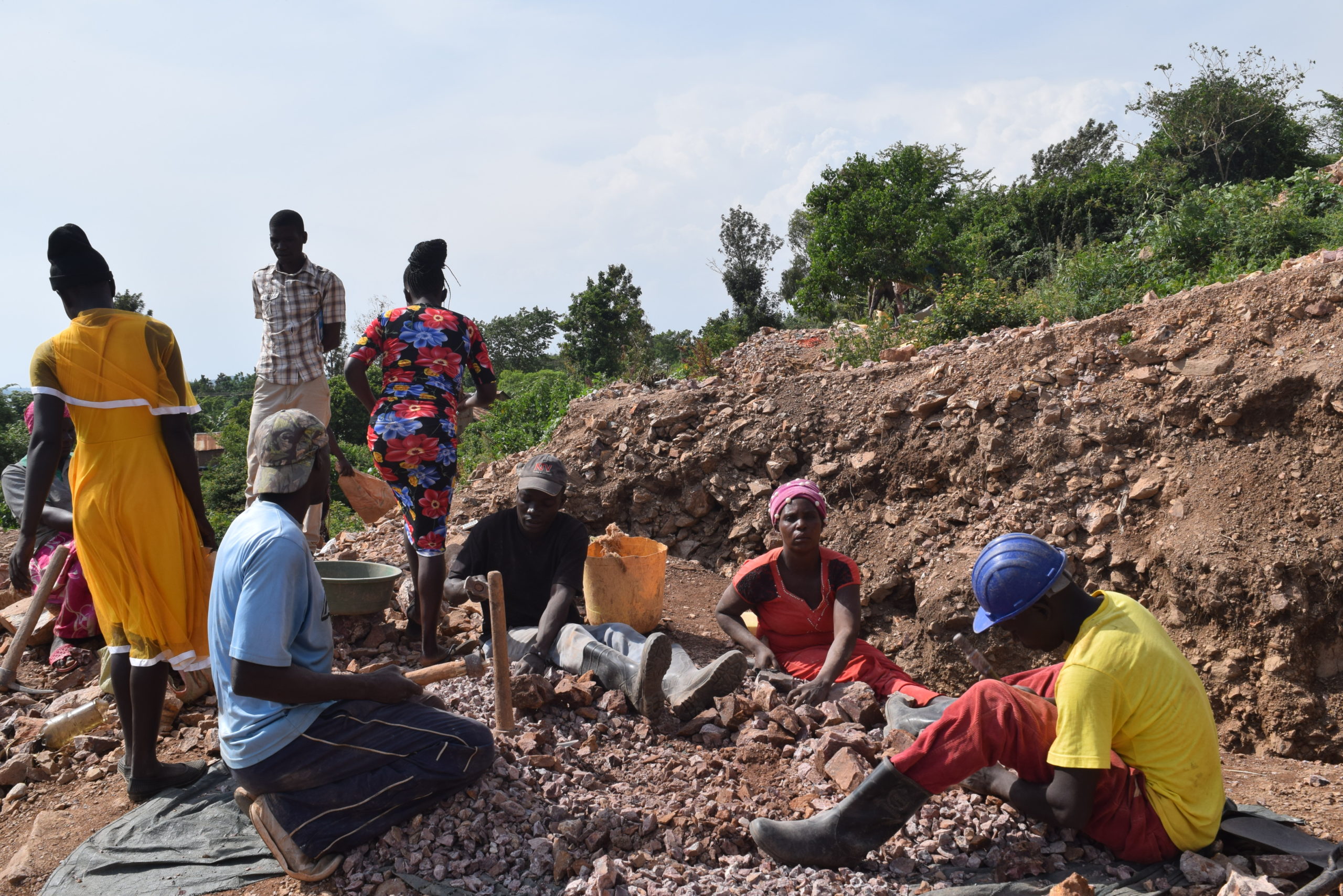 Mr. Mina said that miners who are indigenous residents, like Ms. Rose, would sneak and go to look for gold in the rocky pits but there was no market for their find. But whenever the lockdowns relaxed the gold buyers who came to the village would give them low prices.
Another female miner in Buhere said social distancing ensured that very few people worked in the mines. The curfew also made them to leave the mines early and not work the night shift. Also, working in the mines is laboring and require proper breathing but the masks were detrimental yet the local authorities, according to Mr. Mina, ensured every person who entered the mines wore a mask.
Lost revenue for local government
The story is not any different in the gold mines in Bugiri. Those who managed to access the mines had nowhere and nobody to sell their gold too. The gold production plummeted, incomes crushed and life was hard.
Mr. Ronald Lwanga, the acting head of natural resources department in Bugiri district in an interview confirmed that when the economy was closed, the buyers couldn't reach the sites. "The miners had the products but the buyers were not accessible. This led to miners to shift from gold mining to sand mining and stone quarrying. It largely affected miners income; they were not earning," he explained.
This pinch was also felt by the district revenue collection department. Mr. Lwanga said: ". Also, because the mining in the area is still rudimentary, revenue collection is tricky. You cannot track their output, so we lost out completely. We also couldn't move into mines to track their production because of the lockdown. Actually, during the pandemic, we realized nothing in terms of revenues."
Local governments are by law supposed to get loyalties from the miners but because most miners are artisanal and rudimentary, district fail to track the miners down since they are not well streamlined.
Low prices for gold
At Budde gold mining site, a handful of young men were active. A site that usually accommodates over 300 miners and dealers, you could barely count 30. Those we found onsite said there colleagues had not yet return from the forced COVID19 break.
Yokosadi, in his mid-30s, decried the low prices and the lack of market for their gold despite risking all to come and work. "What we used to sell at Shs15, 000, you would get it at Shs8, 000. They were no buyers. Those who had special vehicles going to Kampala were few and they would give us low prices," the soft speaking man said of the bad business at the time in March.
Mr. William Musinguzi, the site manager of Acorn Mining Company also operating inside the gold mine at Budde said revealed that they witnessed the price falling from Shs150, 000 per gram to as low as Shs100, 000. As a manager representing the interests of the investor, this was bad business.
But with the opening up of the economy, business is coming back to life. Yokosadi said that the price has started going up. Now, a point goes for Shs15, 000. By the time of publishing this report, it could have gone higher.
Strict rules in Mubende
In Bugiri and Namayingo, like everyone in the communities, the miners heed to the call to observe the Standard Operating Procedures something that they say helped them not to register any COVID19 cases in Namayingo. "We were clean and keen. We had water and soap. Visitors first reported to our chairman", a miner at Budde said as he 'washed' the soils in quest for gold.
But in Mubende and Kasanda, the strictness was tough that some miners runaway and found their way to Bugiri.
Mr. Henry Batuma is a Mubende based gold miner and dealer but because of the strict COVID19 rules in central Uganda, he sought refuge in Bugiri district where work was still going on. Mr. Baguma's other reason for relocating to Namayingo is that government had closed their mine, but now that COVID had subsided, he was planning to relocate to Kasanda.
Silence in Tororo
Stone quarrying is a big mining business in Tororo district and has helped Tororo town boom. But even before the Tororo stone quarry contractors, a company owned by Isreali got issues with Tororo Cement, their main customers leading to its closure in 2021, the miners there had already felt the punch of COVID19.
Mr. Sam Mugabi was a contracted driver in the stone quarry but due to downsizing and the restrictions due to COVID19, many miners had lost their jobs even before the quarrel between the Israeli firm and Tororo Cement.
Like many minerals, the prices of the stones fell down from a Shs150, 000 a tonne to Shs100, 000 or less.
 Not bad business for development minerals
Unlike gold, COVID19 presented a mini boom in the real estate business, the biggest consumers of sand, stones and rocks. At Bubugo Kirongo Stone Quarrying site, a few kilometers from Bugiri town, the miners who embraced the midday heat when we arrived, said that because schools were closed, some parents turned to constructing houses and other projects something that brought them customers.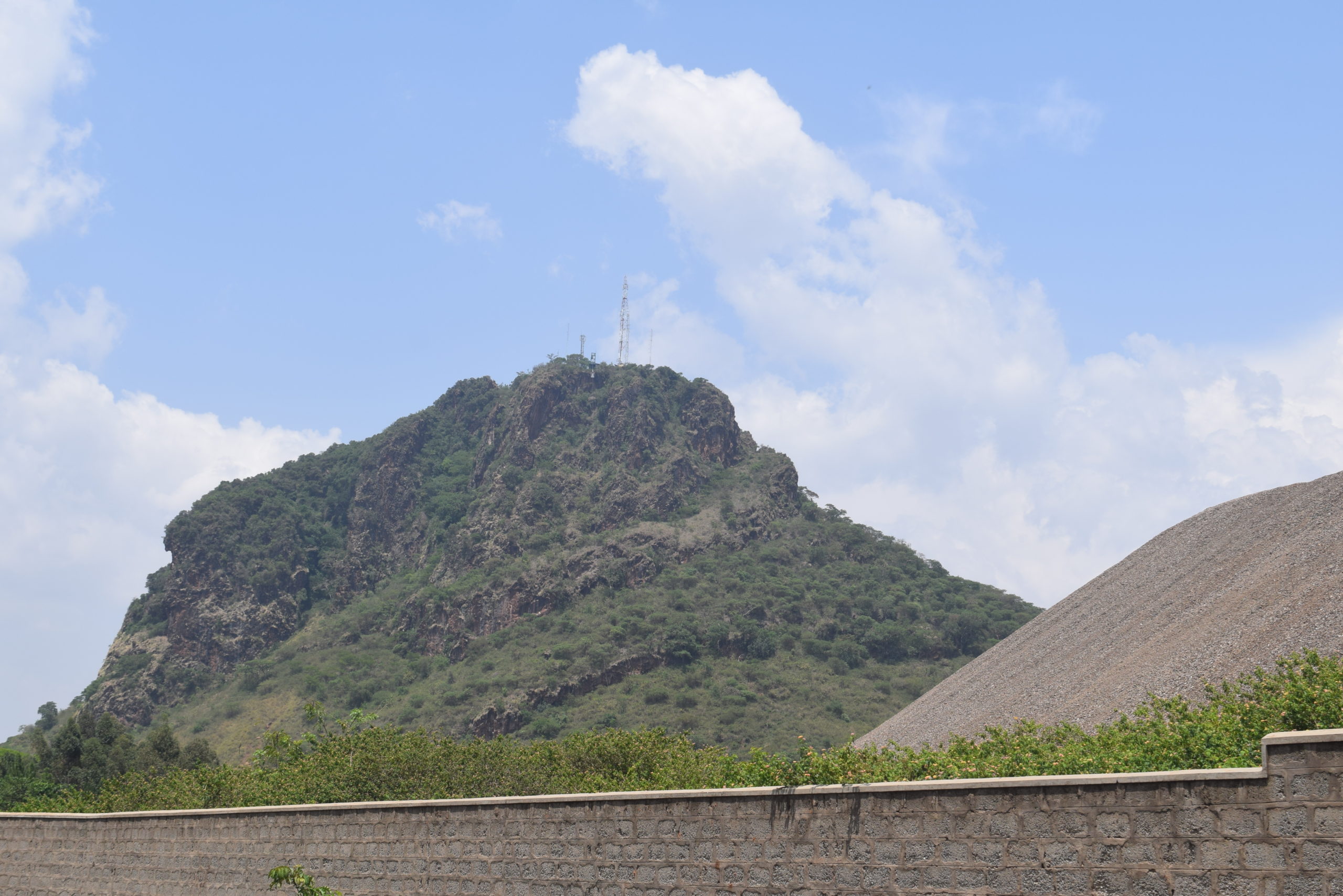 "As you know, businesses are connected to each other; if a food vendor doesn't make sales, another business will struggle. So sometimes we would not get customers but here business was not entirely bad," Mr. Fred Kasambira, wearing a yellow glove in his left palm to protect him the pricks of the stone, said.
Dennis, a youthful miner in a fading vest told this reporter in Kirongo that the period of COVID19 was full of uncertainty. "For a man like me with a family, that was a hard time not to have a daily income. Now that we have resumed, I am not sure if I will make enough money to send my children back to school,"
Dennis' school fees worry is shared by many of his colleague. And it is not just schools fees to send their children back but now their-would be customers were priotizing and saving every penny they earn to prepare for the schools opening. This means fewer customers for men and women in Kirongo quarry that employees over 400 miners.
Originally not a miner before COVID19 struck, Ms. Hadijah Mutesi says the pandemic drove her to the stone quarry so as to earn a living and take care of her family. Unfamiliar with the stone breaking, the stones tear her fingers' skin but she has not option but to work.
"When COVID19 started in 2020, my previous business ended and I returned to the village. I have children and grandchildren who need to feed and they will need to go to school when they open. The children also need medication," an elderly Ms. Mutesi says sweating as she smashes more hardcore into tiny pieces.
Mr. Nambiro Fred Bazibu, also of Kirongo complained of the health risks involved in their trade. He then called on government to support them by providing them with machines that can easy their work.
No buyers for irone ore in Kigezi
In Kegezi sub region, the impact of COVID19 was equally felt among the communities in Rubanda district. Endowed with iron ore and wolfram, Rubanda has a sizeable mining community.
In Nyamuriro village, Muko Sub County, Rubanda district, Mzee Kabwekye, Byamukama and Jasper have agonizing tales to tell. These wolfram miners, when the mines closed to avert the spread of the deadly disease had to find relocate to other places and jobs.
In Particular, Jasper travelled as far as Buganda in search of work abandoning his family back home. In Buganda, the situation was not any different and he couldn't return home due to the lockdown.
Byabakama said: "Our lives depended on these mines to provide for our families but when the mines were closed because of COVID19, we had to go and look for work elsewhere but the situation was not good. Even after the reopening, the situation is not good,"
Not that miners who stayed in Rubanda were any better than Jasper, Mzee Kabwekye said: "What we reaped from COVID19 is poverty. Some people dont have to drink and waste their life." And now he wants government to help because they are out of work.
In Hamurwa Town Council, Rubanda district, iron ore miner reported that buyers of their iron ore ran away with their money when COVIDq9 lockdown was announced.
Ms. Scorah Tukahigwa said they formed an association they called Kigezi Iron Ore Miners which they used as a collective voice to demand from an 'investor' called mr. Moses Kamuntu. But even with the numbers of the association, Mr. Kamuntu didn't pay them.
Now that they have resumed work, they have the iron ore but no buyers, Mr. Kamuntu has not returned. We want government to get buyers of our iron ore, she pleaded in the interview.
For Lawrence, the COVID19 experience is gruesome. "We got very many challenges when COVID19 came. We failed to get money to pay workers. Because we hadn't paid them, they couldn't support their families.
Actually very many families broke up. We used to pay our worker weekly but when COVID19 came, we failed to get money; we went to the bank and we failed to pay the loans, the banks took our properties. Some people ran away because of the banks."
But for Ms. Tukahigwa, COVID19 didn't pass without a lesson being learnt. She said: "During the period of COVID, we learnt how to save. The little we had, we saved it. We also learnt to enter into contracts; this helps us not to be cheated."