Museveni blames sports underdevelopment in the country on past regimes
The First Lady also tasked sports stakeholders to direct more attention to the FEASSSA teams that have carried Uganda's National Flag to various international competitions, where they emerged victorious.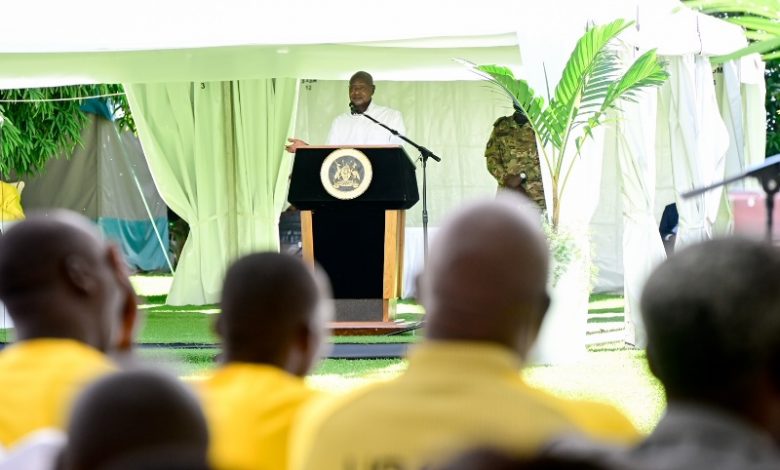 President Yoweri Museveni has told a group of athletes he hosted at State luncheon at State House Entebbe on Wednesday that sports development in Uganda was a bit delayed due to bad politics in the past regimes.
He explained that because the country's economy totally collapsed, when they came-in in 1986, they concentrated on minimum recovery of the economy, the expansion of the small modern sector, diversification and then introducing the new sectors which were not there before.
"What I can say now is that we have not yet started because we have not really done so much for sports specifically. We have not yet started seriously to take advantage of our potential,"
Museveni welcomed the concept of developing minimum zonal infrastructure to promote sports from the grassroot.
"Having two stadiums per zone in all the 19 zones. That is a very good idea, we shall study it and we shall have to determine whether we put this zonal infrastructure in schools or one in school and one in public. That would be a very good beginning for those zonal competitions to take place."
"I always tell you the value of sports, they are good for fitness , character building, it trains people about the good thing of cooperation since sports needs teamwork, entertainment for the spectators and finally it has become a source of living for the sports people. Therefore, sports should be properly understood and explained to our people," he said.
The President advised athletes that they must be disciplined if they want to go far with their sports careers. He said 'alcohol, prostitution, fighting and all that, don't go well with sports and they can ruin your life. Sports must go with discipline and the fear of the Lord.'
The group of athletes the President and First Lady met at State included those who participated in the World Athletics Championships in Budapest-Hungary and National School Teams that participated in the Federation of East Africa Secondary Schools Sports Association (FEASSSA).
Museveni also congratulated the teams that have been doing well for Uganda in the past years.