MUSIC BATTLE: Who will come out on top – Queen Karma or The King Herself?
Who of the two is better, is a question that has divided music fans. The answer to this controversial question will be obtained when the two battle for supremacy tomorrow.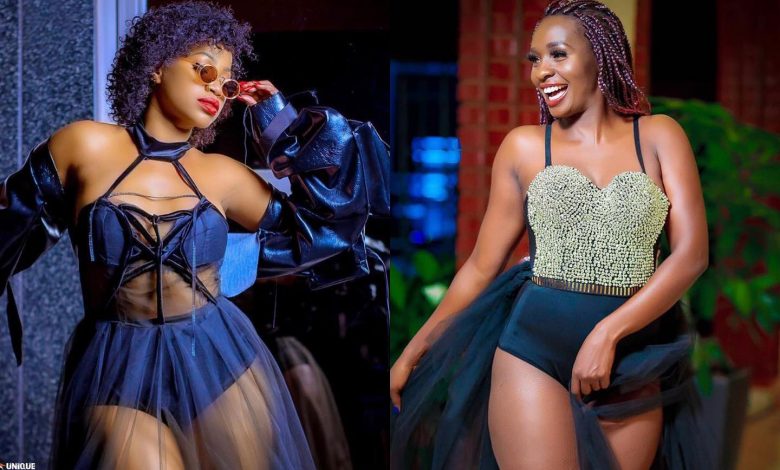 Musicians Sheebah Karungi aka Queen Karma and Cindy Sanyu aka The King Herself are a rivalry we have grown to love. The first of its kind in recent times involving two good stage performers.
Who of the two is better, is a question that has divided music fans. The answer to this controversial question will be obtained when the two battle for supremacy at a concert staged at Kololo Airstrip on September 15, 2023
The battle is organized by Victoria University. Fans of both artists will pay Shs30, 000 for an ordinary ticket and Shs100, 000 for a VIP seat and Shs3, 000, 000 for a table.
Booking the same venue, same date
Before setting up the battle, it should be noted that Cindy declared her intention to host a concert at Kololo airstrip on September 15 which was the exact date and venue chosen by Sheebah who had unveiled her plan to organize a concert named 'YOLO' a month earlier.
Whereas Sheebah claimed to have booked the venue first, Cindy on the other hand claimed she was not aware of the former's bookings which are believed to have sparked off the battle.
iPhone vs Nokia
Not relenting to change the venue or dates, the two singers turned to exchanging verbal artillery. In what has come to define this battle, Sheebah calls herself an "iPhone" and Cindy a "Nokia".
Fans interpreted Sheebah's statement to mean that she is expensive, trendy and digital like the Aple-made phone while Cindy is cheap and old-fashioned like the Nokia phone. The fans took sides, with each side claiming their artiste was better.
The controversial presser 
As preparations for the battle geared up, a press conference between the "ice cream" singer and "ayokya yokya" singer was organized at Victoria University. Both artists, with their fans in tow, exchanged words.
Midway through the presser, Sheebah who appeared to be uncomfortable with questions from veteran entertainment journalist Josephat Sseguya walked off stage which left fans claiming she could have shown fear for Cindy even before the day of the battle.
Upon witnessing Sheebah's departure, Cindy ascended one of the platforms and declared herself the victor of the battle. She went on to pledge her determination to force the former Team No Sleep singer out of the industry and assured her audience of putting an end to her music career.
The TV debate
Yesterday, both artists participated in a live TV quiz on NBS TV as part of their preparations for Friday's event. While at the quiz, Sheebah revealed that she has always been a fan of Cindy but her characters pushed her away.
"I've always been a fan of Cindy's music. I still am. But some characters about her kept pushing me away. I gave her what she has always yearned for; the battle," she said.
While Sheebah bragged about beating Cindy at online numbers, Cindy noted that the online game can be played by anyone since views can be bought. "Get all your numbers on YouTube and Facebook to come to Kololo and that's when it will be relevant to me," she said.
Asked if there would be any collabo between the two artists, Sheebah said, "I don't think she is willing to work with me because I am not a good singer." Indeed Cindy confirmed by claiming it will be hard since they may go to the studio and fail to balance.
"I don't think it is good for her career to work with me!" Cindy revealed.
With that all said, fans taking sides, the judgment of who is better than the other will be done tomorrow based on performance, fashion and bigger audience, among other factors.