Parliament Passes Explosive Bill, 2023 with Shs10 billion fine for illegal use of explosives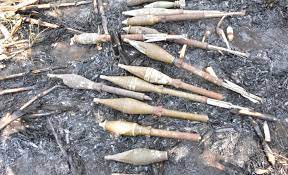 Parliament has passed the Explosives Bill, 2023 that will impose a fine of shs10 billion on any individual who possesses, deals in, uses or sells explosives without a license.
The Bill will also subject such persons to imprisonment for a term not exceeding 10 years.
"The amendment will make the provision more deterrent since the possession, use, dealing or sale of explosives without a license or permit has the potential to endanger the public," said Hon. Wilson Kajwengye, the Committee Chairperson.
The provisions follow amendments to the proposed Bill by the government that has been under scrutiny by the Committee on Defence and Internal Affairs.
The Bill was passed in a plenary sitting held on Wednesday, 15 November 2023.
The bill, if passed into law proposes that, any person who wishes to establish, operate or erect an explosives magazine for the storage of explosives shall also be required to apply to the Minister for Defence and Internal Affairs for a license.
An explosives magazine is a building, storehouse or structure where explosive materials are kept or stored.
According to the Bill, the license application will have to show proof of payment of fees as well as diagrams or plans of the proposed structure on such a scale as the minister may prescribe by regulations.
The Bill also entails a provision that limits persons from using explosives or blasting material unless they have undergone training in a recognized institution.
Such persons will also have to possess a blasting permit and certificate from the Chief Explosives Officer, to carry out their activities.
Hon. Patrick Isiagi (NRM, Kachumbla County) queried the meaning of training institutions in this regard, the curriculum that would be followed and the role of the Ministry of Education.
The Speaker, Anita Among, clarified that the definition of the training institutions is contained in the Bill.
"The definition of a recognized institution means an academic or technical training institution approved by the minister to offer a course of study or training in handling explosives," she said.
Kajwengye said the quarrying business has steadily developed in Uganda, and thus requires assessment to reduce impact of the activity on the environment.
He noted that potential effects of blasting quarrying activities include noise, vibration, lowering the water table and effects on the natural heritage and landscape, among others.
"The committee, therefore, proposes a provision to cover the business of quarry blasting explosives and spell out the conditions under which blasting of explosives should be conducted," said Kajwengye.