Plot to Secure Asylum: Bobi Wine's Artificial Rival Moses Kibalama Now Cites Threats To His Life Fresh From Demanding For NUP
Moses Kibalama is the founder of the political party that morphed into the National Unity Platform now led by Bobi Wine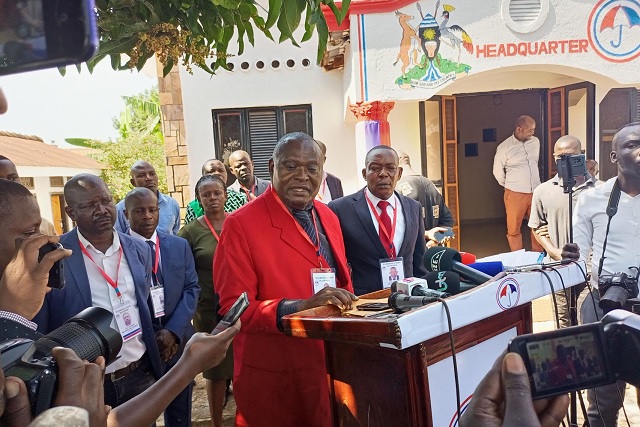 By Isaac Mutema
Moses Kibalama, former President Dr Milton Obote driver who donated his party to Bobi Wine to use as a vehicle to State House and later on claimed he had sold it at $5m, is in a fresh saga of fleeing from the country citing shadowy threats to his life.
Kibalama who has kicked up a storm in the tea cup just recently by setting up a parallel NUP headquarters somewhere in Lubaga is understood to have gone into exile citing bad guys who wants to bump him off.
This saga comes right on the heels of another one fresh in the minds of Ugandans where Kibalama wrote to the national electoral agency demanding the release of NUP from Bobi.
The agency has since written back flatly rejecting Kibalama's request since he properly handed over the youngish party to Kamwokya which has since gone on to properly adhere to all the country's laws.
Tellingly, the government spokesperson, batterer Zephaniah Ofwono Opondo  has since curiously joined Kibalama's battle and accused the electoral agency of siding with and favoring Bobi.
The agency responded by stating that it has no time and energy to spend on Zoo.
Kibalama's eccentric nature is further rendered credence by his claims that he had been arrested and tortured by State operatives for donating NUP to Bobi.
After saying so and filing a court case to that effect, Kibalama appeared in court and turned around to disown his own assertions as well neglect his own case.
The judge dismissed another case where he had sued Bobi claiming for NUP since he himself had donated it willingly.
Analysts state Kibalama is making all the assertions against Bobi and his party under influence and pressure from some people who want to deprive Bobi of a platform to use to access power.
They also opine he is using the threats story to attract sympathy from the clueless Europe and hence rig them of asylum.
We shall demonstrate next time why Kibalama's plot to deprive Bobi of NUP is an exercise in futility.