Politics of identity destructive – M7 tells Afro-Arab Youth Council
President Museveni further urged the youth to act as advocates and connect African and Arab countries to cooperate in areas of business.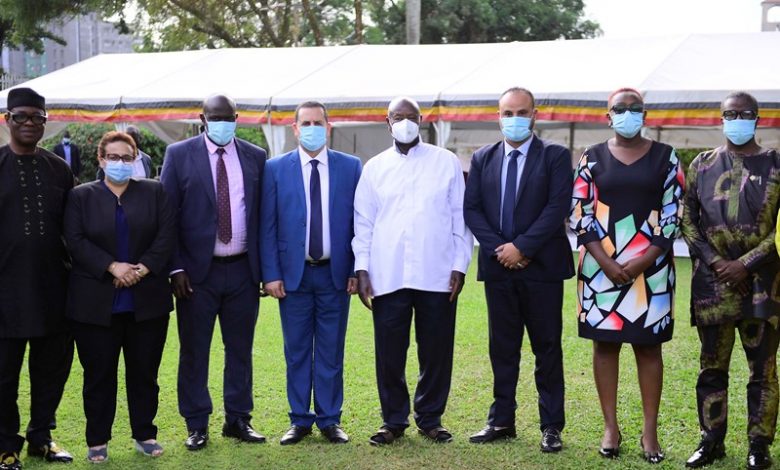 Uganda's president, Yoweri Kaguta Museveni, has appealed to the members of the Afro-Arab Youth Council to promote politics of interest in order to maintain peace and stability among member countries.
Museveni said unlike politics of interest, politics of identity which is mostly based on tribes and religions is counterproductive, diversionary and at most times, it's the cause of political instability in countries.
"As a powerful youth group, you should strengthen that idea and spread it," Museveni said on Sunday while meeting a delegation from the Afro-Arab Youth Council at State Lodge-Nakasero.
"When I went to Sudan, I told them that they are going to destroy their country because of different ideas. There's no Islamic hunger and Christian hunger. If you are hungry, you are hungry. I told them to look at people's needs instead of identity. Now Sudan is being destroyed because of wrong ideas. A country like Lebanon was destroyed and sub-divided over religious differences," he explained.
Museveni revealed that in 1962, Uganda faced the same problem of identity whereby no political party could get majority vote in elections because all of them had been formed based on religions and tribes.
However, President Museveni was happy to note that Uganda managed to overcome the wrong Ideology because the country had enough time to debate and discuss on how to balance the right ideas.
"For instance, we have a three-language policy, we can use English in the offices, but we also use Swahili as a regional language and in the districts, they use their indigenous languages; so you will not get a problem that our language is being suppressed," he noted.
"What is important is interest not identity because Ideology is like medicine. When you look at a patient, you must diagnose his sickness, if you don't get the correct diagnosis, there's no way you can get a correct prescription," he added.
President Museveni further urged the youth to act as advocates and connect African and Arab countries to cooperate in areas of business.
He also pledged support to the Afro-Arab Youth Council to ensure that they set up their International Headquarters in Ssisa- Nakawuka.
"As your Patron and chief fundraiser, I will write to member countries for contributions," the President assured.
The Afro-Arab Youth Council president, Dr. Abdul Haddi Lahweeji informed President Museveni that as a youth organisation, they aim at preserving peace and Independence of member states as well as improve the lives of people socially and economically.
"This Council is the bridge between the Arab world and African countries, and we want African youth to know that the future of Africa is within their hands," said Dr. Haddi.
"Two thirds of Arabs are in Africa and our major mission is the joint cooperation of the Afro-Arab people and through you Your Excellency, we want to participate in the Arab-Africa summit that is going to take place in Riyadh, Saudi Arabia. As the Patron of the council, you are the voice of these youth in the Arab world and Africa and yesterday Your message was very clear to the youth, it was about Education, skills development, Ideology and good behaviour," he added.
Dr. Haddi further requested that during the summit, the organisers permit them to have a side summit for the youth.
In response, President Museveni assured the delegation that he will write to the government of Saudi Arabia to grant them permission.