SIGNED & SEALED: Democratic Party's Norbert Mao & National Resistance Movement's Museveni Finally Agree To Work Together
Opposition Democratic Party president Norbert Mao has met with ruling National Resistance Movement party (NRM) national chairman President Yoweri Museveni and inked a deal to work together.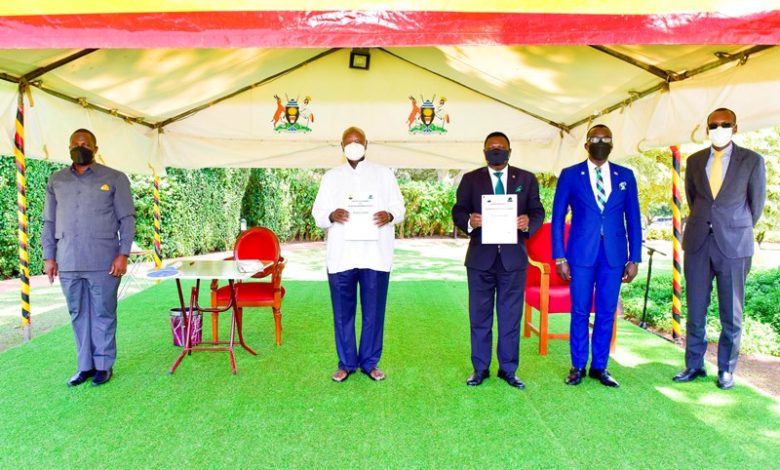 The hobnobbing has been going on for long, the public insinuated but it wasn't happening. The frolicking between President Yoweri Museveni and Democratic Party's president, Norbert Mao, has been veiled but transparent enough for all to see.
When Mao turned his guns and resources to fighting National Unity Platform (NUP) as a party and its leader Robert Kyagulanyi Ssentamu aka Bobi Wine, accompanied with timed brotherly exchanges with Muhoozi Kainerugaba, the First Son, the public new that it was a matter of time.
And today, it has happened – Mao, the president of Democratic Party, Uganda's oldest political party, signed a working cooperation agreement with President Museveni's National Resistance Movement (NRM) party at State House, Entebbe.
According to a press statement President Yoweri Museveni, also the National Chairman of NRM, signed on behalf of the party, while DP President General, Hon. Nobert Mao, signed on behalf of DP. NRM secretary General, Hon. Richard Todwong and that of DP, Dr. Gerald Siranda, also witnessed the signing.
President Museveni, after the signing, congratulated Hon. Mao upon agreeing to work on steering DP to work with the NRM. on his part, Mao told President Museveni that he now has the historical opportunity to gather party members scattered all over Uganda.