Tourism minister announces the return of Ekkula Pearl of Africa Tourism Awards
The minister said top participants from each region will be invited to an in-depth national tourism training hub.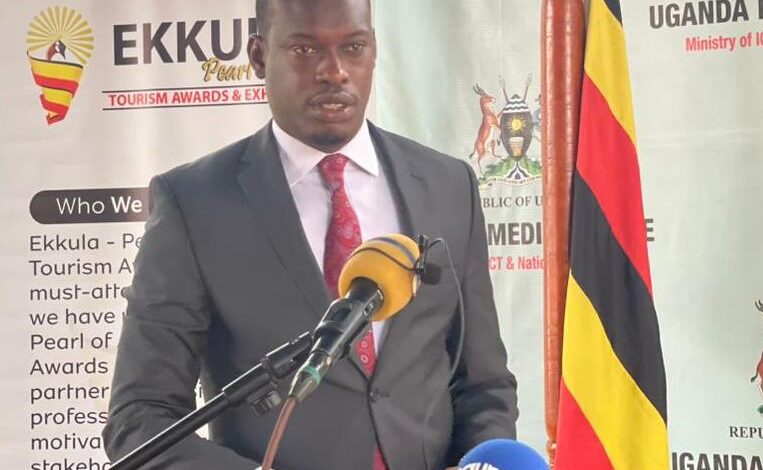 The Ministry of Tourism, Wildlife and Antiquities and Africa Tourism & Environment Initiatives (ATEI), has today, at Uganda Media Centre, launched the fifth edition of Ekkula Pearl of Africa Tourism Awards.
The Awards, which had broken off for two years due to the COVID-19 pandemic, returns to recognize the best-performing stakeholders in the tourism industry.
Ekkula Pearl of Africa Tourism Awards is a Private Sector driven tourism initiative passionate about promoting tourism through training, recognizing, awarding and motivating stakeholders in the industry.
Addressing journalists at Uganda Media Centre, the State Minister of Tourism Wildlife and Antiquities, Martin Mugarra Bahinduka, said the Awards focuses on how the tourism sector can contribute towards the implementation and achievement of the Sustainable Development Goals.
Bahinduka noted that, unlike previous awarding ceremonies, this year's Ekkula Tourism Awards will involve regional quality assurance and sustainability training workshops.
The workshops are intended to improve service delivery by impacting basic tourism skills across the value chain.
The first regional expo will take place on the 14th of October 2022 in Mbale. It will then move to Gulu on the 21st of October and Fort Portal on the 28th of October. Kampala, on the 04th of November, will be a wrap.
The minister said top participants from each region will be invited to an in-depth national tourism training hub.
Nominations for the categories, according to Bahinduka, are open as per the set criteria.
Bismac Moses Amumpaire, the Team Leader of ATEI, the organisers of the Awards, also speaking at Uganda Media Centre, said the Awards improve service quality in the tourism sector.
"Improving service quality can increase revenues through retaining a higher percentage of existing customers, attracting more customers through positive word of mouth, and increasing the usage rates of existing customers," he added.
The proposed categories.
Tourism Media Personality 2022
Travel Photographer 2022
Tourism Supportive Media House
Cultural Tourism Award 2022
Pearl of Africa Event of The Year
Airline of The Year
Exceptional Restaurant 2022
Best Eco Safari Lodge
Exceptional New Hotel of The Year
Best Luxury and Business Hotel
Other categories include Young Tourism Personality, User-Friendly Transport of The Year, Adventure Destination of The Year, Outstanding Tour Guide, Sustainable Tour Operator, Innovative Tourism Award 2022, Accessible and Inclusive Tourism Award., Outstanding Tourism Entrepreneur, Tourism Honorary Award, Lifetime Tourism Achiever.