Address Electricity Challenges For Proper Transition From Fossil Fuel To Clean Energy: An Open Letter To President Museveni
The government should invest in vast renewable energy resources in the form of solar, geothermal, biomass, and wind. These also happen to be the most environmentally friendly sources of energy. There is a subsequent need to adopt and invest in other forms of clean energy to increase access to electricity countrywide.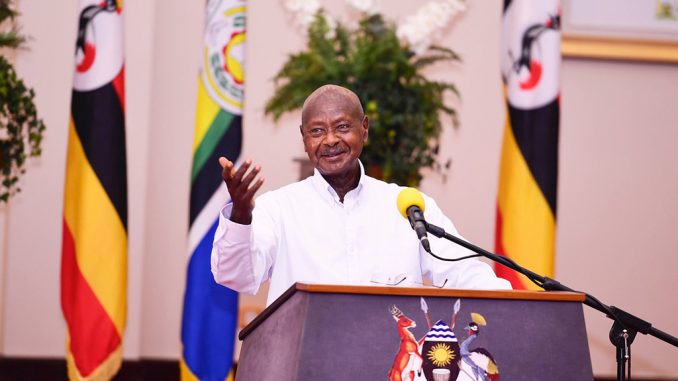 By Ireen Twongirwe
Your Excellency, I take this opportunity to thank you for the advice you gave regarding transiting from gas-powered cars to electric cars as a way of solving high fuel prices. However, Your Excellency, this will be possible if we invest more in clean energy options rather than investing in petroleum products/fossil fuels.
We appreciate that you and your government are now supporting efforts to move away from fossil fuels which remain the biggest danger to climate change. This transition will enable our country to attain clean, affordable and reliable energy to protect and conserve our environment and livelihood at large hence achieving SDG 13, 7 by 2030.
It's also important to note that our government continues to invest in hydropower projects like Karuma hydropower, Achwa, Bujjagali project in the electricity sector. However, there have been continuous delays in the commissioning of these projects and this has led to misuse of taxpayers' money, and power outages which lead to cost implications among others. The extension of these projects has also led the country to borrow hence increasing the national debt.
Noteworthy, over 90% of Ugandans remain dependent on firewood and charcoal while causing climate change impacts which have led to natural disasters.
Your excellency, Ugandans are suffering energy sector injustices such as high power tariffs, delays in acquiring land and unfair compensation, failure to ensure evacuation lines are put up on time, secret power purchase agreements for big hydropower dams, and others whose agreements have led to cost implications by the government. Furthermore, Ugandans have failed to enjoy affordable electricity because of the weak laws that have facilitated corruption and mismanagement of resources.
We appeal to you Your Excellency to address the challenges in the electricity sector using your oversight powers with your ruling government to help in transition thus contributing to the social and economic transformation of the country.
Below are some of the gaps which we would like you to address :
First and foremost, there is low power consumption per capita due to high levels of poverty, this is due to the failure of the government to plan to formulate and promote policies that can make electricity a development tool for all of us. It's wrong for the government to think that just extending power to a community is enough to develop that community.
More so, the lack of electricity diversification and over-reliance on one grid (over 94% of Uganda's power remains hydropower), is due to weak regulations, the monopoly in distribution, secrecy around power purchase agreements (PPAs) and mismanagement of power projects including dams, transmission lines, etc, leading to low consumption and lack of market for electricity.
In addition, community resistance arises due to fear of displacement, loss of agricultural land, loss of vegetation, and loss of social connections between people of the same community along the river basin, as well as clashes among different communities which hinder hydropower projects. Such negative consequences have provoked community resentment towards hydropower projects. Some community members also fear losing the source of their livelihood, which is mainly fishing due to dam construction, restricted access to rivers, and the commonly unfulfilled compensation promises by the hydropower plant developers.
Unaffordable and inaccessible power, with high power prices, payment for deemed energy and other challenges, efforts to drive a clean energy transition are unlikely to be attained. Grid access to electricity remains measurable at 19% down from 24% reported in 2018. Duplication of institutions and Payment for deemed power has continued affecting the sector.
Your Excellency, by June 2020, only 19% of the Ugandan population was connected to the grid while over 90% were relying on biomass to meet their cooking energy needs. High power prices among other challenges undermine clean energy access and use. Amidst these conditions, your advice to shift to electric cars may be unattainable.
Below are my recommendations for the above challenges so that as Ugandans we may attain energy transition.
We request transparency in the hydroelectricity sector development processes where the government has spent over USD5 billion since 2002, our country cannot afford to transition from gas cars to electric cars. The lack of transparency and corruption explain the failures in the electricity sector projects such as the delayed USD1.7 billion-Karuma dam, the USD78.8 million Achwa II dam, and the expensive USD1.3 billion-Bujagali dam that continues to enjoy useless tax exemptions.
Abolish the Free Connection policy and replace it with affordable tariffs: Since 2018 when the free connection policy was commenced in Uganda, the government through loans has invested over USD400 million to increase grid connections for all including the poor. Unfortunately, the policy has neither increased access nor expanded the electricity market. Instead, the policy allowed power utilities such as UMEME to unfairly benefit from the government's decisions to increase connection fees. While the government claims lack of funds as a reason for the failing free connection policy, it is clear that companies like UMEME continue to enjoy a grid distribution monopoly which costs huge amounts of money from the citizens. These failed policies if not addressed, will not allow the transition to clean energy.
More so, Use money spent on deemed electricity to reduce the tariffs: Your Excellency, since 2002, your government has invested over USD 5 billion in the electricity sector to ensure increased generation, transmission, and distribution. While we appreciate the increase in generation capacity and access, the high electricity tariffs continue to affect consumption. Uganda's power problems will worsen as the government continues to spend billions on increased deemed energy. Such increased payments in deemed energy will continue to undermine Uganda's efforts for the clean energy transition.
In addition, there is a need to reject tax exemptions for the Bujagali Hydropower dam: Your Excellency, since 2015, your government has imposed tax exemptions for the 250mw Bujagali dam as a way to ensure increased uptake of generated power. Ugandans were promised that refinancing of the dam would lead to lower power tariffs by reducing the tariffs from US 13.8 cents per Kwh to 8.9Cents per kWh. These exemptions have made your government lose over Ushs. 80 billion yet the Ugandans have not benefited from the said exemptions.
There is also a need to support the strengthening of ERA's capacity in terms of human resources, national coverage, skills and penalties for non-compliance to increase solar supply.
More so, enact a solar energy law to regulate off-grid services as well as guard against counterfeit products. Government should increase investments in the solar sector and stop wasting money on extending the grid to areas that cannot meet monthly bills. Poor people can be served by off-grid solar.
There is a need to fight corruption at all levels of the electricity sector to improve electricity supply, especially in rural areas.
Use parliamentary oversight powers to ensure government reviews the new Electricity Act 2022 so that it meets the current needs of the country.
Make a law to provide affirmative action for host communities, health centres, schools and others to improve social development by ensuring that excess power is utilized to support public services.
Your Excellency, our government can address the challenges in the electricity sector. Therefore the government should invest in vast renewable energy resources in the form of solar, geothermal, biomass, and wind. These also happen to be the most environmentally friendly sources of energy. There is a subsequent need to adopt and invest in other forms of clean energy to increase access to electricity countrywide.
For God and my country
Twongirwe Ireen is the Executive Director Women for Green Economy Movement Uganda.