Africa can solve African problems, including the Somalia problem – Museveni
Their Excellences welcomed the initiative by Somalia to take full ownership and leadership of Somalia's Stabilization Strategy.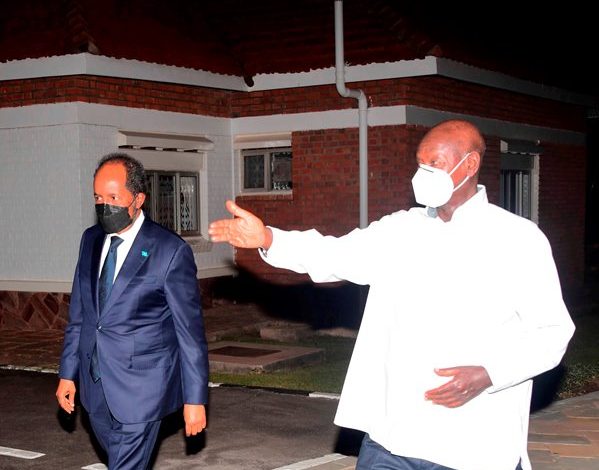 President Yoweri Kaguta Museveni has assured the people of Somalia and the region of their commitment to stabilize the horn of Africa.
The President who is the current Chairperson of the Heads of States from Troop Contributing Countries (TCCs) to the African Union Transition Mission in Somalia (ATMIS) made the assurance at the Extra Ordinary Summit of the troop contributing countries held at State House Entebbe on Thursday.
He told delegates that the Summit reminded themselves of some of the problems that have been solved before in Africa including that of Idi Amin in Uganda working with Tanzania and the one of Burundi which was solved by East Africa.
"Africa can solve these problems once you agree on the concept. So, this problem (of Somalia), the one we've discussed today, I'm sure we can solve," Gen Museveni said.
The summit was attended by Presidents from the troop contributing countries and their delegates namely: H.E Hassan Sheikh Mohamud of Somalia, H.E. Ismail Omar Guelleh of Djibouti, H.E. Evariste Ndahishimiye of Burundi, H.E. Dr. William Ruto of Kenya and the Deputy Prime Minister and Foreign Minister of Ethiopia H.E Mr. Demeke Mekonnen.
Others were: The head of African Union Transition Mission in Somalia (ATMIS) Ambassador Mohammed El-Amine Souef, IGAD Head of Mission in Uganda Her Excellency Lucy Daxbacher, the head of the United Nations Support Office in Somalia (UNSOS) Ms. Aisa Kacyira, who is- African Union Commissioners H.E. Imosemi Isevboja Sunday and H.E Mr. Bankole Adeoye.
The summit commended the African Union Transition Mission in Somalia for successful implementation of its mandate including supporting smooth political transitions, saving lives and supporting stabilization efforts in Somalia.