Bainababo wants police outfit upgraded to protect Museveni better
Brig. Bainababo made the appeal this week during a pipping ceremony for the recently promoted PPG officers at the SFC Headquarters in Entebbe.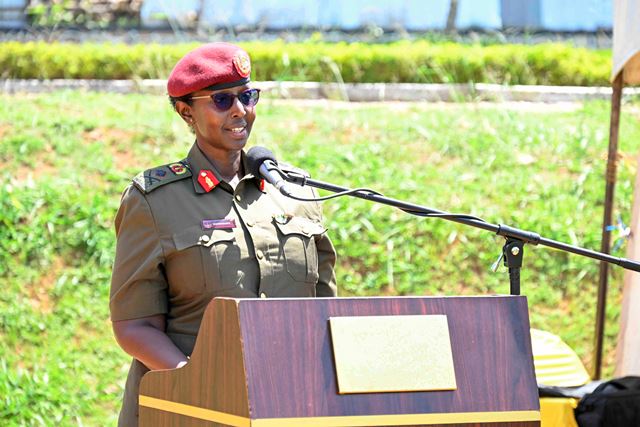 The Deputy Commander of the Special Forces Command (SFC) Brig. Charity Bainababo has asked the Inspector General of Police (IGP), Martin Okoth Ochola to consider elevating the Police Presidential Guard (PPG) to a bigger unit to enable them to retain the promoted officers who have experience to serve the country better.
The PPG officers are drawn from the Uganda Police Force.
Brig. Bainababo made the appeal this week during a pipping ceremony for the recently promoted PPG officers at the SFC Headquarters in Entebbe.
"When these officers reach a level where PPG cannot accommodate their ranks, we have to lose them to other units.  If PPG can be elevated to another level, we can promote them. We want them to be Senior Superintendents of Police and commissioners but stay here.
When PPG was formed, the Commander in Chief guided that bodyguard and protective duties are police roles and as SFC we feel PPG must continue to grow so that they fill this gap effectively," Brig. Bainababo said.
Adding: "If they finish their tour of duty here, they can go elsewhere but we don't want to lose many at ago just because the size of the unit cannot accommodate them. I hope our request will be put into kind consideration."
She further noted that in the last 13 years, PPG has grown by leaps and bounds to where it is now.
"We have a journey of 13 years of going strong and I congratulate you for coming this far. When we started off as PPG, many things were difficult. We have come a long way and PPG is a force to reckon with now. We have grown both in numbers and professionally. The sky is now the limit for us."
The Deputy SFC Commander also told the promoted officers that the new ranks they have got mean new responsibility.
"Much has been given to you in form of training and promotion and much will be demanded from you in form of service. However, I have no doubt you will be up to the task. There are people under your command that will be looking up to you.
Those who you have left at that rank will be expecting a lot from you. Live exemplary. There are things you are not expected to do as an officer because there are people looking up to you; the way you eat and conduct yourself."
She also urged the officers to respect the civilian population without which she noted the forces can't succeed in their duties.
Warns against corrupt
Brig. Bainababo warned the promoted officers against being involved in corruption or else it will eat them up.
"There is a tendency of living beyond our means when we are promoted but avoid it. If you don't live within your means there are many temptations. You can transform without being corrupt or misappropriating resources under your care. Stay away from corruption. It is a cancer that hits hard.
If a soldier goes hungry because a commander has stolen his money to pay fees for your child, the child will go to school with curses of stolen money," Brig Bainababo who is also one of the UPDF MPs told the officers.
The Uganda Police Force Director in charge of operations, AIGP John Nuwagira who represented the IGP told the officers that the promotions should be a ladder to see them move to greater heights.
"The promotion has some meaning but we look at you as people who should enhance service delivery to the 46 million Ugandans. Exhibit professionalism, protect the image of the force through hard work, reduction in complacency and knowing a new name goes with new responsibilities you should be ready to take on. The promotion has underlying benchmarks that should always be fulfilled. Use this promotion as a springboard for more opportunities to serve the country," AIGP Nuwagira urged.
The PPG commander, Maj. Collins Kanyesigye applauded President Yoweri Museveni and the Inspector General of Police for promoting the officers. He also commended the SFC commander and his deputy for the continued support.
"Without your guidance we would face many challenges that would have impeded our tasks. To the newly promoted officers, I implore you to maintain hard work, be disciplined and the sky won't be the limit. For those not promoted, continue being disciplined and patient, the promotion will come," Maj. Kanyesigye said.
A total of 120 officers from the Police Presidential Guard were recently promoted following the general promotions that were released by the police headquarters.
The pipping and decoration ceremony was witnessed by Directors, Commanders, Commanding Officers, Senior and Junior Officers from the Special Forces Command and spouses of the newly promoted officers.