Big wars Speaker Annet Anita Among Magogo has fought and successfully won
A war of superiority and egos is thought to be currently underway within the ruling NRM party launched by those who wish to bring down parliament speaker, Annet Anita Among Magogo.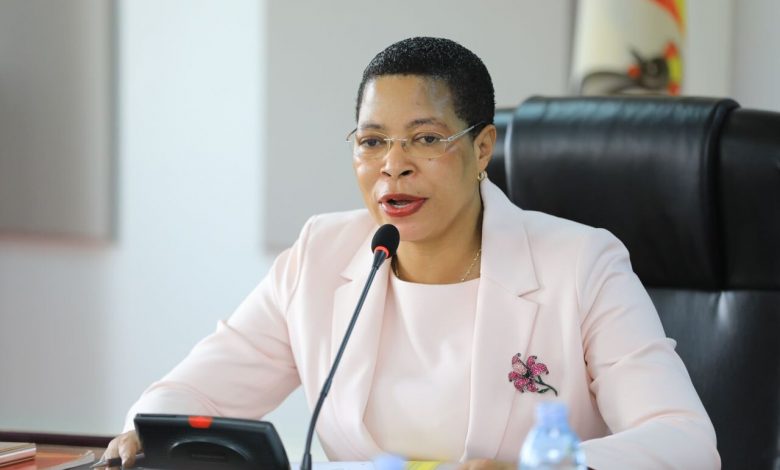 By Stephen Kasozi Muwambi
A war of superiority and egos is thought to be currently underway within the ruling NRM party launched by those who wish to bring down parliament speaker, Annet Anita Among Magogo.
See, the one and only second female speaker in Uganda's history, is also the country's number three in terms of political seniority. She is an emerging force to reckon with within the Eastern region.
For that reason, there are said to be negative forces within the NRM bent on causing grave trouble for the Bukedea political queen in order for them to emerge from under her wings and politically overtake her.
Matters are being compounded by the fact that despite being looked at with favor by the NRM boss, president Yoweri Museveni, Among is viewed by many senior party leaders as a jolly-come-lately having joined the ruling party not so long ago from the opposition Forum for Democratic Change (FDC).
Bukedea election violence
Insiders and analysts of what is going on speculate that the order to arrest and prosecute key NRM members in Bukedea over the violence that marred a recent by-election there was actually one of the machinations that were being masterminded by those opposed to Among in order to bring her down.
Among's backed candidate had defeated the NRM favorite candidate. The loser had been, moreover, backed by the president, Gen Yoweri Kaguta Museveni and his deputy, Maj Jessica Alupo.
In attributing acts of electoral violence to the key supporters of the honourable speaker, analysts assert that her adversaries were trying to criminally implicate Among and also to cause the president to order her prosecution.
But trust Among's clout, the president has since ordered the release of those arrested over the above-mentioned poll violence and even questioned why they were ever at all arrested in the first place.
Iron sheets scandal
You need to be reminded that that event had arrived on the heels of another one where the honourable speaker had been accused of purportedly diverting the iron sheets relief meant for the Karamajong to her school in Bukedea.
While those who do not wish her well had hoped and prayed that that scandal was going to finally bring the honourable speaker down, Among ended up turning the tables on them.
The DPP did not only bring criminal charges against Among, but neither did the IGG do so as Among's adversaries had anticipated and hoped that was what was going to happen let alone the fact that the president didn't also use his clout to get the honourable speaker prosecuted.
Replacing Oulanyah 
Before that and being a newcomer to the NRM, there had been a ploy by a clique of senior party and government officials to frustrate Among's bid to replace the deceased speaker Jacob Oulanyah.
But he, being the last court of resort within the NRM party, the president, Gen Yoweri Museveni would throw his weight behind Among and she managed to defeat her adversaries thereof.
Even feeble attempts by veteran journalist, Ibrahim Ssemujju Nganda, the talkative Kira Municipality lawmaker, to deny Among the speakership, ended up yielding negative results.
Face off with NUP's Zaake
On his part, Mityana municipality lawmaker, Francis Zaake Butebi had tried to get into a fight with Among to paint a picture of her as being a ruthless speaker and to undermine her authority.
After pleading with Zaake to respect himself as a lawmaker and to respect the sanctity of parliament in vain, the honourable speaker was forced as a last resort to refer the defiant MP to the rules and disciplinary committee of parliament to school him about how an MP was supposed to speak and to conduct himself.
Being the cantankerous guy he is, Zaake would continue to defy the honourable speaker in and outside parliament until Among was forced to cause his suspension from the parliamentary commission and caused also the seizer of his official vehicle as a member of that powerful commission.
Before that, Zaake had tried to use the courts of law to further his defiance of Among but the honourable speaker would reject the judge's order to stay the Mityana lawmaker's suspension from both the August House and its powerful commission.
As I write, Zaake has since buckled under the sheer weight of Among's power whilst the honourable speaker herself is still going from strength to strength.
Among battles Namuganza
Remember one Persis Namuganza? This one also tried to question the honourable speaker's authority as a further means to undermine her clout as far as her unstoppable emergence as the political Queen from the Eastern region is concerned.
That woman who loves to exaggerate herself as a princess from Busoga, had refused to appear before one of the parliamentary committees to answer charges to do with doling out land out of Naguru estate.
She then went on radio and television stations and uttered things that were demeaning to Among and the institution she heads.
In a further attempt to undermine the honourable speaker, Namuganza would invoke the name of the president and stated that he was the one who had issued orders to her to dole out land Among was trying to crucify her for.
At the eleventh hour of this debacle, the president would send the leader of his fishers, the bulky prime minister, Robinah Nabbanja Musafiri to the honourable speaker with instructions to save his minister from being censured by the whole House.
Earlier before, Namuganza had got the courts to get involved in this debacle to stave off the onslaught from Among.
All that I have canvassed above wouldn't stop Among, nevertheless, from swinging the axe when the time had finally arrived for her to censure Namuganza.
Granted, the president would reject to drop Namuganza from the cabinet, but it should be noted and emphasized that the record remains and, is going to remain always, that parliament censured her one time during her lifetime.
The Kagabo joke 
There was this small fella who also tried to joke around with the mighty honourable speaker. Yes, his name was Ahmed Kagabo, a lawmaker formerly associated with the opposition national unity platform (Nup).
Armed with wads of money, Kagabo hit both television and radio stations while claiming how Among had given out that money to them as lawmakers as an inducement to pass the last year's national Budget.
Pissed by what Kagabo was going around telling the country and the world at large, the honourable speaker directed him to appear before the rules and disciplinary committee of parliament with evidence proving how she had given out the money he was going about showing around.
Before he could appear before that committee for grilling, the inspectorate of government, Betty Olive Namisango Kamya Turomwe, alas, took interest in Kagabo's utterances that were bordering on corruption and asked him to help to prove them.
Stuck without material evidence to show for what he had all along been going around alleging against the honourable speaker, Kagabo ended up coiling his tail behind his legs and apologized to the honourable speaker.
The honourable speaker henceforth directed the rules and disciplinary committee of parliament to let the poor fella off the hook.
Thanks to that debacle, Kagabo has since turned himself into a political nomad from Nup to the ruling NRM party and currently to the Muhoozi Movement.
Time and space do not allow me to delve into Betty Amongi Akena and Richard Byarugaba's debacles.
Suffice it to say that even as the president had thrown his weight behind the two, parliament led by the honourable speaker went ahead, nonetheless, to censure Akena's spouse and also to direct that Byarugaba leaves NSSF