COURT HAS GUIDED: You Now Blindly And Foolishly Follow Order From Above At Your Own Greatest Peril and Embarrassment
Delivering his ruling, Justice Musa Ssekaana educated Namuganza to wake up from the wrong mentality which had made her think that whatever order from above says goes.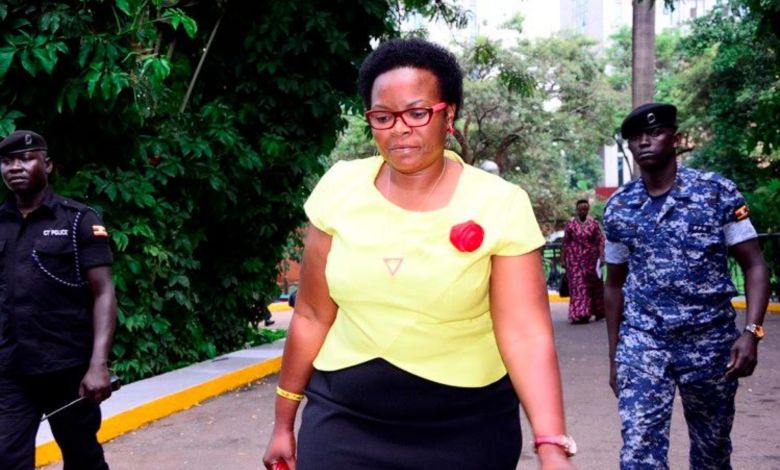 By Isaac Mutema
Persis Namuganza whilst serving as the larger-than-life minister of lands would give away land at Naguru housing estates to ghosts and anyhow.
The lands queen of the moment would do this on orders that were being issued to her by what is famously known as ORDERS FROM ABOVE.
Later on, the bad land transactions finally grew legs and wings and walked as well as flew straight to the floor of parliament.
There before the parliament's COSASE committee led by Nakawa West's Joel Ssenyonnyi, Namuganza would find herself alone and lonely to defend herself about what had gone on previously regarding the scandalous land giveaways.
Pushed on the wall by her interrogators in COSASE, Namuganza creatively played the Order FROM ABOVE card.
Looking to scare the hell out of the legislators, the princess from Busoga informed them how she was doing all she was being accused of doing based on ORDERS FROM ABOVE.
Order from above– whatever that means and whoever he or she is– is a very clever creature. The majority of the orders he or she gives, he or she, gives them by mere word of mouth.
For that matter, Namuganza would end up wasting a lot of precious time, ounces of energy and breath labouring and belabouring to convince Ssenyonnyi and his interrogators about the oral orders, but the same would prove to be neither here nor there for the lawmakers to be able to see them!
But even if the orders were in written form, the same was not going to help poor Namuganza to escape from Ssenyonnyi's sure jaws.
For the record, order from above is protected from any kind of prosecution or forced interrogation whilst he or she is still at the Apex of things.
That having been said and done, how was the untouchable and invisible creature called to order from above, honestly, going to turn himself into the dock on behalf of Namuganza and suffer locally for her seeing that he or she–whatever the case might be– is excused from such bad treatment!
As trite as night follows day, Namuganza ended up being condemned by Ssenyonnyi's COSASE with an order to the appointing authority to fire her for presiding over the irresponsible land giveaways at Naguru housing estates.
Pained by the ruling, Namuganza trotted to the court of law. She was still recklessly playing the order from the above card over which she was seeking to be absolved of any wrongdoing.
On top of being absolved by the court, Namuganza was asking for a massive Shs1bn fine from parliament for making the ruling they made against her.
Delivering his ruling, Justice Musa Ssekaana educated Namuganza to wake up from the wrong mentality which had made her think that whatever order from above says goes.
Ssekaana's word of counsel doesn't go to only Namuganza, but many cabinet ministers, government officials and members of the armed forces who think that Order from above is the law onto him or herself.
In essence, the ruling means that Order from above will continue to make orders now and then and that whoever blindly and foolishly will go on implementing such orders, will be the one to pay the ultimate price.
As for the Shs1bn fine, the judge told off Namuganza and reminded her that courts aren't stalls for greedy litigants to make money.
On a very serious note, mistakes committed by people under the foolish impression of appeasing Order from above, are recorded for posterity.
Who knows, long after the Order from above has finally gone, those who would have recklessly implemented such orders will be now called upon by the law to account for and to pay for such mistakes.