Entrepreneurs get booster classes on digital skills in business and investment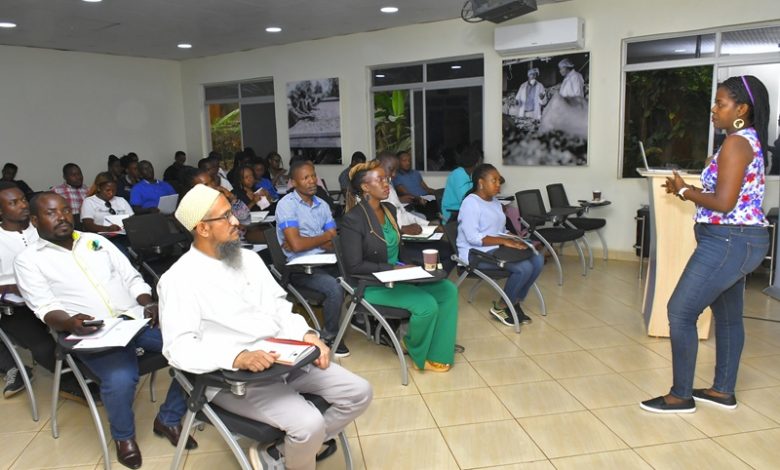 Entrepreneurs who underwent training under the Enterprise Development Program (EDP) at the Stanbic Business Incubator Limited (SBIL) during February benefitted from a booster class on Monday, March 13th, 2023, which aimed at enhancing their skills in digital usage in business and investment.
SBIL is a subsidiary of Stanbic Uganda Holdings Limited (SUHL).
The incubator has received funding to support the training of over 500 entrepreneurs over a period of six months from the German Federal Ministry for Economic Cooperation and Development (BMZ) and the Norwegian Agency for Development Cooperation (Norad).
This money is being channelled through the Deutsche Gesellschaft für Internationale Zusammenarbeit (GIZ)'s Employment and Skills for Development in Africa (E4D) Programme.
Tony Otoa, the SBIL Chief Executive said, "Priority was given to female-owned enterprises. However, to qualify for the training, these businesses had to prove that they had been in existence for more than two years, have at least five employees and are operating within Kampala, Mukono and Wakiso."
The training on Monday was conducted in partnership with two other Stanbic Uganda Holdings Limited (SUHL) subsidiaries i.e Stanbic Bank and Flyhub –  Uganda and they focused on three core areas namely; access to markets, access to finance and business operational skilling necessary for start-ups' management and growth.
James Junguru, the Manager of Enterprise Direct Stanbic Bank tipped the SMEs on available funding options for their businesses which included the Covid-19 recovery fund of SMEs created by the government in 2021, venture capital and Angel Investors. He also stressed the different bank services and products available to ease business financing.
Joel Muhumuza, the Chief Executive of Fly hub- a technologies and innovations company, stressed the need to digitize business in today's economy but do due diligence and research for relevant business solutions. He advised Entrepreneurs to be part of their digital journey and ensure they learn and understand the digital systems that their businesses bring on board.
SBIL initially developed the Enterprise Development Program (EDP) in 2018 supporting 190 SMEs in Kampala, to focus on identifying and building the capacity of enterprises that could potentially penetrate and actively participate in Uganda's natural resource sector.
In 2019, E4D began supporting the Incubator's growth and expansion to support 300 Ugandan small and medium enterprises to become more competitive, attain sustainable growth while also creating jobs in Gulu and Mbarara districts.
In 2021, E4D launched a new project to further upscale and expand the Incubator's reach across the country to cover at least 20 districts through four branches.
The E4D Uganda programme Team Lead Donald Agaba said, "Key sectors of focus include agribusiness, food and beverages, trade, consumer goods and supplies, green businesses, tourism, hospitality and catering services."
Others include; construction, fabrication and civil works, transport and logistics, health, professional services, power, and infrastructure.