FDC, JEEMA miss out on EALA spots
National Unity Platform (NUP) the leading opposition political party in parliament refused to participate in the EALA elections.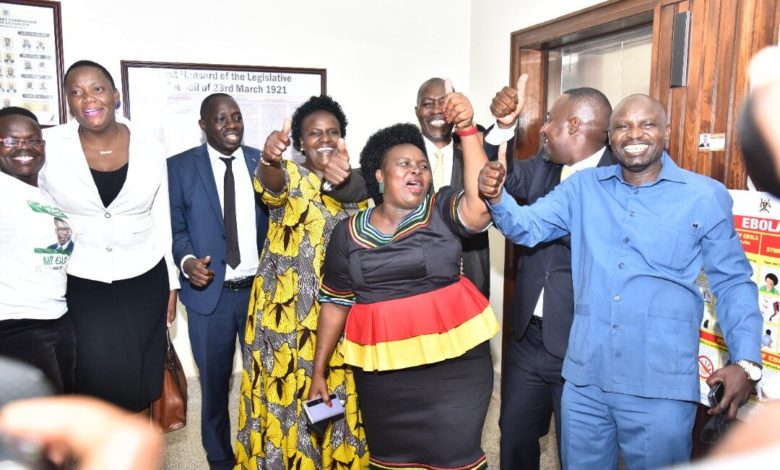 The Parliament of Uganda Thursday voted the country's nine representatives to the East African Legislative Assembly (EALA), the legislative arm of the East African Community that sits in Arusha, Tanzania.
Forum for Democratic Change's Harold Kaija Scandrone (FDC) and Muhammad Kateregga of Justice Forum (JEEMA) lost out in an election that was dominated by National Resistance Movement (NRM).
Kaija and Kateregga will not represent their parties to EALA. According to the results declared by the Speaker of Parliament Anita Annet Among, Kaija got 99 while Kateregga scored 36.
The nine who will represent Uganda are Rose Akol (422), Namara Dennis (415), Kakooza James (405), George Odongo (403), Musamali Paul (401), Mugenyi Mary (367) and independents Veronica Kadogo (383) and Amongin Jacquiline (338). Only Democratic Party (DP)'s Gerald Siranda (233) will represent the opposition.
Other candidates included Agaba Gilbert (210); Ategeka Moses (4); Bukyana Julius (8); Bwengye Lauben Muhangi (5) Kapyata Dennis (9); Kiryowa Stella (27); Lolem Josephine (11); Kisembo Ronex Tendo (6); Luyinda Fred (5); Murangira Ambrose (181); and Muwonge Mugwanya Daniel (4).
Also, Muyinda Allan Stanely (4); Naamara Patience Tumwesigye (35); Nakitende Salaama Adelaide (6); Rwandarugali Phiona (23); Tindyebwa Joseph (22) were in the race.