Ibrahim Sekaggya, Majid Musisi Et Cetera And The Folly Of Exchanging Our Football Pitches For Mere Pieces Of Silver
Former Uganda Cranes defender despite a humble background prying his trade at Mulago's Kataka play ground has risen to manage and coach one of the best football clubs in the United States.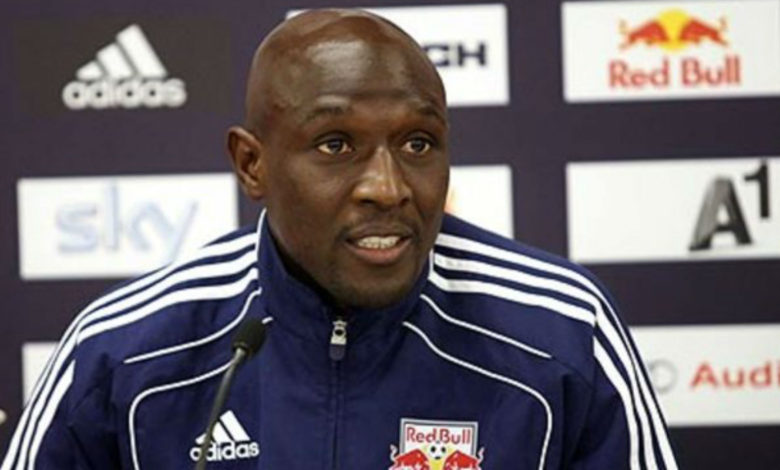 By Isaac Mutema
Ibrahim Sekagya is a budding coach at the prestigious New York Red Bulls, in the United States of America. Hearty congratulations. Sekagya's CV, is enviable, as you may already know. Too many Ugandan football fans, he is a legend.
Sekagya is a product of Kataka (bare soil) pitch product. Kataka, if you don't know, is a legendary soccer pitch situated at Mulago in Kawempe Division. Across the country, there are many 'kataka' football playing grounds.
Sekaggya has been eating off his natural talent for many years now. He started at the lowly ranks, prominently featuring for KCC FC, Lugogo's Kasaasiro Boys' soccer outfit.
After his talent had outgrown KCC FC, the club dispatched him off to Argentina, South America, then to Europe in Australia before he jetted off to the United States of America, outstandingly plying his job as a reliable defender.
Small wonder one of the legendary game's gentlemen recently became Red Bull's acting coach; prayerfully on the way to earning the full coaching rights.
Sekaggya has never bothered the government for a job or upkeep. He has never stolen anything from the government. Instead, the man has been duly contributing to the development of his motherland via credibly remitting taxes.
Products of Kataka in Mulago 
Compare and contrast Sekaggya with the millions of educated but unemployed young people walking the streets of Kampala in the name of chasing the jobs that aren't available.
Talents can lead to personal development more than even the so-called Joel's parish development models and other such things.
Another football legend Majid Musisi was short on books. But what the man lacked academically God generously compensated him with iconic football abilities.
Majid, if am not mistaken, cut his teeth too there at the dusty Kataka soccer pitch as Sekajja. Rejected at KCC as a rugby player, the arrival from Pepsi would go on to punish the Kasaasiro managers with an untold vengeance.
The club rejected Musisi after Sam Ssimbwa a.k.a Omulangira told his bosses to choose between him leaving the club or keeping the rugby player!
Such was the vengeance with which Majid unleashed on KCC in one forgettable match. The man from the slums of Bwaise pumped a record straight four goals in that match.
Following an excellent showing at Villa Park and in the national Cranes team jersey, Majid unprecedentedly secured a lucrative professional stint at Stade Rennes soccer outfit in France.
No one, I repeat no Ugandan, before the academically challenged guy from the slums of Bwaise did so had ever before played professional football in Europe.
Yet such a lowly educated Majid would go on and use his foot to market Uganda's name in Europe even much better than Joel's so-called ambassadors combined!
Ask around for the people who know these things – they will all give you moving testimonials of the finest footballers who are products of that rather despised Kataka pitch.
Thank God, Kataka is still in place and being used by Ugandan youths wishing to emulate its successive products such as Sekaggya and Majid.
Long live Kataka. May God blind the land grabbers to your existence and presence.
Kololo SS playground
Kololo SS playground was a legendary breeding ground for the country's finest soccer players.
Jackson Mayanja a.k.a Mia Mia(hundred percent perfect), Robert Aloro and Monitor's Rashid Mudin are some of the big names which come to mind immediately after one reminisces about the finest products of that pitch.
Aloro was a dribbler to watch. There was something wonderfully captivating about his turns and twists. He knew perfectly well how to make his opponents appear as if they were walking zombies.
Not to forget the fact that his soccer talent allies Aloro to earn bread and butter and generally a decent life.
For the short-on-height but tallest-on-football, Jackson Mayanja, the least said the better.
Suffice it to say that the man from Nakisunga, Mukono deliciously entertained the Arabs with his footie that they unanimously baptized him Mia Mia( hundred percent perfect) in those matters.
Mayanja would earn money from his talent some of which he has since used to build a school in Mukono. From this school, he not only continues to earn a living but also educates the future generation. He also pays taxes.
Mudin was a perfect defender at KCC and the Cranes team as he was a perfect sports scribe. The tall gentleman loved to express himself through actions other than words.
This is why not many Ugandans got to know him very well until that forgettable rally accident which ended his life.
Land grabbers grab Kololo SS playground 
Annoyingly, some big land grabber in town has since grabbed the soccer pitch we have been highlighting. From a public facility, the famous breeding ground for soccer talents is currently a private one.
Grudgingly, the land grabber started by posing as a friend of the owner of the pitch. He then asked to be allowed to share the pitch with the owner. The owner accepted since his interest too was to enhance talents.
Before we knew it, the land grabber had schemed to take what wasn't his in the first place. He stealthily using some Iscariots within the government leased the pitch effectively converting the public facility to him.
As we speak, Kololo SS, to which the facility had been allocated in the 1960s for EXCLUSIVE use as a sports ground is currently renting the pitch belonging to the neighbouring City High School!
Small wonder then why Kololo SS is no longer the sports powerhouse of the years gone by.
Villa Park is no more
Villa Park where Majid Musisi flourished after leaving Pepsi and following his forgettable rejection at Lugogo is no more!
The pitch was razed by Madam Allen Kagina to create room for Joel's highways lacking meaningful goods to transport on save for cooking oil and such things.
Let's pause here now. When we return, we are going to highlight some of the other pitches from where some of the finest soccer personalities cut their teeth, and which, sadly, have since been exchanged at the alter of silver.
If you have any information regarding any such pitches in your area, kindly drop it via isaacmutema151@gmail.com.