Island Nations Appeal To Leaders To Bolster Ocean Climate Action
The ocean's function both as a carbon sink and a source for nature-based solutions for climate change adaptation, warrants more acknowledgement in climate negotiations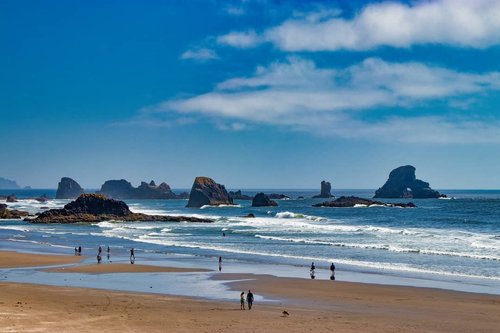 Small island nations Tuesday called for stronger global support for ocean and climate change action.
The harsh reality of climate change is that it affects all sectors of society, and all realms of the planet, including the ocean, Nicholas Hardman-Mountford, head of Oceans and Natural Resources at the Commonwealth Secretariat, said while speaking at a meeting co-hosted by the Commonwealth Secretariat and the Fiji government in the margins of the ongoing Commonwealth heads of government summit in Rwanda's capital city Kigali.
"The climate crisis is also an ocean crisis. Action Groups under the Commonwealth's flagship ocean program, the Blue Charter, are each responding to climate change under their respective themes," he said.
The Commonwealth Blue Charter is a commitment by 54 countries reached in 2018 to work together to find solutions for global ocean challenges.
In their executive sessions later this week, Commonwealth heads of government are due to discuss issues such as shared climate ambitions, financing climate and ocean action, and rebuilding sustainable green and blue economies in the wake of the COVID-19 pandemic, among other key items on the agenda.
Fiji's High Commissioner to the United Kingdom Jitoko Tikolevu, said the ocean and climate are inextricably inter-connected and the health of oceans dictate the livelihoods of millions of people around the world, from the Pacific to the Atlantic.
"The challenges facing our oceans and its resources are diverse and complex and yet our answer is simple, we need action," Tikolevu told an audience of mainly envoys from fellow island nations.
The ocean's function both as a carbon sink and a source for nature-based solutions for climate change adaptation, warrants more acknowledgement in climate negotiations, which focus mainly on reducing carbon emissions, added Tikolevu.
This week's discussion at the Commonwealth Heads of Government Meeting (CHOGM) will lead into next week's United Nations Oceans Conference, scheduled for June 27 to July 1 in Lisbon, Portugal.
They also take place less than six months ahead of the world's most important climate summit of the year, the UN Climate Change Conference COP27 in Sharm el-Sheikh, Egypt in November.
SOURCE: Xinhua News Agency