Joyce Mpanga: Buganda's legendary icon eulogized far and wide
Mpanga, 90, is being remembered for her role as a traditionalist, educationist, public servant, legislator, minister, and lover and protector of the Buganda Kingdom where she has been serving as a member of the Lukiiko.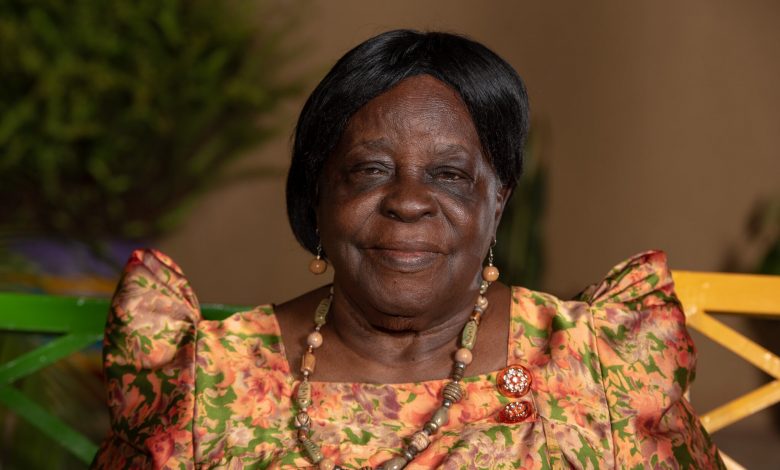 The unfortunate and saddening death of stateswoman Joyce Mpanga, on Saturday 18th November 2023, arrived when the country was focused on a major wedding that was happening in Busoga Kingdom. The Kyabazinga was wedding Inebantu (Queen of Busoga) in Jinja.
According to Wikipedia, Mpanga was born on 22 January 1934 in Mityana, Uganda and attended Gayaza High School. After graduating from Makerere College in 1958, she went to the University of London for a Bachelor of Arts and Indiana University Bloomington for her Master of Science in 1962.
Kitalo:
Oweekitiibwa Joyce Mpanga afudde.
Abadde mubaka wa Lukiiko lwa Buganda, yalwanirira nnyi okuzzaawo obwakabaka, wamu n'okukuuma Omulangira Ronald Muwenda Mutebi nga tannatuuzibwa ku Nnamulondo.

Gutusinze Ayi Beene twakuumye bubi. pic.twitter.com/As3P2SriQJ

— Buganda Kingdom (@BugandaOfficial) November 18, 2023
Mpanga, 90, is being remembered for her role as a traditionalist, educationist, public servant, legislator, minister, and lover and protector of the Buganda Kingdom where she has been serving as a member of the kingdom's Lukiiko (Parliament).
In government, Mpanga served as Minister of Women in Development from 1988 to 1989 and the Minister of State for Primary Education from 1989 to 1992. She represented Mubende district as a Member of Parliament from 1996 to 2001.
The U.S. Mission in Uganda is saddened by the passing of Hon. Joyce Mpanga, 🇺🇸 @FulbrightPrgrm alumna of Indiana University (1962). Her participation as the first 🇺🇬 woman in the program opened the opportunity for many other women. Our thoughts are with her family and friends.… pic.twitter.com/adcd1aiynu

— U.S. Mission Uganda (@usmissionuganda) November 18, 2023
Announcing her death, the Buganda Kingdom said Mpanga fought for the restoration of the Buganda Kingdom and was a guardian to Prince Ronald Muwenda Mutebi before he was enthroned as the Kabaka (King) of Buganda in 1993.
The Katikiro (Prime Minister) of Buganda Kingdom, Charles Peter Mayiga, they were saddened by the death of Mpanga, who, alongside his husband, the late Fredrick Mpanga, were close to the late Ssekabaka Edward Mutesa, the father of Kabaka Ronald Muwenda Mutebi.
We are sorry to hear about the passing of Owek. Joyce Mpanga.
Sending our deepest condolences to the bereaved family and friends during this difficult time. They are in our thoughts and prayers.

Fare thee well. pic.twitter.com/2rgCEPUkDF

— Growth Lane Book Club (@growthlane) November 19, 2023
"Until her death, she has been close to the Kabaka and has died still serving as a member of the Lukiiko of Buganda. She has been an activist for the emancipation and development of women. I condole with her children," Mayiga said in a brief statement in Luganda.
According to Gayaza High School, where she returned as a teacher in 1962, having kickstarted her teaching career at Makerere College in 1958, Mpanga was a fighter for women's rights and a woman of many firsts including being the first African Deputy Headmistress of the school.
I woke up to the sad news that Hon. Joyce Mpanga, the first minister of Women in Development in Uganda and a true pioneer in women's rights, has died. I am fortunate to have been able to see her one last time last year in Uganda. pic.twitter.com/fOb4V4E3Q5

— Aili Tripp (@ailitripp) November 18, 2023
The school reveals that Mpanga was one of the first women to be nominated to the Uganda National Assembly in 1960, the first African woman lecturer in the faculty of education at Makerere University, the first female graduate with a master's degree, the first minister of women's affairs in Uganda and the first female minister for primary education in Uganda.
RIP Mama Joyce Mpanga.
The Women Ledership Fratternity will always remember you. Thank you for the great Legacy, & for leaving behind a great Legacy, your Auto book "If only she was a girl inspired many of us."
I Honr. You… Good bye Hon. pic.twitter.com/MmOideGbzq

— Emily Akullu (@EmilyAkullu) November 18, 2023
Makerere University described Mpanga as one of Makerere's illustrious female alumni and matriarch. At Makerere, Mpanga was the first female lecturer in the faculty of education at Makerere University.
The Deputy Speaker of the Parliament of Uganda, Thomas Tayebwa, said Mpanga's contribution to the emancipation of women and transformation of the country's education sector will always be engraved in the country's history.
I mourn my dear friend and elder, Hon Joyce Mpanga. She loved me and called me her daughter. I was honored to interview her when she launched her book, "It's a Pity She's Not a Boy".

I last saw her on 3rd September this year when @CivsourceAfrica hosted an event to celebrate… pic.twitter.com/ZWG3LTQ3Gr

— Jacqueline Asiimwe (@asiimwe4justice) November 18, 2023
The Leader of the Opposition in Parliament, Mathias Mpuuga, said Mpanga was a mentor and role model to many especially women leaders in Uganda. "She encouraged many when she joined the Legislative Council (LEGCO) in 1960 as Parliament was known at the time," Mpuuga said.
He added: "She diligently served Buganda & the Kabaka at a very difficult time in the 1960s and after the restoration of the kingdom in the 1990s. She'll be remembered for her works as an educationist, a community worker, a fine politician and a leader."
Sad to hear that Joyce Mpanga, a luminary of Uganda, passed away.
She tirelessly advocated for education and empowerment, & her contributions to society will live on for generations. Her work continues to inspire & empower others. May she rest in peace.@dfkm1970 pic.twitter.com/aAnHEbFesZ

— Association of Biology Educators (ABE) (@biologyeducate) November 19, 2023
In honour of her service, Milly Babalanda, the Minister in Charge of the Presidency, Sunday announced that President Yoweri Museveni has granted an official burial to Mpanga. Babalanda said the National Organizing Committee and family will issue a detailed burial program.