Kampala Meeting Opens Up Trade & Investment Opportunities Between Uganda & Somalia
Somalia and Uganda signed several MoU to promote trade, investment and tourism between the two countries including the formation of the Joint Permanent Investment and Business Council to monitor and implements issues agreed on at the Summit.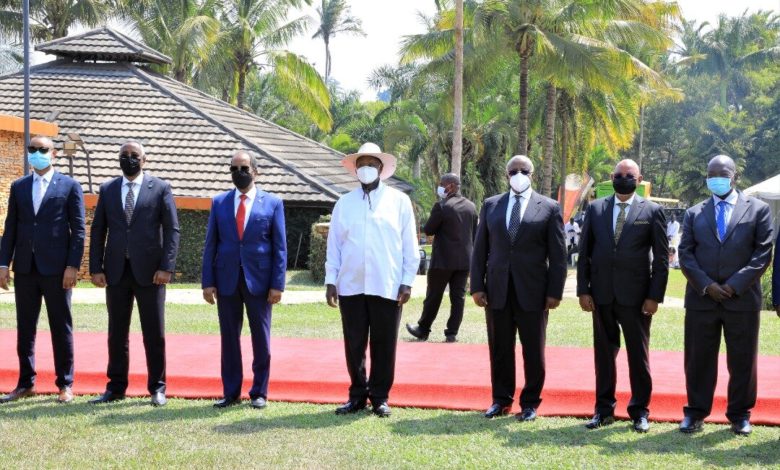 The visit to Uganda by Somalia president Hassan Sheikh Mohamud, and the subsequent sitting of inaugural Uganda – Somalia Investment and Business Summit have opened up trade opportunities between the two countries.
The two-day Uganda – Somalia Summit kicked off today, 10th August 2022 at Speke Resort Munyonyo in Kampala, Uganda, under the theme 'Promoting Partnership between Uganda and Somalia through Trade, Investment and Tourism.'
At the Summit, a Memorandum of Understanding (MoU) between Francis Mwebesa, Uganda's minister of trade, industries and cooperatives, and Jibril Abdirashid Hagi Abdi, Somalia's minister of commerce and industry was signed to promote trade, investment and tourism between the two countries.
And to facilitate this shared vision, the two countries have formulated the Joint Permanent Investment and Business Council (JPIBC) to monitor and evaluate the implementation of the decisions agreed on at the Summit.
The JPIBC will constitute the ministries responsible for trade and investment, investment promotion agencies, export promotion agencies, national bureaus of standards and the private sector of both countries.
Through the Kampala Declaration, the two ministers committed to strengthening bilateral cooperation in trade, investment and tourism, dealing with Non-Tariff Barriers, directing JPIBC to coordinate and facilitate investment, enhance communication with the private sector and identify goods and services for trade, investment and tourism in both countries.
Speaking at the Summit, Mwebesa invited business persons from Somalia to come and invest in Uganda 'since the location gives us a wider market access.' He said that the signed MoU at the business forum provide the two countries with an opportunity to engage in deeper discussions and actual businesses for their mutual benefit.
"On our side, as a government, we will provide you with all the necessary policy and legal or regulatory support. The government has put in place a conducive investment climate with opportunities in manufacturing, commercial agriculture, logistics, ICT, energy, mining, petroleum, and services such as financial services, tourism, and real estate," the Ugandan trade minister affirmed.
Somalia President Hassan Sheikh Mohamud said the Uganda-Somalia Investment & Business Summit offers opportunities for investment & trade and that his country is open to investment and business with Uganda.
On his part, President Museveni said that business people both in Uganda & Somalia should help unite the two countries. To achieve prosperity, we need a market which is integrated, President Museveni said.