Museveni encourages Tanzanian coffee processor to set up plant in Uganda
President Museveni warmly welcomed Hamza to Uganda and described his interest to add value to coffee as very good news for him.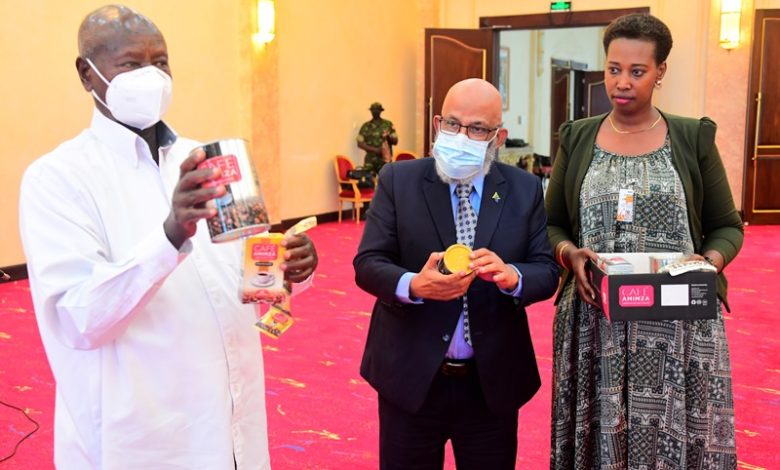 President Yoweri Museveni Tuesday met with the Chairman of Amir Hamza Tanzania Limited, Amir Hamza Esmail at State House, Entebbe. Amir Hamza (T) LTD deals in coffee products in Tanzania.
Hamza, who is also the Chairman of the Coffee Association in Kampala, expressed enormous interest in adding value to Ugandan coffee.
He informed the President that his company based in Bukoba Tanzania already exports instant coffee to regional and international markets.
Hamza, accompanied by his business associate Jennifer Karungi, presented to the President some of his instant coffee products.
He praised President Museveni for championing the campaign to add value to coffee in Africa in general and Uganda in particular adding that the President deserved an award for his efforts.
"If there was an award for a Nobel prize for value addition to coffee on the continent of Africa, Your Excellency you deserve one," he said.
President Museveni warmly welcomed Hamza to Uganda and described his interest to add value to coffee as very good news for him.
"What you are saying is music to my ears," the President commented.
The President told Hamza that Uganda has very good quality coffee and directed the Minister of State for Animal Industry Hon. Bright Rwamirama, who was accompanying the investor, to ensure that the investor whose Coffee factory is based in Bukoba, Tanzania gets all the necessary support for establishing a coffee processing plant in Uganda.
The President further informed the investor of how the volume of coffee production increased in Uganda from 2 million bags in 1986 to now between 12 to 20 million bags a year.
"I promoted coffee growing by sensitizing the wanainchi with small land holdings using the 4 acre model that encourages the planting of coffee on one acre, fruits on another, an acre of pasture for zero grazing and the fourth acre for food," he said.
Charles Kato of Delta Technology Corporation and Robert Nuwabiine an entrepreneur, both business associates of Hamza informed the President that  Delta Technology sells machinery for coffee processing. Robert Nuwabiine said he invests in food processing especially cassava and millet flour.
President Museveni lauded Nuwabiine for his efforts adding that such foods are very nutritious.
"These are very precious foods, millet has carbohydrates, proteins and iron all in one. You don't have that kind of combination in the world. I don't eat bread, I eat millet and cassava-but you people are sleeping," the President observed.
Nuwabiine further said he also trains the youth in the skills of making millet flour cakes and bread thus creating jobs for the young generation.