Museveni offers official burial to matriarch Joyce Mpanga
She has been described by various people as a stateswoman, politician, teacher, mentor and loyalist.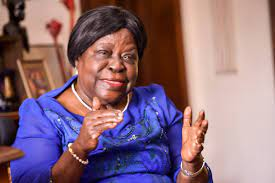 Buganda's loyalist Joyce Mpanga has been accorded an official burial, a government official said Sunday night.
"I wish to inform the General Public that H.E the President has granted an official burial to the fallen former Minister of State for Primary Education, Joyce Mpanga," Milly Babalanda, the Minister in charge of Presidency said in a brief statement shared on social media.
"The National Organizing Committee (NOC) and family will issue a detailed burial program. Sympathies to the family and fellow Ugandans" Babalanda added.
Mpanga passed away on Saturday 18th November 2023 at the age of 90 years.
She is revered for her work in Buganda kingdom where she has been a Member of the Lukiiko (Parliament). She has received praises for taking care of Ssekabaka Sir Edward Mutesa II while he was in exile and playing the guardian role to raise the current Kabaka, Ronald Muwenda Mutebi, who is Mutesa's son.
She was also the first minister of women affairs and first minister of primary education, roles he undertook in the 1980s. She was also a Member of Parliament representing Mubende.