Museveni prefers UPDF performs the matoput ritual on behalf of family of bodyguard who killed labour minister
Matoput is a ritual in northern Uganda which is done after a clan whose member has killed someone from another clan pays seven cows in return.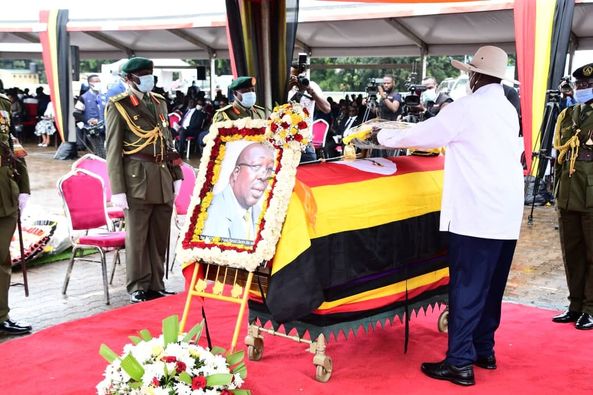 President Yoweri Museveni has ordered Uganda People's Defense Forces (UPDF) to do a "matoput" for the clan of the late Col. Rtd. Charles Okello Engola who was murdered by his bodyguard Pte Wilson Sabiiti.
Matoput is a ritual in northern Uganda which is done after a clan whose member has killed someone from another clan pays seven cows in return.
However, in this incident, the president ordered UPDF to do the ritual instead of the family of Pte Wilson Sabiiti who murdered his principal.
The president said this in his speech at a state funeral service for Engola at Kololo Ceremonial Grounds in Kampala. In his speech, Museveni expressed anger towards Engola's murder of Engola.
He said that it's so absurd that the late who was such a good carder died in the hands of someone who was produced by their very own system.
"I know our traditional system, the Banyankore call it okukaraba – this is when somebody kills one of your clan people, the other clan must kukaraba," the President stated.
In the north, they call it matoput. So, the people, who I think must do matoput, are the army. They will have to do it. Don't worry about the seven cows because the army has got more; they will bring even more than seven," the President told Engola's family.
According to Museveni, departing away from the NRA doctrine of patriotism by the political class, civil servants and UPDF is one of the main factors that could have led to the death of the minister.
He says during their times in NRA, soldiers minded much about patriotism than discussing salaries and allowances.
"The NRA ideology, strategy and doctrine, was voluntarism. We did things for our country. You can say for 20 years from 1960 around there, up to 1987, that's a period of about 21 years, we were engaged almost continuously in the apolitical military struggle for no pay and on the basis of sacrifice," he explained.
The president noted that however many soldiers get little pay, the government still provides education to their children and in case salaries happen to be increased, the government may fail to purchase military equipment and recruiting of more soldiers.
Meanwhile, the Minister of Gender, Labor and Social Development, Betty Amongi, condemned the negative social media comments about the late.
She noted that Engola was not killed because of financial issues and the salary of his bodyguard but rather other matters which are not yet known.
The family of the late applauded their father for his endeavours and thanked the President for appointing him to different positions. They hence forgave the family of Pte Wilson sabiiti.
"Our father taught us to forgive. I want to take this opportunity to forgive Pte Wilson Sabiiti and may his family find solace"- Charles Engola Junior during the funeral service of his father.
The minister's body will be airlifted to Oyam District on Thursday where a joint Lango sub-region council meeting will be held at Boma grounds at 10 am to pay their tribute.