Oil Projects Affected Persons petition judiciary over delayed compensation
In December last year, Energy Minister Ruth Nankabirwa admitted there had been delays in compensating project-affected persons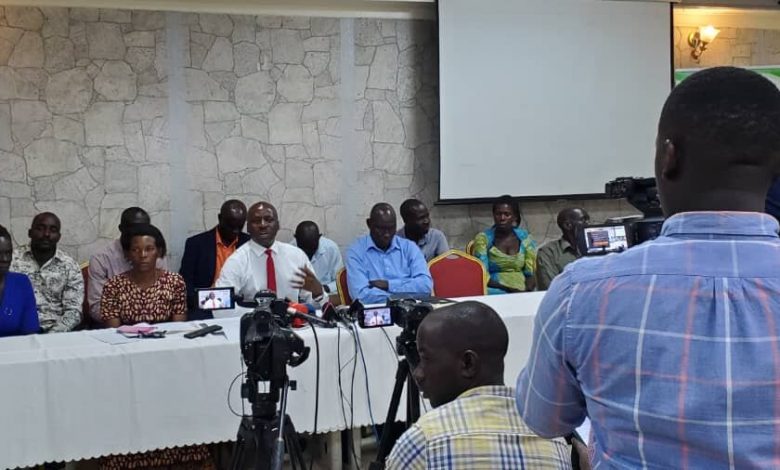 A section of the people who were affected by the ongoing construction of the East  African Crude Oil Pipeline (EACOP) has petitioned The Minister of Justice and Constitutional Affairs Norbert Mao along with Chief Justice Alfonse Owinyi Dollo and his deputy Richard Buteera over the delayed hearing of their compensation cases.
The Project Affected Persons (PAPS) have noted that on April 12 and July 26, 2022, they wrote to the Principal Judge and Deputy Chief Justice respectively requesting them to use their powers to ensure that their cases are fixed for hearing.
However, till today, there has not been any response from the two offices regarding the hearing of their cases.
Speaking to journalists at a press conference in Kampala held at Hotel Africana, Dickens Kamugisha, the Chief Executive Officer of Africa Institute for Energy Governance (AFIEGO), explained that the victims filed a case in the high court in 2012 but up to date the case has never been heard.
"That case up to now has never been heard and completed. It started in Kampala high court, and they pushed it to Masindi high court, today it is in Hoima high court, and we are now with the 7th judge. So that's only one of the areas that these communities have grievances on and cannot get justice in court," he noted.
Explaining other areas where the PAPs are not certified with the judiciary's works, Kamugisha further noted that in 2019 the communities affected by the Tilenga project also filed a case in the high court of Uganda challenging the environmental and social impact assessment certificate that was issued by NEMA.
He noted that this certificate had not taken into account their social needs and environmental rights but up to now the court has not yet determined this case as well.
"However, in 2020, the government filed a case against these same people in Tilenga who had refused the compensation that was offered to them because it was inadequate.
"This time the case was filed in 2020 and within 6 months the government got a ruling. The court allowed the government to deposit its compensation and proceed to evict the communities," he explained.
It's on this notice that the PAPs through AFIEGO, an NGO that ensures the common man and woman benefit from energy resources, have demanded quick hearings of their cases; referring to article 126 of the constitution which requires the judiciary to hear cases without delay.
Highlighting some of the challenges they are facing currently, Tundulu John, the chairperson of PAPs in Tilenga Resettlement Action Plan (RAP1) Buliisa district, said that they were surprised in 2020, after receiving a sermon from the high court in Masindi for refusing compensation from the government.
"We refused that money due to some reasons. That money couldn't afford to buy land somewhere else unless you squeeze yourselves in other ways. So, we saw that the compensation was not adequate, and we refused.
"When we went to court, it took about 6 months and on one night we were asked to come for the ruling which in the end wasn't on our side. But when we appealed in 2021, till now we have not got any reply from the court," he said.
According to Mugisha Jealousy, a resident of Kasenyi village in Buliisa district, TotalEnergies led by Atacama Consulting sub-contractor, acquired land for the central processing facility which is equivalent to 772 acres.
However, when it came to the time of compensation, they were asked to take Shs.3.5 million per acre, but they still insisted on being paid Shs.21 million.
"Our rights were not respected. Even TotalEnergies together with our government, couldn't listen to our cries," he said.
Among the cases that were appealed and have never been heard include the Tilenga affected people's compensation case, the case for the cancellation of Tilenga ESIA and the Oil refiners affected people's compensation case.
The process of the government acquiring land started in 2018 but continues to face setbacks among which include campaigns by human rights activists, who claim project-affected communities are not being listened to.
In December last year, Energy Minister Ruth Nankabirwa admitted there had been delays in compensating project-affected persons but noted the government was doing whatever it takes to see that compensation is expedited.