Parliamentarians eulogize Henry Kyemba as a man who deligently served Uganda, promoted democracy, patriotism
Kadaga said that Kyemba was born on 8th December 1939 in Mayuge district and he succumbed to diabetes related complications at URO Care Hospital in Kampala.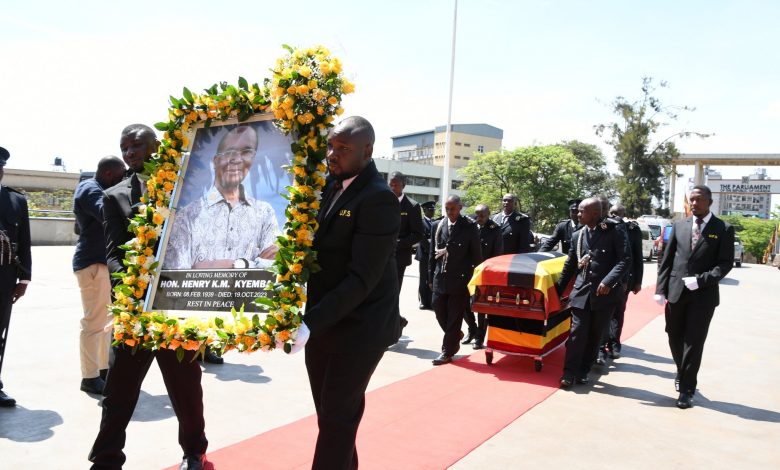 Death brought to end the life of Henry Kyemba who came to prominence as the bold Idi Amin minister in the seventies. He also served in the Milton Obote government, and that of Yoweri Museveni but it was during the time with Amin that Kyemba will most be remembered. At least through his written works and that which has been written about him.
A special parliament sitting has been accorded to Kyemba and Members of Parliament (MPs) took turns to speak that which they know about the late.
The Deputy Speaker of Parliament Thomas Tayebwa has led Parliament in paying tribute to Kyemba. Tayebwa described the deceased as a man who served his country with a high level of diligence. He thanked Kyemba for taking off time to put down the history of Uganda in writting.
Kyemba authored the famous book called A State Of Blood: The Inside story Of Idi Amin in which he highlights some the crimes committed by the Aim regime.
"This is a man who has served humanity in very many aspects as a rotarian, even at the time of his death he was still volunteering in aspects where he was touching lives allover.
As students of history who know the black history of this country, we know the critical role he played in exposing the evils of the regime of Idi Amin where he moblized many people to end the brutality that was being meted on Ugandans," Tayebwa said.
The First Deputy Prime Minister, Rebecca Kadaga led the government in paying tribute to the late Kyemba describing him as a firm advocate and promoter of democracy, good governance, peace for all and champion of strengthening public administration.
"He was a diligent leader who immeasurably participated in shaping the destiny of Uganda and served Uganda with dedication and patriotism," said Kadaga.
Kadaga said that Kyemba was born on 8th December 1939 in Mayuge district and he succumbed to diabetes related complications at URO Care Hospital in Kampala.
Leader of Opposition Mathias Mpuuga said we have the enormous task of portraying the essence of Kyemba, a statesman on one part and politician on the other.
"Some people simply fall as politicians and the other part of them is a world chase. He generously offered time and space to wheover came to him with the thirst and good to learn. Yet in all this, he commanded a high and discerning sense of simplicity which endeared him to many," Mpuuga stated.
He added: "Despite having held positions of influence, Kyemba too knew adversity, as many Ugandans across time have. In 1977, he lost his brother at the hands of the regime he had served under. He faced personal insecurity and once took a bullet that was meant to assassinate the President. As a government protagonist in his book 'A State of Blood' and having served as a government protagonist in his own book, the late Minister is a testament that we have very many Kyembas waiting to happen soon, which is more reason we should tread carefully,"
Brandon Kintu (Kagoma North) urged Ugandans who want to make Kyemba happy by joining Busoga Kingdom at a royal dinner at Kololo on Friday, saying the region is pained by Kyemba's demise as he won't witness the November 2023 royal wedding.
Cecilia Ogwal (Dokolo DWR) asked Ugandans not to blame Kyemba for taking up the job with Idi Amin, saying that by taking up that job, he saved so many people. She cited a scenario when security forces picked up her husband and it took the intervention of  Kyemba, who connected her directly to Idi Amin that her husband was saved.
"And Kyemba allowed me to talk to the President, Idi Amin directly and I told Idi Amin, you have taken my husband and you have killed him, so Idi Amin said, when, how, and I said he had been taken and killed and he asked, have you seen the body? And he said give me time, I will find out. In the morning my husband was brought home," Ogwal revealed.