"Spider-Man: No Way Home" reclaims No. 1 at North American box office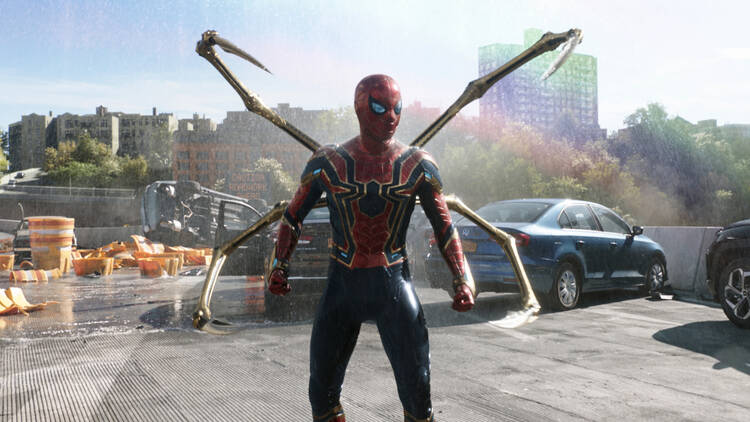 Without any new major releases, Sony's rerelease of Columbia Pictures and Marvel Studios' superhero film "Spider-Man: No Way Home" reclaimed the top spot at North American box office with an estimated three-day total of 6 million U.S. dollars, according to studio figures released by measurement firm Comscore on Sunday.
"Spider-Man: No Way Home" once dominated North American box office on its debut weekend with over 253 million dollars in December 2021. The film has grossed 810.79 million dollars in North America to date.    Based on the Marvel Comics character Spider-Man, the film in the Marvel Cinematic Universe is the sequel to 2017's "Spider-Man: Homecoming" and 2019's "Spider-Man: Far From Home."
Directed by Jon Watts, "Spider-Man: No Way Home" is the third Tom Holland-led Spider-Man film. The extended version of the film was released this weekend to theaters with 11 minutes of new footage.    Disney will also rerelease James Cameron's 2009 sci-fi epic "Avatar" in theaters later this month.
"Rereleases are nothing new in the industry, especially when it comes to major anniversary milestones for popular and iconic features," commented CNBC in a recent report, noting that the timing of Disney and Sony's rereleases comes as the North American box office ticket sales are down 30 percent from 2019, and there have been 30 percent fewer movies released in theaters.
"Movie theaters and the terrible, horrible, no good, very bad end-of-summer continues at the box office," said Variety, a top Hollywood trade publication, adding that Sony has smartly taken advantage of the desolate moviegoing landscape with the rerelease.