Trade Minister Invites SMEs To Do More To Combat Effects Of Climate Change Through Sustainable Trade Finance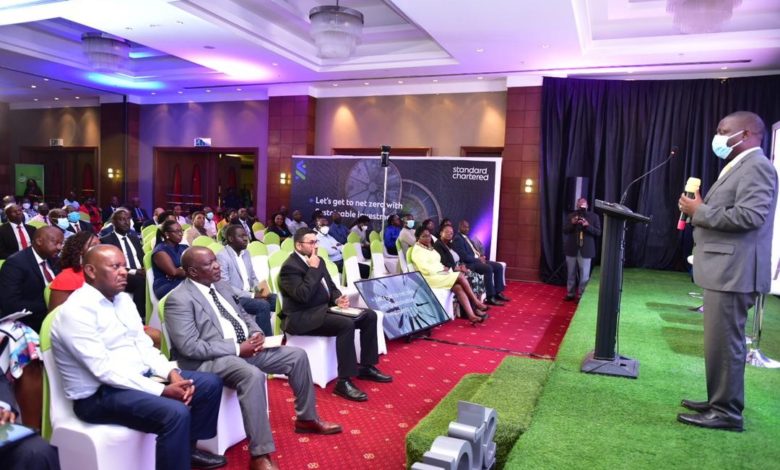 While all of us at an individual level should play a part to combat the effects of climate change through change of lifestyle to reduce our personal carbon footprint, this can only go so far, David Bahati, the Minister of State for Trade, Industry and Co-operatives has warned.
The minister advises that there is a need for 'system-level solutions through partnerships between government, the private sector and development organizations for effective and permanent change.' His counsel came while delivering a keynote address at an event organized by Standard Chartered Bank Uganda in Kampala.
Standard Chartered Bank Uganda on Tuesday held a thought leadership event to discuss business immersion in Sustainable Trade Finance for over 100 corporate and SME business leaders at Sheraton Hotel. The bank's Straight2Bank NextGen was also launched at the same event.
The bank drew the attention of all stakeholders to the urgency and need to flatten the curve of greenhouse gas emissions and bring them down to Net Zero to avert a climate pandemic. Over 100 corporate and SME business leaders were in attendance.
Bahati noted that the banking, finance and investment communities play a critical role in facilitating investments in renewable energy solutions and carbon neutral technologies.
"We are therefore very happy as the Ministry of Trade Industry and Cooperatives to see Standard Chartered Bank taking the lead on the journey towards Net Zero emissions through business awareness symposiums," the minister said.
He explained that by extending robust Sustainable Trade Finance solutions to the Business community in Uganda, there will be noticeable growth in the supply and demand for green investments.
Patrick Makau, the Executive Principal, the Standard Chartered Head of Trade and Working Capital Kenya and East Africa revealed that the bank advocates for sustainable finance and their good track record in financing major energy, telecoms, mining and infrastructure projects is there to see.
"With consumers, investors and governments increasingly focusing on Environmental, Social and Governance (ESG) metrics, there is a growing impact on global supply chain activities," Makau told over 100 business leaders who attended the event.
Adding: "You can now complement your sustainable procurement and your own sustainable agenda with our tailor-made sustainable trade finance offering. As a leader in trade and sustainable finance, we are here to help you achieve your sustainability goals."