Uganda Ladies Golf Tournament Gets National Medical Stores Shs60m Sponsorship
There are several prizes to be won in categories of silver, bronze, subsidiary ladies, subsidiary men, senior winner (ladies and men), side bets and first day bets.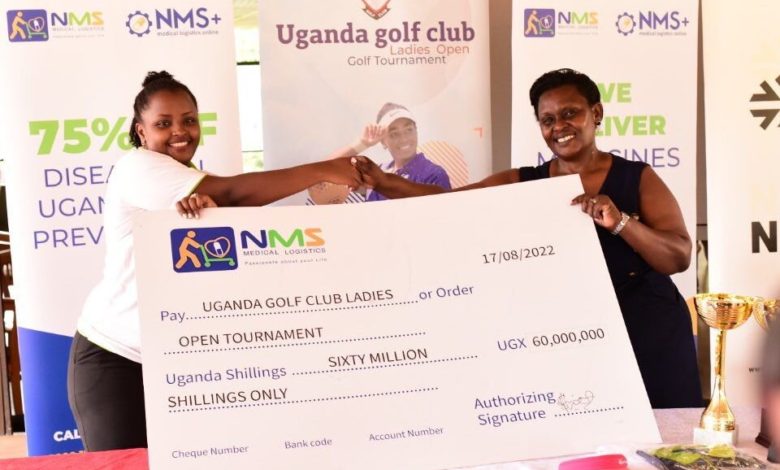 The National Medical Stores (NMS) has injected Shs60m into Uganda Ladies Golf Tournament to be held at Kitante Golf Club in Kampala.
The Public Relations Officer of NMS Sheilla Nduhukire said the three-day tournament will kick off on Wednesday, August 17, 2022, with golfers from different clubs taking part.
"NMS has been at the forefront of fighting non-communicable diseases by promoting physical fitness exercises, sports, regular health checkups and mass awareness campaigns," said Nduhukire.
"Active participation in sports activities such as golf helps ease stress and improves general wellbeing of the body. Sports also bring positive energy, discipline, and other commendable qualities to one's life," she added.
Nduhukire said a reduction in non-communicable diseases would reduce government expenditure on drugs and save more lives.
Lady Captain at Uganda Golf Club Kitante Grace Kabonero said since 2018, the ladies section at Uganda Golf Club has been holding ladies' golf tournaments.
"This open golf tournament is a competition where ladies compete among themselves from different clubs in the country," said Kabonero.
Kabonero said sponsorships like this from NMS help to elevate the golf sport in the country and also promote a healthy lifestyle. She explained that they expect a very tough tournament after a very competitive tournament last year.
"We expect all the regions to send in their best golf players. We are excited to host players from Entebbe Golf Club, Namulonge, Lira, Mbarara, Palm Valley, Serena Kigo, Fort Portal, Mbale, Jinja and Kabale," said Kabonero.
According to the Ministry of Health, 75% of non-communicable diseases in Uganda are preventable through participation in regular physical fitness exercises and sports.
Over the past decade, the prevalence of non-communicable diseases (NCDs) such as cardiovascular disease, diabetes, chronic respiratory disease, and cancer has increased dramatically in Uganda and other parts of Africa.
According to the Health Ministry, 3.2% of Ugandans have diabetes. Those with heart diseases stand at 6%, 350 people out of every 100,000 have cancer while 8,000 new cases of cancer are recorded annually.
However, research also shows that routine physical activity helps prevent diseases such as reducing the risk of stroke, heart disease, cancers and high blood pressure.