Uganda secures customs-free storage space for exports at Serbian airport
Dr. James Kanyijje, the Managing Director of KK Foods Limited has welcomed this achievement saying it's a key requirement in order to trade in international markets.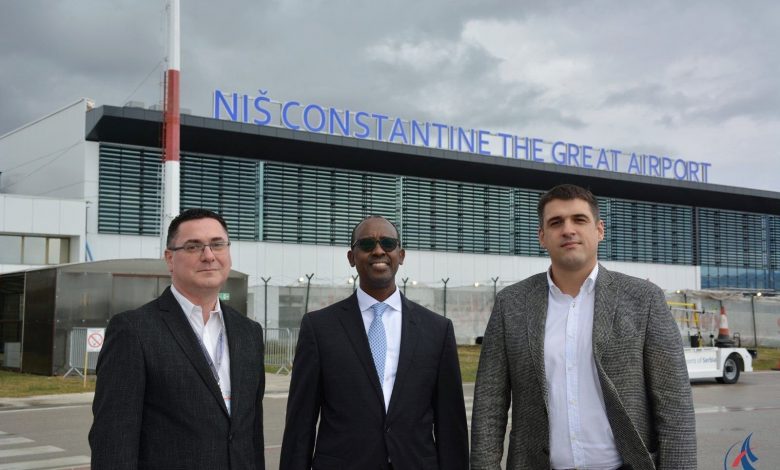 Uganda has signed an agreement with Serbian airport of Nis to handle cargo from Uganda into the Balkans and Eastern Europe.
The airport receives 150 large size cargo trucks daily with transit goods to Greece, Albania, Macedonia and other Balkan nations of south-Central Europe.
The airport also handles large volumes of tourism passengers in the region during summer in Western Europe.
Nis Constantine the Great Airport is the second largest and second busiest airport in Serbia, after Belgrade Nikola Tesla Airport.
The agreement was brokered by Uganda's Trade Representative in the region, Bratislav Stoiljkovic.
According to Bratislav, securing this space is a step closer to getting Uganda's value-added products into Serbia and the entire Balkan region through a fully integrated logistics value-chain.
President Yoweri Museveni opened a trade hub (Uganda Connect) in Belgrade the capital of Serbia in July this year.
The hub has generated demand for visits to Uganda and orders to source products from Uganda.
Uganda Connect is a facility promoting Ugandan exports in Serbia and the European market.
Serbian investors including Kafica Moja, one of the largest coffee sellers in hotels and supermarkets in Serbia, Croatia and Montenegro, will be processing and exporting roasted coffee from Uganda to the Balkan region.
The company was invited by President Museveni when he visited Serbia to open a trade summit in July 2023.
The agreement signed on Saturday 4, October 2023, at the airport with the Managing Director of the Nis Constantine the Great Airport Facility, Mihaldjo Zdravkovic, gives Uganda exporters more than 750 square meters of storage and shipment space for the shipment to the onward seaports of the neighbouring Thessaloniki in Greece, Duress in Albania and Varna in Bulgaria, all in a sailing range of less than 300kms from southern Serbia.
The port of Nis receives and clears all cargo from Asia and Africa into the Balkans. A number of Serbian companies in July confirmed orders for Ugandan vanilla, coffee, banana flour, cocoa, flowers, nuts and dried fruits amounting to USD200m.
The agreement signing on Saturday was witnessed by Odrek Rwabwogo, Chairman of the Presidential Advisory Committee on Exports and Industrial Development (PACEID).
"This storage and shipment base for Uganda gives us much better access to a GDP market of over USD100bn of the Balkans. It will lessen storage and shipment costs once we connect it to Entebbe and Mombasa or by air out of Entebbe. Ugandan companies can now use this as testing ground for holding and conveying cargo in the region and beyond," Rwabwogo said at the signing ceremony.
Ugandan exporters have applauded the move and expressed their gratitude to Bratislav and Rwabwogo for their dedication to promoting Uganda's exports through new markets, infrastructure development, adherence to international standards, and improved export financing which are vital for unlocking the country's export potential.
Dr. James Kanyijje, the Managing Director of KK Foods Limited has welcomed this achievement saying it's a key requirement in order to trade in international markets.
He said: "It means a lot, it's part of all requirements for better business after capital. Now, with cold storage, it is possible to increase our exports in the Balkans. President Museveni promised to support local exporting companies, now is the time."
The Simons Uga Limited CEO, Simon Musisi, says wth this opportunity of accessing free storage space at Nis Airport, Ugandan vanilla exports into the Balkans (a region of over 200M people) shall greatly increase and a positive effect on returns on exports is to be registered.
He added: "This will grow our sales throughout Eastern Europe and our farmers will be able to receive fair prices on their vanilla. We thank PACEID under the leadership of Chairman Odrek Rwabwogo for this great achievement."