UICT gets governing council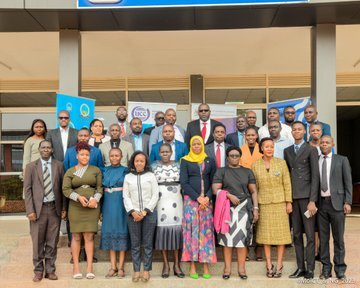 The government has established the sixth governing council of the Uganda Institute of Information and Communications Technology (UICT). The seventeen-member council will serve for three years and is expected to work towards improving the country's ICT sector in the country.
This is in accordance with Section 77(2) of the Universities and Other Tertiary Institutions Act 2001 which provides that there shall be established for each Tertiary Institution a Governing Council comprised of various categories of persons.
The 17-member council which will lead the institute for the next three years was inaugurated during a function held on Thursday at the National Innovation Hub in Nakawa, Kampala.
Officiating at the inauguration ceremony Dr. Aminah Zawedde, the Permanent Secretary of the Ministry of ICT and National Guidance, said the new council has a role to drive UICT to be the centre of excellence.
"Universities provide degrees in computer science, IT etc but when it comes to special skills that people need on the job, some of these are given by the companies that recruit us, some by government, so UICT is going to be that institution that provides such skills," said Zawedde
She added that the Governing Council is going to work with the institution under the guidance of the Ministry of ICT, to ensure they put up such programs for people coming out of various universities and tertiary institutions so that they are ready for the job market.
Zawedde also noted that the council's initiative and existence is aimed at promoting Uganda as the number one destination for ICT.
She says in the 5th Governing Council, they initiated a program for an HR study to study the human resource needs, remuneration requirements, and training needs and that was approved and implemented as one of their achievements.
Among the members of the council include Assoc. Prof. Agnes Rwashana Semwanga, Ms. Barbara Asiimwe, Mr. Patrick Kakeeto, Mr. Amos Mpungu, Mr. Japeth Kawanguzi, Mr. Dean Munene, Mr. John Ochira Pakony and Mr. Ronald Mayambala.
Others are Eng. Christine Mugimba, Mr. Moses Mugenyi, Ms. Bako Gloria, Mr. Edson Nkurunungi, Mr. Anthony Muligisa, Ms. Rhoda Christine Nazite, Ms. Jennipher Namugumya, Dr. Irene Nakiyimba and Dr. Fredrick Kitoogo.
The Uganda Institute of Information and Communications Technology was established in 2000 by Uganda Communications Commission and offer ICT training, research, innovation and consultancy services.