UPDF Releases Program For Gen Elly Tumwine Funeral Ahead Of Tuesday Burial
Following the safe return of the body of the Late Gen Elly Tumwine from Nairobi on Friday 26th August 2022, the Ministry of Defence and UPDF, together with the family of the deceased have harmonised the funeral programme.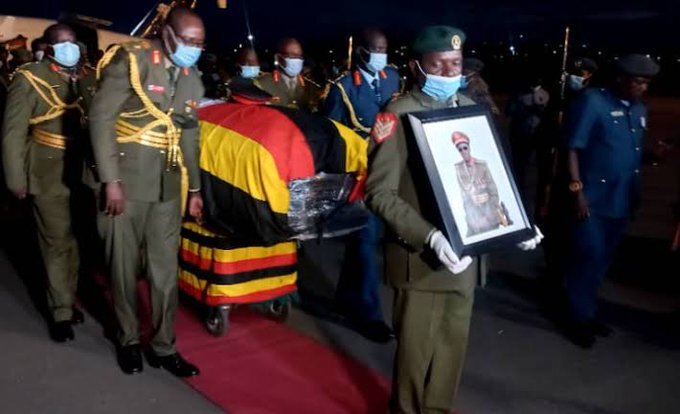 The Ministry of Defence & Veteran Affairs (MoDVA) and Uganda People's Defence Forces (UPDF) have this Saturday evening released the programme for the funeral of late Gen Elly Tumwine who died on Thursday in Kenya and his body returned to Uganda Friday evening aboard a chartered plane.
According to Brig Gen Felix Kulaigye, the defence spokesperson, Gen Elly Tumwine will be buried on Tuesday 30th August 2022 at his country home in Mukuru Rwemikoma, Kazo District after a Requiem Service. But before that, On Monday 29th August 2022, there will be a Requiem Service at Kololo Independence Grounds, starting at 10:00 am. Thereafter the body will be transported to the ancestral home in Mukuru, Rwemikoma Sub County, – Kazo District.
Tomorrow, Sunday 28th August 2022, there will be an official Vigil at the Residence of the deceased in Nakasero, Kampala starting at 4:00 pm.
Kulayigye said there will be invitations for some categories of mourners for the requiem service at Kololo. Those to be invited will be contacted by the Directorate of Protocol and will be required to undergo COVID-19 tests at Kololo Independence Grounds on Sunday 28th August 2022.
The rest of the mourners willing to join the requiem service at Kololo are equally welcome and will be duly guided by Protocol on the sitting arrangement, in view of the prevailing situation of the COVID-19 pandemic.