Why police will continue enforcing POMA despite changes by the constitutional court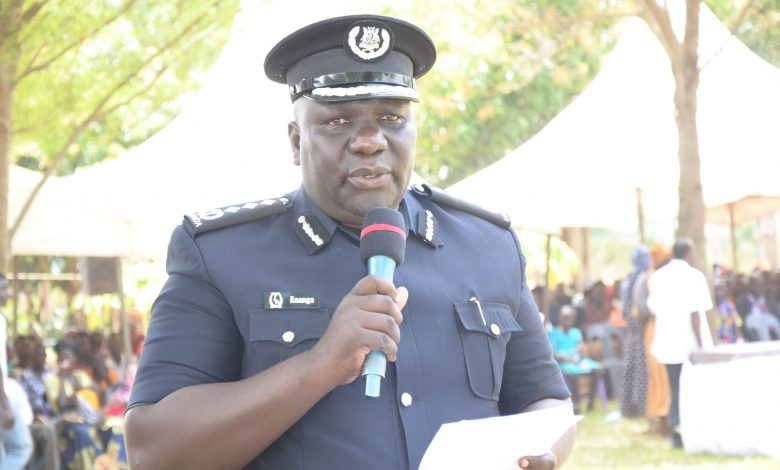 Uganda Police have re-echoed that illegal public gatherings will always be stopped despite a decision by the Constitutional Court invalidating some of the provisions of the Public Order Management Act (POMA), 2013.
In a unanimous decision written by Justice Elizabeth Musoke, the five justices of the court found that section 5 (b) and sections 10 (3) and (4) of POMA are inconsistent with article 29 of the 1995 Constitution and therefore null and void.
During today's media briefing at police headquarters in Naguru, Police spokesperson, Fred Enanga, said the Act still gives powers to police to stop or disperse illegal assemblies.
"The most important section in the Public Order Management Act 2013 is section 5 and it is still intact. This section provides for organizers of the public meeting to inform the police three days before the date of the meeting, assembly or procession.
Therefore, organizers, individuals and political groups should know that although it is a fundamental right to peaceful assembly, they also have a duty to inform the police," said Enanga.
The Public Order Management Act sets in place requirements to be met before a person can lawfully participate or organize a public meeting including the requirement that an organizer gives notice of his or her intention to hold a public meeting at least three days prior to the meeting.
According to Enanga, in accordance with this section of the law, organizers of assemblies, meetings, rallies and processions ought to inform police of the date, time, details of the assembly, details of the organizers, number of persons expected to attend and purpose among other important information.
"Other criteria that we always ask for include having a traffic assembly plan, sufficient stewards and coordinating with police to maintain security ought to be adhered to.
This doesn't mean that the police don't have the power to police or regulate unlawful assemblies. The law provides for the regulation of unlawful assemblies under the Penal Code Act and for that matter, under section 65 it still provides what an unlawful assembly is," he added.
Relatedly, section 68 of the Penal Code Act also provides for a proclamation for rioters to disperse, done by a magistrate or any police officer at the rank of inspector or above or any commissioned officer in the armed forces in whose view 12 or more persons are riotously assembled can make a proclamation and cause for the dispersal of the assembly.
In 2018, Robert Kyagulanyi Ssentamu aka Bobi Wine, together with others were arrested in Kampala after staging what was called an unlawful assembly protesting a tax on social media.
After their arrest, Kygaulanyi and others were arraigned before the Buganda Road Chief Magistrate's court where they were charged with the offences under POMA.
However, on September 28, 2020, magistrate Doreen Olga Karungi referred some sections of the POMA to the Constitutional court for interpretation as they looked like they were in contravention or inconsistent with article 29 (1) (a) and (d) of the Constitution.