Young Ugandan women take up roles to fill talent gap in oil and gas sector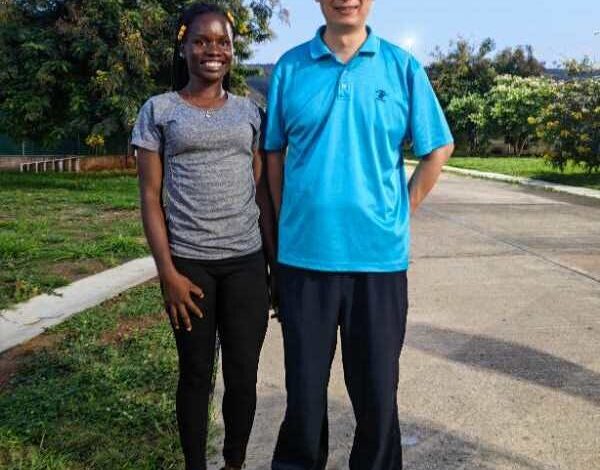 Raised by a single mother, Ritah Nasaazi, the last born among six children, has defied all odds and is now a petroleum engineer at a big oil field on the shores of Lake Albert, which is shared by Uganda and eastern Democratic Republic of the Congo (DRC).
Nasaazi's father passed on when she was two months old, this meant her mother, a fish dealer, had to shoulder all the responsibility of taking care of her children. She plied the Uganda-DRC trade route via Lake Albert, to fend for her children.
When Nasaazi finished high school, she won a China National Offshore Oil Corporation (CNOOC) scholarship because of her exemplary performance in class. CNOOC provides scholarships to the best-performing students as part of the company's Corporate Social Responsibility (CSR) works.
Nasaazi traveled to China where she spent four years studying petroleum engineering. On her return, CNOOC gave her a job.
"Growing up, I have always been interested in science and understanding how things work, and being that this is a male-dominated field, I was always eager that what someone else can do, so I can," she told Xinhua in a recent interview. "I was driven by the fact that it is a new industry in the country, so basically I really wanted to get involved as a woman with my background that a woman can join an engineering sector and be part of a growing sector."
CNOOC is developing the Kingfisher Oil Field in the western district of Kikuube, the same community where Nasaazi lived with her family. The oil, according to the Chinese oil giant, is under Lake Albert. Just on the shores of the lake, in a community of five tiny fishing villages, CNOOC is preparing to drill different well pads as the country gears toward producing its first oil by 2025.
At one of the well pads, Nasaazi and her Ugandan and Chinese colleagues work in preparation for the installation of an eco-friendly rig, shipped from China. Nasaazi is the only female on the site and she is determined to carve out her path in a male-dominated field.
"I was in a department as the only woman, the team I had emphasized to see me get involved in fieldwork. Whenever they were going to the field, they asked me 'do you want to come,' so I would get involved," Nasaazi said.
Through mentorship and several pieces of training both in and outside the country, Nasaazi has risen through the ranks from trainee to now completion engineer.
She advised young girls to always focus on their studies and what they want to achieve in life.
On other sites, there is also an increasing number of women working, although the number is still small in comparison to the men.
It is a beehive of activities in the valley as the country races to start commercial production. The Kingfisher oil field is located in the Albertine Graben, the western arm of the East African Rift Valley.
Dozens of transit trucks descend the escarpment to deliver materials, shipped from other parts of the world. Christine Tibananuka, 24, aspires to be one of the truck drivers. She has just completed a heavy goods vehicle training program, financed by CNOOC, as part of its CSR activities.
Tibananuka dropped out of school in 2017 after her father failed to raise tuition fees. After two years with no job, Tibananuka decided to apply for a driving course when CNOOC availed her of the opportunity. She came out as an exemplary student, and she was chosen to exhibit her skills when Chinese Ambassador to Uganda Zhang Lizhong visited the training camp on Oct. 2.
"I was inspired by some lady who drives a bus. She inspired me a lot and I told myself that me too I can," Tibananuka said. "Now, the world has changed, you can not be there seated at home that a man is going to provide everything. As a woman, I must go and work so that I can support my family."
Tibananuka is optimistic that once she gets a job, she can be able to help her parents to pay school fees for the rest of her siblings.
Starting a family yet working far from home has always been a challenge for young women. Culturally, men are supposed to go and work and women stay home to take care of children.
Nasaazi and Tibananuka say sometimes these thoughts linger in their mind. Nasaazi said she is encouraged when she sees many women, some who even have families, choose to work far from their families.
"Being here is good but you need a family to go to. People assume ladies in engineering do not get married but that is not the case. I am here with many colleagues who are married," Nasaazi said.
Tibananuka said some of her male colleagues raise concerns about how a woman can be a long-distance driver and leave her home, children and husband behind. She said she has been encouraged by her auntie who told her that there are many female long-distance drivers and they have stable families.
Tibananuka and Nasaazi argue that in the wake of increasing costs of living, a husband and wife need to work to support the family.