Fruit processing factory commissioned by Museveni in Nakasongola benefits 10000 fruit farmers
President Museveni also thanked Olivia Mugabe who persuaded her brother Francis to set up Kike Tropical Fruits Limited, for her persistence that led to the formation of the factory.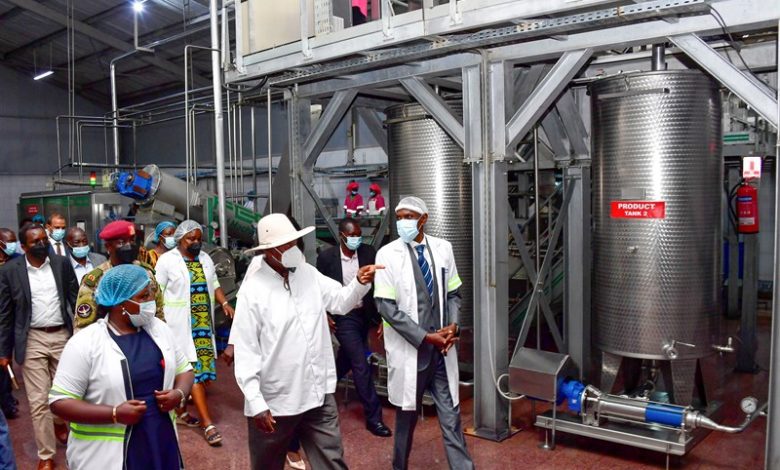 President Yoweri Museveni commissioned Kike Tropical Fruits Limited, an extraction and refinery plant. The factory situated in Kakooge, Nakasongola District, deals in fruit processing.
The President assured the factory proprietor, Francis Mugabe, of the government's support. "What you are talking about are small things, supporting Francis is very easy. We give money to people who have nothing to do, and they squander it. How about someone who is doing something good?" the President questioned.
"The problem is not money; the problem is the people who can execute the work we want. You will get more money from Uganda Development Bank (UDB)," he said, adding, "The other issue of tax will also be handled."
President Museveni sounded that for years, he has been advising Ugandans to get involved in commercial agriculture with calculation, saying that it's one of the best ways of fighting poverty and creating wealth.
The Minister of Finance, Planning and Economic Development, Matia Kasaija thanked the proprietor of Kike Tropical Fruits Limited, for joining the crusade of industrialization and for offering jobs to the Ugandan youth.
"I want to assure him [Mugabe] that if you want more money, please come and see us. We shall see how we can help you so that you can expand. On the issue of unfavourable taxes, we are going to sort that out because we cannot afford to have an entrepreneur of this type stalled. It means we are not doing what we are supposed to do."
The Minister of State for Investment and Privatisation, Evelyn Anite described Kike Tropical Fruits Limited as a unique factory because it is one of the manufacturing plants that came as a result of President Museveni's continuous call to Ugandans to "wake up from the sleep" and develop the country.
The proprietor of the factory, Francis Mugabe, informed the President that the fruits they use in the factory are supplied by local farmers from across the country.
"We offer them ready markets for their fruits. Not only do we offer them ready market, but we also employ their children," Mugabe asserted, adding that Kike Tropical Fruits Limited now exports its pineapple concentrate to the European Union (EU) market.
"Our products have been tested and they meet the required standards of the EU market and that is why we are exporting."
Due to increased demand for the Factory's products, Mugabe informed the President that he had to acquire a loan from the Uganda Development Bank (UDB) to upscale and expand the capacity.
Established in 2019, the State of the Art plant has the processing capacity of 1,000 metric tonnes of fresh fruits each season and has registered and supports more than one thousand farmers of mangoes, pineapples and passion fruits from the districts of Greater Luwero Greater Masaka, West Nile, Northern and Bukedi sub-regions in Uganda.
The factory adds value to Ugandan grown fruits that include mangoes, pineapples and passion and is also looking at the apple processing thus not only supporting commercial agriculture by offering a ready market to farmers for their products but also in improving farmers household incomes.
The factory that has acquired National and International Accreditation and Certification employs 500 workers directly and indirectly impacts over 10,000 small holder fruit farmers across the country.