George Ssimwogerere Raises Red Flag: Trouble As Big Benificiary Of Buganda Clans Soccer Smells Collapse Of The League
"The league managers think that because the league is for clans, good players from every clan are obligated to play in it whether they are paid or not at all,"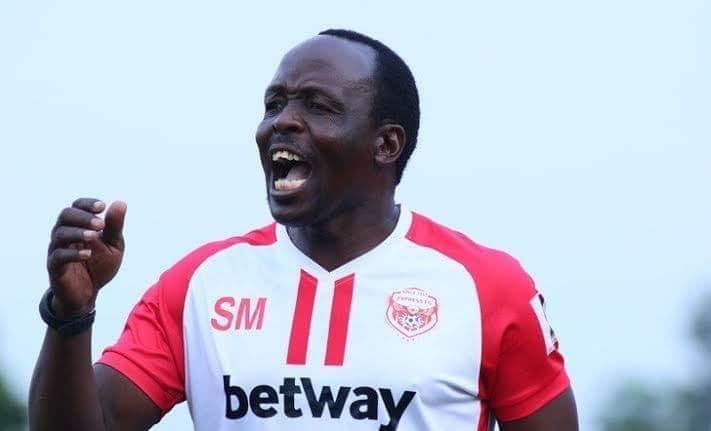 By Isaac Mutema
Good wisdom counsels us to listen as people vested with experience about a given subject talk. Legendary Express FC star George Ssimwogerere, who scaled ladders to play as the national team's defender, has the good sense to pass on.
What Ssimwogerere happens to be addressing the country about is Bika Bya Buganda(Buganda Clans) soccer league. Ssimwogerere is an authority about what he is talking about. He, himself is a product of the league he is addressing us about.
He is a football coach. He has also handled teams in the league. Being a product of the league and a caring man, he is thus entitled to make his fears known.
"The reason why the blacksmith works from near the road is to tap into the knowledge of bypassers, " the former Express star defender kicks off the conversation.
Hence, he respectively argues, that his beloved King, Ronald Muwenda Mutebi II, the clan's leaders, plus the clan's teams' managers and everyone else concerned, kindly take note of his advice.
Good players shunning Bika Bya Buganda league
Ssimwogerere warns that the prominent soccer piece is doomed to fail! But why? Listen to him out. One, he argues that good players are progressively shunning this league.
And from what he observes, he shares, the same has been progressive, ok risks, turning into a league for any Tom, Dick and Harry plus what have you.
He shares the reason why good players are shunning the league. It is for lack of meaningful finance. Period. The league, as per Ssimwogerere, is for that matter unable to attract good players to it.
"The league managers think that because the league is for clans, good players from every clan are obligated to play in it whether they are paid or not at all," the man of the Pangolin clan, argues.
Yet, he says, for players to attend meaningful residential training to put up good football during real soccer matches, they must have left something at home for their people to use.
"Because the league is full of unwatchable players, the clan's football is, or risks, in future, being played on empty stadiums," the Nkuubulira Alaali ( I take no offence for telling it to you as it is) man, contends.
Learning from Buganda Masaza Football 
He rallies Mengo, the administrative seat of Buganda plus everyone else concerned, to take a leaf from how Buganda Masaza football is managed, in case, they are interested in sparing Clans football from extinction.
According to Ssimwogerere, Masaza football clubs attract good players since there is equally good money. "The money used in Masaza league doesn't fall from heaven. No way. Not at all," Ssimwogerere elucidates.
The club managers, he continues, mobilize fans from each concerned Sub-County to make contributions to their respective clubs. Ssimwogerere submits since money is magnetic, it hence attracts good players to Masaza football.
The good players, he nails it, end up playing equally good football. This, in turn, makes Masaza football equally good to watch. And ultimately, equally attracts a handsome number of fans to Masaza good football.
"Good things lead to goods things. So good football plus a good number of fans, leads to good finances," Ssimwogerere argues philosophically. There you are, the lanky guy has just nailed it!
Attracting sponsorship 
Ssimwogerere isn't one guy who puts all his eggs in one basket. He hence urges the concerned parties to alternatively talk nicely to the government to sponsor the Clans football.
He says clans football deserves to be backed by the government since it's one of the good nurseries from which the government can draw players for the national team, the Uganda Cranes.
Who can begrudge Ssim! Ssim himself is one of the living examples of the dividends of clans football. Over there is Omulangira Sam Ssimbwa. Ssimbwa coaches premier league football outfit, URA. He played elegantly for the Royal Clan.
Ssimbwa was a beauty to watch whilst expertly doing his thing as the country's number 7. He even fluently played as number 5 for Express after ditching KCC. Plus, as a player-coach for Mbale Heroes.
Looking further into Ntenjeru, I can sight Jackson Mayanja standing tall. The list is handsome, but for lack of space and time, I beg to leave.